okgourmet.com&nbsp &nbsp Home of Steve's Restaurant Reviews
Victor's Mexican Cuisine
10904 N. May Ave.
Oklahoma City, OK
(405) 749-1911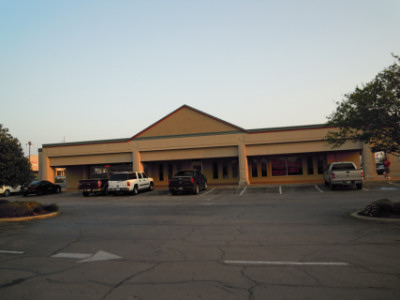 It is always good to see new Mexican restaurants open, but the news is especially good when the restaurant offers food with a good flavor and cuisine that is distinct from its competitors. In fact, the only comparable restaurant in the metro that I know was the now closed Adobe Grill, long known for its authentic southern Mexican cuisine.
Victor's does not serve food from the same region of Mexico as Adobe Grill, with Victor's being what I would call "Central Mexican" cuisine (Adobe Grill served recipes from the central and southeast parts of Mexico including Oaxaca). Still, I think it is fair to make a comparison between the two restaurants in the flavors, colors, presentation, and authenticity of the food (and yes, a higher than average price for the meals).
Like Adobe Grill, Victor's offers some Tex-Mex dishes to give a wider appeal to the Oklahoma audience who is mostly accustomed to this style of food. Unlike Adobe Grill, though, I have not found the Tex-Mex food here to be any better executed than at other restaurants. As long as you stick to the restaurant's "specialties," though I find the food at Victor's to be a whole lot like it was at Adobe Grill.
A good strategy at Victor's is to ask the staff for recommendations, and this has been a method I have used to find the dishes that tasted very authentic.
The appetizers are many times a source of frustration for me in Oklahoma Mexican restaurants, but Victor's turned this into one of the best parts of the meal. The Salsa was better than average, with a good flavor and medium spice. The Queso was also better than average but this is something I usually skip.
What made Victor's better than most places was the "special" salsa available on request. They actually did not inform me that it was available, and I asked the waitress about it on my second visit when I saw some being delivered to another table. To me the fact that they have a salsa they do not inform customers about was a definite flaw with the restaurant, but it is a flaw with the service and not the food.
Nevertheless, of all the "secret" salsas I have had in Oklahoma the one at Victor's was possibly the best. This was a full flavored yellow colored salsa that was very much like ones that are served in central Mexico. It was not the spiciest salsa I have tried, just the best in terms of flavor.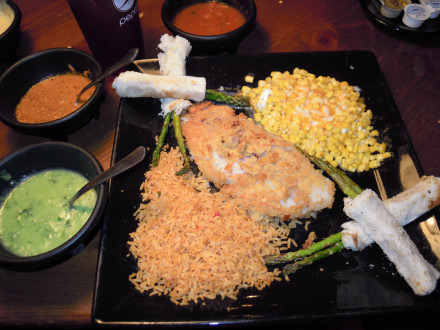 Red snapper (pescado en salsa verde) surrounded by the salsa verde, spicy salsa, and regular salsa. The snapper comes with asparagus, corn, and rice.
Another way Victor's salsas are showcased is through dishes such as Pescado en Salsa Verde. This was a dish of breaded red snapper with a green sauce (salsa verde) served on the side to put on top of the fish as desired. Like the yellow salsa, this was a highly complex and flavorful salsa (I think it had avocado mixed in) that provided a key component to the meal. Even though I tried some of the spicy yellow salsa on the fish, the green salsa was made especially to go with this dish, as salsas are prepared in high end restaurants in Mexico. Both were good, but the meal would have been worthwhile even if I had only been able to try the green salsa along with the fish.
The fish was extremely fresh and had a lightly cooked batter that made it excellent. I know that other restaurants, such as Hefner Grill (formerly Lakeside Grill and Pearl's) serve similar battered fish, but the one at Victor's seemed much better to me. There are so many seafood dishes on the menu that this seems to be one of Victor's specialties. I should point out, though, that this particular dish was the one recommended by the waitress.
One intresting aspect to this dish (and I assume others) was the vegetable side dishes. In this case the best side dish was fresh Asparagus wrapped in garlic mashed potatoes that were dried to the point that they wrapped the vegetable similar to bread. The Corn with creamed cheese was also quite good, and seemed very unique and inventive.
It may be easy to overlook the Rice, but this was also very high quality similar to rice I would expect to be served in good Mexican restaurants throughout Mexico and the Southwestern United States.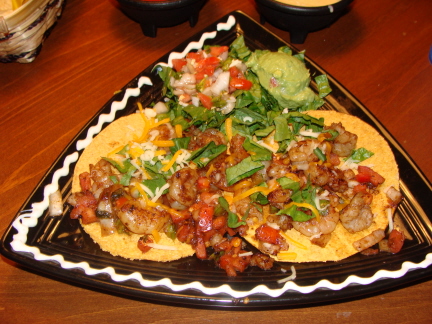 Tostadas de camarón
The Tostadas de Camarón did not make quite as much of an impression on me as the snapper with green salsa, but it was quite good with fresh shrimp, lettuce, and tomatillo. In terms of quality it was another very good dish, cooked the way I would expect in authentic Mexican restaurants. I would say, though, that while fish and shrimp are best close to the coastline, shrimp has never seemed to me to transport as well to Oklahoma as is the case with some of the better fish that is brought in.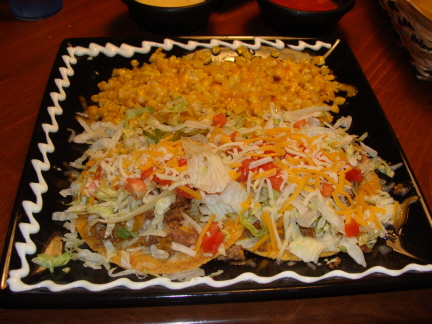 Chalupa
The Chalupa is an example of the food I consider to be more Tex-Mex, and the one at Victor's with beans and beef was good in terms of quality but not necessarily in flavor. This was an example of the food I did not find to be worth the higher price that Victor's charges (although generally the prices at Victor's are not an issue with me because of the high quality of the food).
The Tortilla Soup was good quality, but the large amount of green squash included made it rather different than others served in the city. This may mean that it is an authentic version, and I know that true Mexican food has a lot more vegetables than is commonly served in Oklahoma Mexican food. Thus I am not rating this dish or saying that I recommend it or do not recommend it-- this is only a comment that much of the food at Victor's is not like you will usually find in Mexican restaurants.
I do not think Victor's has Mexican style aguas frescas drinks such as are served at Abel's, but the food is good and is representative of high end Mexican food from the chef's original recipes (as opposed to what I would call the "street food" that is served at Abel's). While both types of restaurants are authentic, Victor's serves a style of food that is not easy to find in the United States.
RESTAURANT DETAILS
RATING: 23
Cuisine: Mexican
Cost: $$$
Hours: Open Daily
Accessible: Yes
Smoking: No Smoking
Alcohol: Beer
| | |
| --- | --- |
| Chile Index: | |
Most Recent Visit
Apr. 8, 2011
Number of Visits: 2
Best Items
Pescado en Salsa Verde, Tostadas de Camarón
Special Ratings
Pescado en Salsa Verde:


Tostadas de Camarón:


Chalupa:


Asparagus:


Corn with Cream Cheese:


Rice:


Salsa:


Spicy Salsa:


Queso:

MORE ABOUT THIS WEB SITE