okgourmet.com&nbsp &nbsp Home of Steve's Restaurant Reviews
Van's Pig Stand
3815 N. Harrison Ave.
Shawnee, OK
(405) 273-0000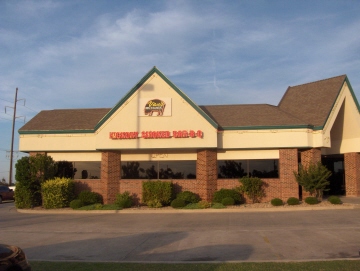 Beef may be king in Oklahoma, but in the part of the state nearest the Deep South pork has a long tradition of being part of the staple diet. Both meats are natural candidates for good barbecue, and at Van's Pig Stand both are equally good.
Van's is one of those places that have been around long enough to have a tradition as well as good food. Photos at its main store show its humble beginnings in Shawnee's early years when it seemed to be quite popular with everyday working people. Van's has recently opened a restaurant in south Oklahoma City, but I think it is worthwhile for any barbecue aficionado who is able to make it Shawnee to try the food where it all started.
When I lived in central Texas, the very good Oklahoma barbecue places of Van's caliber always served as a standard by which to compare anything served south of the Red River. Only a few places in Oklahoma live up to Van's quality, but those who do will likely be etched in one's memory as do the few places that can really be considered the best in Texas and other states. It is hard to define what makes good barbecue, but when you go to one of the places that are not up to par you can certainly tell the difference. I am sure one of the factors that makes Van's a great place is the way the meat is cooked and the time they take to make it correctly. Van's sauce is good, but it is the meat that makes it great.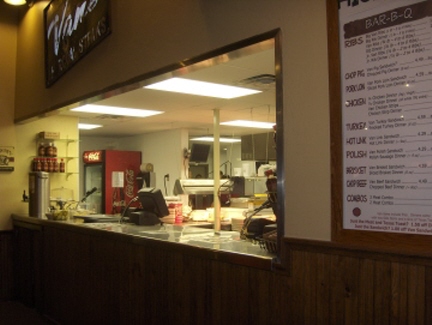 Order at the counter
Van's restaurant is large enough to accommodate locals as well as cross country travelers who pass through Shawnee on Interstate 40. Orders are placed at the counter and customers are called when the order is ready. It seems to be part of the tradition of barbecue that you order at the counter, and somehow I suppose it just would not be good barbecue if things were done any other way.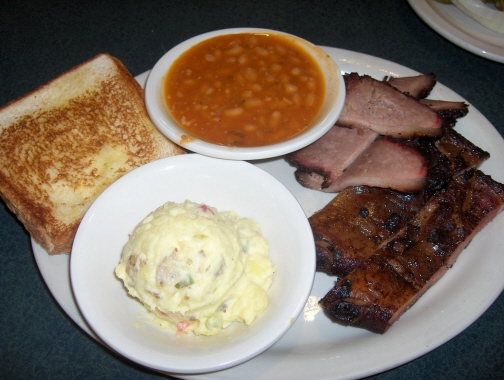 Brisket and rib plate
Pork Ribs are the meat that made Van's Pig Stand famous (and it is not an exaggeration to say the restaurant is known throughout the country). These had a smoky flavor that was almost the definition of barbecue, as well as "fall off the bone" tenderness (of course the meat needs a little help to actually fall off the bones). I would say if you have only one chance to try this type of ribs Van's would be an excellent place to do so. The sauce was excellent, but I enjoyed the ribs almost as much without the sauce (the flavor that comes from proper smoking is the main thing missing from some other barbecue places).
I suspected the Beef Brisket would be just as good, and this turned out to be a correct assumption. A combination dinner can be ordered with both brisket and ribs in order to try both, and this is worthwhile for anyone who is hungry enough. I do not think visitors can go wrong ordering either one separately, though.
Other types of meat are also available, and I would guess that all of them are among the best that can be found. I got a report that the chicken was very good, as I suspected it would be.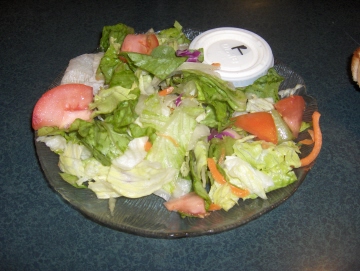 Salad at Van's
The Salad had enough dark green leafy lettuce to be good, and in fact I was surprised a barbecue restaurant would put this much effort into making a good salad.
Other side dishes, such as the Baked Beans and Potato Salad, were very good as well. Barbecue restaurants are not usually judged as much for the side dishes as the meat, but it is good when they can do both well as they do at Van's.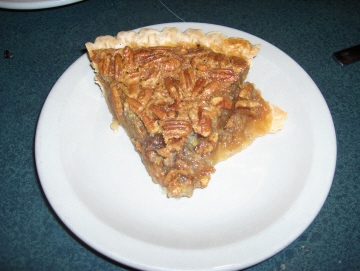 Pecan pie
The Pecan Pie might be a dish that stands on its own as being worthy of seeking out. I know that Oklahoma is home to some of the best pecan pie in the country, but it is surprisingly hard to find good examples of it in restaurants. Van's is one place that uses a classic recipe that I think tastes like most people would have it at home.
RESTAURANT DETAILS
RATING: 25
Cuisine: Barbecue
Cost: $$
Accessible: Yes
Smoking: No Smoking
Alcohol: Beer
Most Recent Visit
Jun. 29, 2008
Number of Visits: 1
Best Items
Pork Ribs, Beef Brisket
Special Ratings
Ribs:


Brisket:


Beans:


Potato Salad:


Salad:


Pecan Pie:

MORE ABOUT THIS WEB SITE