okgourmet.com&nbsp &nbsp Home of Steve's Restaurant Reviews
Tsubaki Sushi & Hibachi
5900 W. Memorial Rd.
Oklahoma City, OK
(405) 792-7818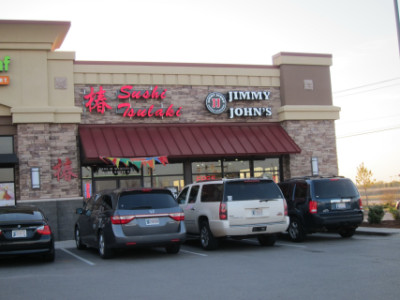 Tsubaki Sushi & Hibachi is a new member of the growing club of sushi restaurants around northwest Oklahoma City, and two things I noticed immediately about it were its spotless cleanliness and its excellent service. These are characteristics of Japanese restaurants in general, Tsubaki seems to be better than most.
I have yet to try the sushi, which is about two-thirds of the menu. I am not a fan of California rolls and other items which make up a large part of the sushi list, but they do have a fairly large selection of sashimi. For now my comments about the restaurant are only for the food I have tried, and for anyone who wants to try the sushi I can say that the menu selection looks better than average.
What is notable about the non-sushi menu is first that they even have one, and second that it is very good. I should qualify this statement by saying that I do not think Tsubaki is comparable to Tokyo or Sushi Neko, but it is very good nonetheless. I would not have expected this to be the case based on many experiences at strip mall sushi restaurants, but Tsubaki is the proverbial "hidden gem."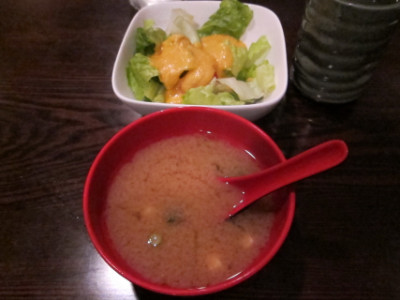 Miso soup
The Miso Soup at Tsubaki has been one of the highlights of the meals I have had. In fact, I would say the quality is close to the one at Tokyo Restaurant (meaning that it is one of the best in town). The soup comes free with all dinners, and according to the menu it is also included on the lunch box specials and sushi lunch specials.
The Salad was also very good-- not spectacular but definitely up to standards.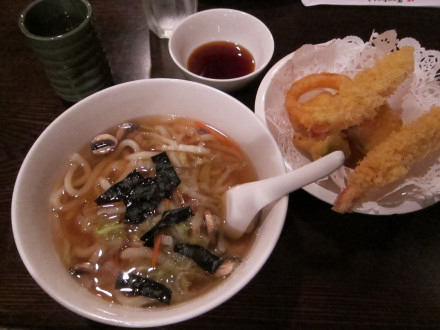 Tempura udon
The Tempura Udon is not quite as flavorful as the one at Tokyo, but still very good, and well above my expectations for a strip mall sushi restaurant (I know I am repeating this phrase, but I really want people to not let the looks of this place keep them from trying it). The tempura part of the dish is served on the side so it stays crisp until you either put it into the soup or eat it separately (you can also request a dipping sauce for the tempura). The shrimp tempura alone makes it worthwhile ordering this dish, and the vegetables have been different on different visits but always very good as well.
The udon soup is filling even without the tempura. At other restaurants I have learned to ask for some sansho pepper to give it extra flavor (Tsubaki has it but you have to ask for it). While I was surprised how good everything was (especially the tempura), I was equally surprised that the sansho pepper is not automatically served with the meal. I am sure, though, that a lot of this has to do with its location in a suburban strip mall.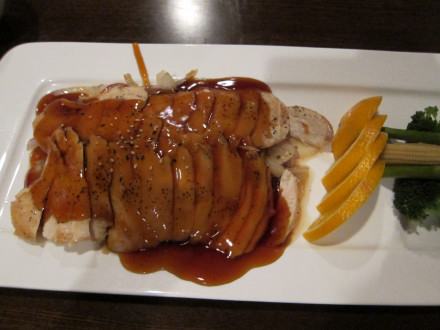 Chicken teriyaki
The Chicken Teriyaki had a sauce that was a little flat in flavor, but the quality of everything was excellent. Like the tempura udon it was a little expensive but not lacking in quantity.
The lunch menu seems to provide some significant savings in price, but the selection of items is severely limited. I think some of the selections look good, and I plan on going when I can.
Hot green tea is free, and has been what I have ordered with every meal. They also have given us hot hand towels before the meal except on my latest visit (in 2015), so I do not know if that is a sign of other changes of which I am not aware. (The best tempura udon I had was on the latest visit, so it seems that some of the changes are also of a positive nature).
I have heard that the sushi is also good, but I have not been disappointed by the regular menu items.
RESTAURANT DETAILS
RATING: 22
Cuisine: Japanese
Cost: $$
Hours: Closed Sun.
Accessible: Yes
Tea: Green tea (free with meal)
Smoking: No Smoking
Most Recent Visit
Sep. 16, 2015
Number of Visits: 4
Best Items
Udon Soup, Rice, Miso, Salad
Special Ratings
Tempura Udon:


Hibachi Vegetables:


Chicken Teriyaki:


Rice:


Miso Soup:


Salad:

MORE ABOUT THIS WEB SITE