okgourmet.com&nbsp &nbsp Home of Steve's Restaurant Reviews
The Brother's Restaurant (Closed)
2216 N. Portland Ave.
Oklahoma City, OK



Guatemalan cuisine is probably not very well known in the United States, but when I saw a sign that it was being served at this small restaurant, I had to try it. I had traveled to Guatemala when I was younger, but my exposure to "Guatemalan cuisine" was mainly beans, rice, plantains, and whatever people could afford. The Brother's Restaurant serves the type of food that would be served in the best hotels or in people's homes when an occasion called for the best recipes.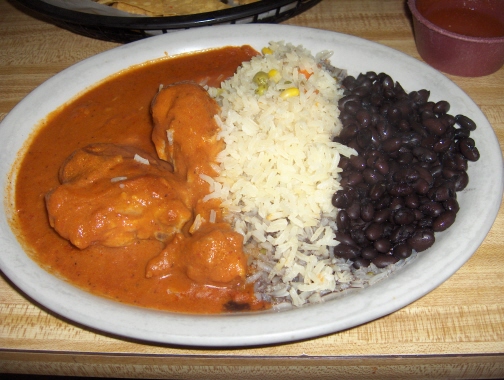 Pepián de pollo
The Guatemalan cuisine is not actually listed on the menu, and is served as specials as the ingredients are available. One example of the food is Pepián de Pollo, chicken with a sauce made of tomato, mild chiles, and spices. Unlike Mexican food, I found most dishes in Guatemala to be served without chile. The pepián has a slight amount of heat that is probably more akin to German paprika chicken than spicy Mexican food.
Everything about the pepián was just about perfect in terms of a dish that I found satisfying, flavorful, well balanced, and made with good ingredients. The chicken was top quality, and the sauce could compete with the best flavors I have found in various restaurants around Oklahoma (of various cuisines). The biggest hurdle the restaurant may face is getting people to try Guatemalan food, but at least when it comes to this dish I am confident most people will not be disappointed.
The Black Beans that came on the side were quite good and very authentic. I would have raved about them until I tried the ones at Adobe Grill, and even though the latter were better, the ones at The Brother's Restaurant were still a treat.
The Rice that came with the dish was light and fresh. I do not know if I would characterize it as especially flavorful, but I liked it.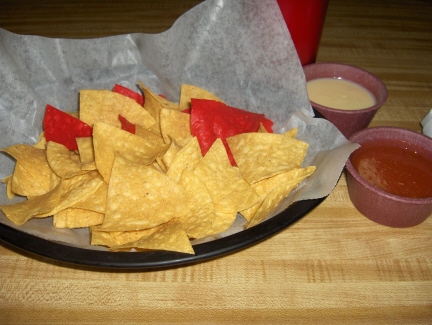 Chips and salsa are given to all customers
The menu of The Brother's Restaurant actually consists of Tex-Mex cuisine and barbecue (believe it or not, I found Texas style Tex-Mex food in Guatemala and it seemed to be quite popular). Probably the reason they serve it here, though, is because of its popularity and familiarity in Oklahoma. I thought the chips were good, but other than that I did not get much of a taste of the restaurant's Tex-Mex food.
The Horchata I ordered tasted as if it came from a mix, and I was not very impressed with it.
Barbecue is also served, such as ribs and sausage.
I gathered that the restaurant has different Guatemalan dishes available on different days. When I went the pepián was on a board that listed the daily specials. The caldo de res served at the restaurant is Guatemalan style, and it would probably pay to ask if any other items are available.
I thought the chef did an excellent job with the dish I was served, and even though some of the Mexican food may be just as good, this would be an excellent chance to try some good quality cuisine that is not widely available.
The restaurant is in an old building near N.W. 23rd and Portland, and looks as if it is a revitalization of an old restaurant that would otherwise have been vacant. I can certainly overlook the fact that the building is not the most elegant in the city because of the fact that the food seems to be first rate.
RATING: 22
Cuisine: Guatemalan & Mexican
Cost: $$
Hours: Open Daily except Wed. evening
Accessible: No Handicapped Parking
Smoking: No Smoking
Alcohol: Beer
Special Features: Serves Breakfast from 9 a.m.
Most Recent Visit
Nov. 22, 2008
Number of Visits: 1
Best Item
Pepián de Pollo
Special Ratings
Pepián de Pollo:


Black Beans:


Rice:


Chips:


Horchata:

MORE ABOUT THIS WEB SITE