okgourmet.com&nbsp &nbsp Home of Steve's Restaurant Reviews
Thai Garden
3913 S. Western Ave.
Oklahoma City, OK
(405) 635-1752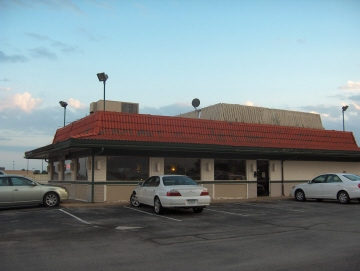 One thing about Thai food is that I rarely find anything I do not like (in fact, I'm not sure I have ever had any Thai dishes I would not want to eat again). The struggle is to find Thai restaurants that are authentic and that serve food like you would find in Thailand. "Americanized" Thai and Thai fusion can be good, but it is not usually what I am seeking when I go to a Thai restaurant.
One good sign is when you see a lot of Thai people eating at a restaurant. This is no guarantee of the authenticity of the food, but it makes the probability much higher. This was one of the clues that Thai Garden in south Oklahoma City would be better than the average Thai restaurant in town (another was that several people wrote me and told me about it). The large number of customers at Thai Garden all seemed to be enjoying the food, and this included the people speaking Thai. After my first visit I became one of the restaurant's satisfied customers.
The problem with Thai food is that people have to learn what it is, and I find that no menu description prepares me completely for all the nuances of a dish. I have my favorite items, but just about every time I try something new I wonder how I could have been missing this dish for so long.
When I first asked for suggestions from the servers I got the usual response of "pad thai" and other dishes that are most familiar to Americans. However, they were also willing to answer questions about other dishes, and I think any first time customer can get any help they need in choosing the right dish.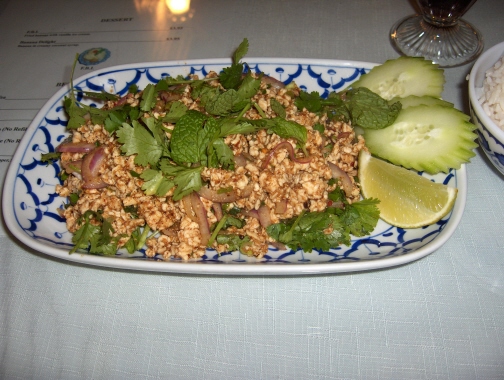 Chicken Laab Salad at Thai Garden makes an excellent meal
Having the strong sense that the food here was authentic, I ordered the Chicken Laab salad (a dish that can be very good but also very disappointing if they do not do it quite right). Laab in Southeast Asia can be made with different types of meat, including game, but beef and chicken are the most common. The meat can be prepared different ways, but at Thai Garden it looked like it was grilled. It came with a generous amount of chiles mixed in and some cucumbers served on the side. The key to laab, as well as other Thai dishes, is for the cook to blend different flavors along with the main ingredients for a complex and balanced meal. I thought this one was about as good as I have experienced anywhere. In fact, I was actually surprised at how good this laab was, since most others I have eaten have not been as flavorful.
Many Southeast Asian dishes are called "salads" that are actually a substantial meal, and such was the case with the laab. I ordered it medium spicy and added extra chiles that they brought to my table, but I really liked it equally well without the extra spice level.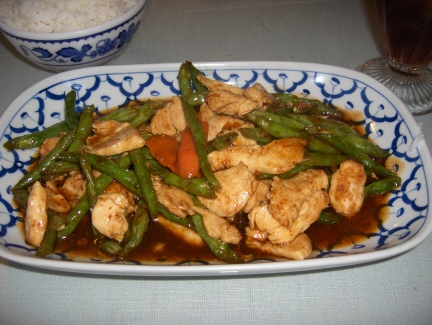 Pad Prik King
Pad Prik King has a curry made without coconut milk and is served with green beans. The chicken that came with it was good, and I thought the curry was very good. This dish usually comes with a chile paste, but at Thai Garden it was less noticeable than other versions (I thought this was a good thing, since I usually like the curry better). This is almost always one of my favorite dishes, and it was no exception at Thai Garden.
To eat the spicy food here it is a good idea to order Thai Tea or another type of cold drink to cool the mouth. The Thai tea here was one of the better ones I have tried-- I believe it was home made.
There are non-spicy choices available at Thai Garden (and I think at all Thai restaurants), but I am glad the restaurant offers food with some real heat to those who want it this way. I am gradually learning the different Thai flavors and to tell when the food is authentic. Thai Garden serves the type of food I have eaten in various restaurants that are popular with Thai customers, so I would judge it to be authentic. It seems to have the type of cuisine people would cook in their own homes, and it certainly seems to be the "real deal."
RESTAURANT DETAILS
RATING: 24
Cuisine: Thai
Cost: $$
Hours: Closed Sun.
Accessible: Yes
Tea: Jasmine/ Thai Tea
MSG: No
Smoking: No Smoking
Alcohol: Beer
Most Recent Visit
Jun. 13, 2008
Number of Visits: 2
Best Items
Laab, Pad Prik King, Thai Tea
Special Ratings
Chicken Laab:


Pad Prik King:


Thai Tea:

MORE ABOUT THIS WEB SITE