okgourmet.com&nbsp &nbsp Home of Steve's Restaurant Reviews
Ted's Café Escondido
2836 N.W. 68th St.
Oklahoma City, OK
(405) 848-8337

From the crowds found at Ted's Café Escondido on a daily basis, it would seem that the restaurant had discovered a way to prepare Mexican food that was so good everyone wanted to sample it. Ted's success has led to equally popular restaurants in Edmond and South Oklahoma City, but the original restaurant at Northwest 68th and May had huge crowds long before being voted "OKC's Best Mexican Food" from 1999 to the present by a local poll.

I understand that many people enjoy Ted's quite a bit, and I am not here to persuade anyone otherwise. However, after living in Austin for seven years and El Paso for a longer period, both the Tex-Mex and authentic Mexican food I have sampled have given me examples of dishes against which Ted's just does not seem to compare. I would not be this critical except that Ted's is frequently cited on the Internet and other sources as a place out-of-town visitors must try for good Mexican food. I have to offer a dissenting voice, but at the same time point out that Ted's does have many good qualities.

One good aspect of Ted's is the appetizers that are served before the meal. The chips are probably nothing special, but I thought the Queso was quite a bit better than average (at least compared to other Tex-Mex style quesos). The queso could not really be classified as spicy, but it had good flavor and they provided warm refills that had the proper texture as well as flavor.

Even better was the Atomic Salsa (the hot stuff) that is supplied to tables on request after the usual mild salsa is placed on the table. This had a good flavor and was not so hot that it killed the taste buds to anything that came afterward.

Flour Tortillas are also served before dinner, and although they were not the most flavorful ones I have ever eaten, the fact that you can see them being made fresh through a window to the kitchen gives a clue as to why they are hot and fresh.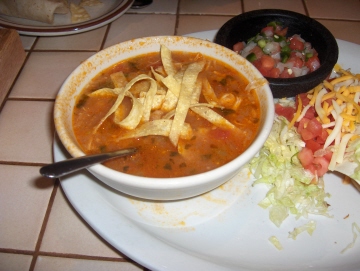 Tortilla soup
The menu entices customers to order the Tortilla Soup by saying "We guarantee this will be the best tortilla soup you have ever had." I have explained why I would argue with this statement, but I do not have a problem with Ted's trying to make a good one, and making sure it is hot with good ingredients. I thought it was fine, but not particularly noteworthy. It is certainly something I would order again if I were in the mood.
The Chicken Tacos that came with the tortilla soup on the same order, though, were an item that I enjoyed quite a bit. The tacos come with either beef or chicken, and are available soft or crispy. The way I tried them (soft tortillas with chicken) seemed to me to be about as close to real Mexican food as I have tried at Ted's (this is meant to be a compliment, since I thought they did a good job). Probably the way the chicken was spiced was what I liked best about it.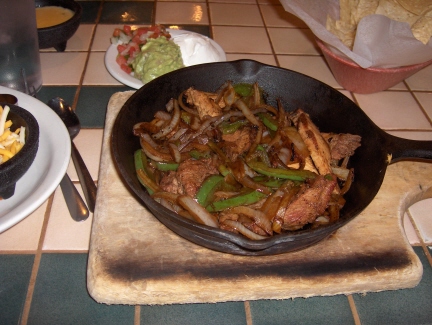 Beef and chicken fajitas
Fajitas are one of the signature dishes at Ted's, and probably the item that is most famous. A combo order of beef and chicken is available, or either one separately.
Beef Fajitas are the ones I expected to be better, but I thought they were disappointing both in flavor and in the toughness of the meat. Fajita meat is marinated with a blend of spices, and I have had ones in Texas that tasted very similar to the fajitas at Ted's, demonstrating that the recipe comes from a reputable source. I did not happen to like it as much, though, as other restaurants' secret recipes (since all of them are secret, I cannot make a comment about why I like some better than others).
The Chicken Fajitas, though, were excellent by any standard. I thought they had good meat and a good flavor (if the secret spices were the same as in the beef fajitas, they went much better with the chicken). I still do not understand why Oklahoma restaurants serve fajitas with sour cream and cheese, but the pico de gallo was good.
The Guacamole that comes as a side dish with the fajitas and other dishes was quite good, and was one of the few examples I have found where the food at Ted's tastes as it would south of the border. It is just too bad that such a large order of meat comes with so little guacamole, the only topping served with the plate that I thought was really worthwhile.
I have not seen fajitas to be widely served in Mexico, but they are a variation of the more authentic tacos al carbon. I say this to point out that Ted's also offers tacos al carbon, although I have yet to try them.
My visits in the past have convinced me that the standard Mexican plate items (such as enchiladas) are no better or worse at Ted's than a number of other restaurants. To try something different I ordered Spinach Enchiladas topped with sour cream. I have tried this item at other restaurants in OKC, and I will have to say that I thought they were better at other restaurants (particularly Monterey Jack's which has since closed). The tortillas at Ted's were so soaked in oil and well done that it almost made a "corn oil crust" that I could barely cut with a knife. The sour cream was pretty generic. The spinach at Ted's may have been a little better than average but not so much that I would be inspired to order this dish again.
Part of a Chile Relleno I sampled was on the spicy side, and covered with cheese and tomato sauce. The sauce did not need to be spicy because the chile iteself provided plenty of heat. The flavor was about what would be expected from an Anaheim type chile. I would enjoy this item on a combination plate, but would probably not order it as an entrée.
Sopaipillas served for dessert would be considered fairly good even if served in New Mexico, so it would be recommended to save some room for this treat that is served complimentary with each meal. They come covered with cinnamon and sugar, though, so they are strictly a dessert dish.
Flour tortillas are included in the complimentary appetizers, but corn tortillas can also be ordered at no extra cost. Ted's makes every attempt to provide excellent service and to supply all the "extras" they can. The main complaint I have had, or that I have heard from other people, is the fact that it gets quite busy and tables can be hard to come by.
RESTAURANT DETAILS
RATING: 18
Cuisine: Mexican Tex-Mex
Cost: $$
Hours: Open Daily
Accessible: Yes
Smoking: No Smoking
Alcohol: Beer
Additional Locations: 8324 S. Western, 801 E. Danforth (Edmond), 700 N. Interstate Dr. (Norman)
| | |
| --- | --- |
| Chile Index: | |
Most Recent Visit
Nov. 17, 2008
Number of Visits: 5
Best Items
Chicken Fajitas, Chicken Tacos, Guacamole, Atomic Salsa
Special Ratings
Chicken Fajitas:


Beef Fajitas:


Chicken Tacos:


Chile Relleno:


Spinach Enchiladas:


Tortilla Soup:


Guacamole:


Pappas Mexicanos:


Steamed Beans:


Rice:


Queso:


Chips:


Atomic Salsa:


Flour Tortilla:


Sopaipillas:

MORE ABOUT THIS WEB SITE