okgourmet.com&nbsp &nbsp Home of Steve's Restaurant Reviews
Taqueria La Original No. 2
36 W. Memorial Rd.
Oklahoma City, OK
(405) 286-0778

Taqueria La Original at Memorial Road and Santa Fe was the second of two restaurants to be opened by this company in the Oklahoma City area (the first was in the Bethany area just off of Interstate 40). Based on reviews I have read of both places, I am assuming that any observations I would have of this restaurant would apply to "No. 1" as well.

This is one of several restaurants which I have not visited but from which I have had take-out orders, so I cannot comment about the building or the service. What I can say, though, is that this is one of the best places for Mexican food in Oklahoma City. Moreover, this is "real" Mexican food (the kind I got in Mexico, except that the quality of the meat there was usually not up to the standard used by Taqueria La Original). It is a taco restaurant that has four or five main items other than tacos, but primarily it is a classic Mexican taquería.

The foil they use for take-out orders keeps the food warm, and garnishes are wrapped in a plastic bag to keep them fresh. The restaurant is casual, the menu is not very extensive, and the cuisine is pretty simple and straightforward, but I think people will appreciate the deep flavors of the food.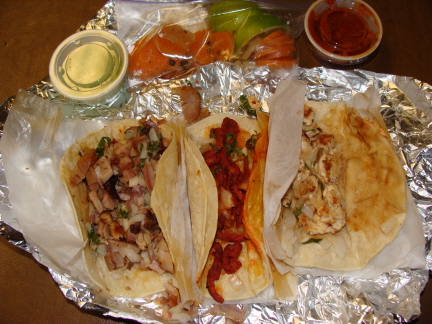 Pork stomach taco, red chili pork taco, and chicken taco
The three types of tacos I tried need to be described separately, but also as a whole. I did not feel that any of these tacos had the complex flavors I found in the taco al pastor at Tamazul (an upscale Mexican restaurant which opened in the summer of 2013). Taqueria La Original is equivalent to very good street tacos in Mexico, while Tamazul should be considered as alta cocina. Still, I did not think the tacos at La Original were any less enjoyable. They had good quality meat and interesting flavors, and you can't beat the price.
I was surprised that the menu did not list Spanish names for the tacos, since this seems like the kind of place that would be attracting large numbers of Spanish speaking customers. The Pork Stomach name did not make this particular taco sound as appealing as it might have been in Spanish, but it was certainly very good. I thought this was the best of the three tacos I ordered for adding salsas and the garnishes resulting in a delicious flavor. Both salsas were very good, and the green seemed more spicy, but this taco is really well suited for either of these salsas.
The Red Chili Pork taco was one to which I did not want to add any salsa, because it already had red chile cooked into the meat. I had seen on some web site reviews that people refer to these as "tacos al pastor," but the menu calls them pork with red chile (or "chili" as it is spelled on the menu). I did not detect as much pineapple juice or other flavorings that are found in al pastor tacos, and they did not actually call it "taco al pastor," so I am glad they did not try to pass it off as something it is not (as I think some restaurants do). Abel's and Tamazul are two restaurants which I believe have the "real deal" tacos al pastor. For red chile tacos, though, Taqueria La Original is about as good as I have found anywhere.
The Chicken Taco was also excellent, but of course chicken usually goes better when you put salsa on it. I particularly liked the red salsa on this taco.
The tortillas were also very good, as was the salsa. The only thing I did not care for as much were the spicy carrots (and of course you do not have to put them on the tacos if you do not want).
I should point out that the same meats served on the tacos are available on a torta, burrito, or quesadilla (just as they do it at Abel's). I am sure these would be more filling than the tacos, but I found that three tacos from Taqueria La Original were enough for a fairly good sized meal.
RESTAURANT DETAILS
RATING: 23
Cuisine: Mexican Northern
Cost: $
| | |
| --- | --- |
| Chile Index: | |
Most Recent Visit
Jul. 29, 2013
Number of Visits: 1
Best Item
Pork Stomach Taco
Special Ratings
Pork Stomach Taco:


Red Chili Pork Taco:


Chicken Taco:

Restaurant Menu
Taqueria La Original
MORE ABOUT THIS WEB SITE