okgourmet.com&nbsp &nbsp Home of Steve's Restaurant Reviews
Taj Indian Cuisine
1500 N.W. 23rd St.
Oklahoma City, OK
(405) 601-1888



Note: Taj on Northwest Expressway closed at the end of 2009, but reopened in July 2011 at its new location: 1500 N.W. 23rd St. in Oklahoma City.




Taj Indian Cuisine is probably best known for its buffet, and has become quite popular with two large sections (vegetarian and meat items) as well as a salad and dessert bar that serve both lunch and dinner, seven days a week.

Mani and his wife, the owners of Taj, first opened a smaller restaurant in 2000 on Northwest Expressway about a mile west of the current location. Mani had previously served as the chef at Gopuram, the city's first Indian restaurant, and therefore in my case has a large part of the credit for introducing me to Indian cuisine and making it one of my favorites. Before coming to the United States, though, Mani was an award winning chef in India, with many years of experience in all different styles of Indian cooking. I can verify from experience that if you want a dish from just about any part of India, Mani can cook it.

Since the beginning of 2008 The new restaurant has become "small" again in the sense that there are no longer other chefs working at Taj, and Mani and his wife are now directly in charge of producing all of the food. I have noticed a consistency in the food that was not evident when Taj had a larger staff, and several people were in charge of the kitchen.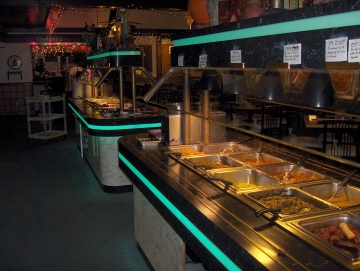 Taj has a buffet table for vegetarian dishes, one for meats, and one for salads
The owners always keep the buffet well stocked with a large number of menu choices including meats, several vegetable specialties (more than I have seen at other buffets), biryanis, soup, salads, and desserts. The food is replenished fairly often so that it does not grow cold, but for me no buffet is quite as good as ordering food from the kitchen. I have eaten from Taj's buffet quite a few times and have enjoyed it more than many of the others in town, mainly because of the selection that is provided and the flavors of the food. The only way that I personally would recommend Taj's buffet, though, or any Indian buffet, is to use it as an opportunity to try the food with the intention of coming back to order individual items that are freshly made in the kitchen.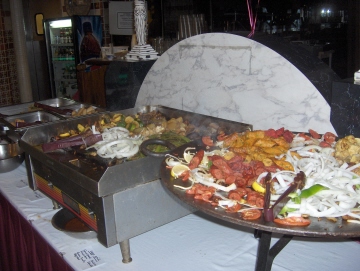 About a half dozen "special" buffets are offered during the year, with expanded food selection
I have really liked the "special" buffets, though, that are offered several times a year on special holidays such as New Year's Eve. Additional items are offered that are not normally served on the buffet, with a large selection of grilled meats and shish kabobs. These buffets are more expensive than the regular buffet, but come with extra features such as a free glass of wine and/or lassi for each patron. About six types of desserts are served, which alone make it worth coming.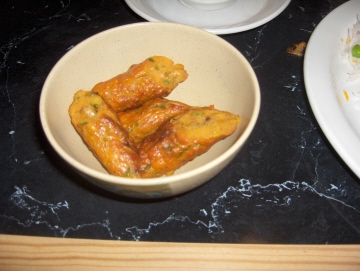 Chicken kabobs
I started eating Indian food regularly when I was a vegetarian, and because of this I have enjoyed the vegetarian dishes so much I have never been very anxious to order meat dishes. Because of trying Taj's grilled meats on the buffet, though, I can say that I think they are quite good. I especially enjoyed the Chicken Kabobs, which I thought were comparable to some of the better ones served at Middle Eastern restaurants.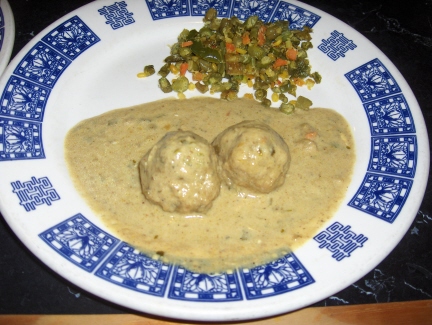 Kofta malai from the buffet
One item I always try to eat from the buffet is Kofta Malai, containing mixed vegetable dumplings in a spicy curry (although it has not ben so spicy on the buffet). This is one of the more expensive vegetarian items on the menu, so it is worth getting when it is served on the buffet.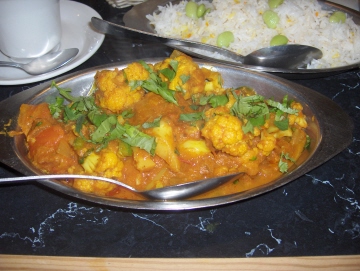 Cauliflower kashmiri is milder than most dishes, but has a rich flavor
Cauliflower Kashmiri is a mild dish that I saw on the buffet, but ordered from the kitchen. I thought the flavors were some of the best I had found, and it certainly proved that all Indian dishes do not have to be spicy to be good.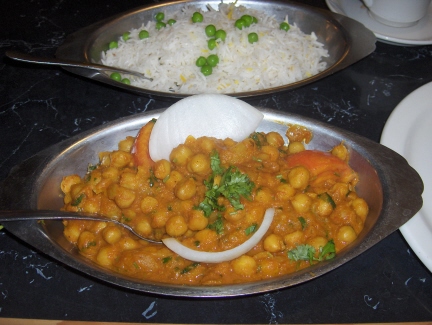 Chana masala
Chana Masala is not listed on the menu but is sometimes served on the buffet, and is always available on request. This dish combines chana (chickpeas) with a delicious sauce that can be made mild or spicy.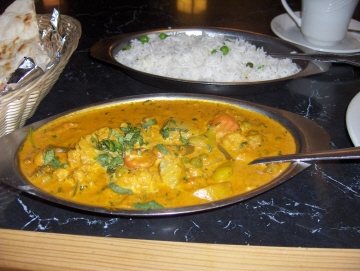 Vegetable Korma is mild, but can be made spicy
Vegetable Korma is described as "Vegetables cooked in rich almond cream paste and herbs." At other restaurants (such as Kha Zana) I find the korma to be almost too rich and creamy, but I thought the one at Taj was just about right. I suppose everyone has their own taste but the one here certainly seemed to be very good, with a good selection of vegetables. If a person is not fond of vegetables then I suppose the korma sauce would probably not be enough to make this dish enjoyable, but for the rest of us this would be one of the better choices offered at Taj. The default style for this dish is at the northern India mild level, but I prefer it spicy.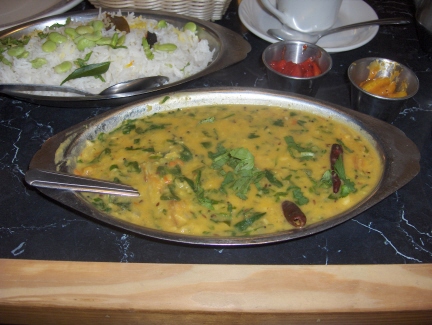 Peeli daal tadaka with spinach
Daal (yellow lentils sauteed in cumin, ginger, garlic, onion, tomato, and herbs) is a good example of why I like to order food from the menu. The one from the buffet was so bland I hardly noticed it as a dish I would like to order for anything more than its nutritional value. When I put it in the hands of Mani or his wife, though, and asked for it to be prepared "Indian style" (or more specifically, South Indian style), it became a truly exceptional dish with a strong flavor that was complimented by pickled apple and lemon (shown in photo). Spinach can be added for more flavor, texture, and nutrition.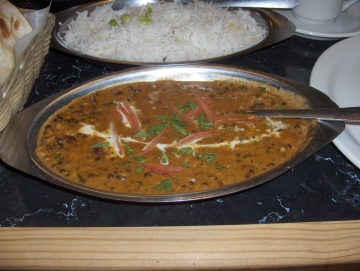 Daal makhani
Daal Makhani is made with dark lentils and mixed beans, and was introduced to me by Mani at Taj Restaurant (although it is not listed on the menu). This has since become one of my favorite dishes to order at other restaurants, although at Taj I prefer the yellow lentils, particularly when combined with fresh spinach.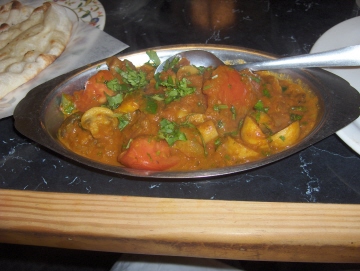 Coriander mushrooms
Coriander Mushrooms is a dish I first saw on the buffet, and since then have made it one of the dishes I order most frequently. Taj serves some of the best mushrooms in the city, and mushroom dishes are not always available (but are very worthwhile when they are). The coriander mushroom dish has an excellent sauce, and the same care is made to serve fresh tomatoes as is the case with the other vegetables.
Masala dosa with chutney and sambar (and potatoes inside the dosa)
Masala Dosa is a south Indian favorite, and includes an excellent potato, sambar, and coconut chutney served with a folded-over rice flake wrapping, forming a dish that looks somewhat like a giant burrito but containing the rich flavors of South India. Normally a dosa would not be one of my favorite dishes, but at Taj the quality and flavor is consistently good. A smaller sized dosa can also be ordered at no extra charge when eating from the buffet.
The Naan bread has consistently been one of the best I have eaten, and is served with dinners at no extra charge (and is also available on the buffet). When I ask Mani to prepare food South Indian style (extra spicy), the naan is an essential part of neutralizing the hot chiles in my mouth.
The Rice is quite enjoyable, and usually comes with some green vegetables mixed in such as peas or lima beans. There is sometimes a Vegetable Rice dish on the buffet that includes mixed vegetables.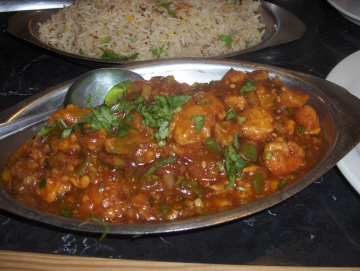 Vegetable manjurian is an Indo Chinese dish from the "secret" Chinese menu
I have been to many Chinese restaurants with a "secret" menu, but Taj is the first Indian restaurant I have seen that has a separate Chinese menu (with items not listed on the regular menu). Mani learned to cook a number of Indian style Chinese dishes from a Chinese chef in India, and serves them at Taj. I will have to say that I think Indo Chinese food is an even greater departure from the traditional Chinese cooking style than the dishes I find in "Americanized" restaurants, but it is enjoyable nontheless.
The Vegetable Manjurian had a good flavor, though, and I was quite surprised to find this type of food available in Oklahoma City. Like traditional Chinese food, the Indo Chinese dishes can be eaten with chopsticks, with the food served in bite sized pieces. Although spicy, the Indian style Chinese food offers a change from the curries served in many of the Indian dishes, and I enjoy the flavors of tomatoes, celery, and other Chinese style vegetables that are not always present in Indian dishes.
I thought an order of Mushroom Manjurian was even better than the dish made with vegetables (mainly cauliflower), and I would say if you like mushrooms to order anything you can that are made with them at Taj. I do not know why the flavor many times comes out better with mushrooms than with the same dishes made with other vegetables.
A Garlic Mushroom Indo Chinese dish is frequently served on the buffet, and is sometimes a good starter to trying Taj's Chinese food.
The Chinese Rice made with garlic makes a good accompaniement to any dish on the Chinese menu.
It took me a while to learn to explore the menu, look for unusual dishes served on the buffet, and "turn things over to the chef" so that he can cook dishes "Indian style." By doing so, though, I have been very impressed by the food. Many people would not like it as spicy as Mani serves on the "authentic" dishes, but customers can still have a very authentic flavor (I think some of the dishes prepared here compare quite favorably to some of the very good restaurants I have experienced on the west coast).
RESTAURANT DETAILS
RATING: 24
Cuisine: Indian
Cost: $$
Hours: Open Daily
Accessible: Yes
Tea: Chai, Green
MSG: No
Smoking: No Smoking
Alcohol: Beer and Wine
Buffet: Lunch & Dinner
Most Recent Visit
Nov. 8, 2009
Number of Visits: 10+
Best Items
Daal, Vegetable Korma, Cauliflower Kashmiri, Coriander Mushroom Curry, Naan
Special Ratings
Peeli Daal Tadaka:


Daal Makhani:


Chana Masala:


Vegetable Korma:


Cauliflower Kashmiri:


Coriander Mushroom Curry:


Masala Dosa:


Naan:


Chai:

Restaurant Web Site
Taj
MORE ABOUT THIS WEB SITE