okgourmet.com&nbsp &nbsp Home of Steve's Restaurant Reviews
Szechuan Bistro
1010 W. Memorial Rd.
Oklahoma City, OK
(405) 752-8889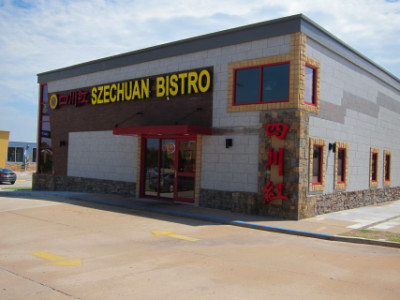 About twenty years ago I discovered what authentic Chinese food was all about by visiting Chicago, the nation's capital, and the west coast. At the time I was puzzled about this type of food not being available in Oklahoma City. Today, though, there is not only authentic Chinese food increasingly available in the city, but there is more variety than ever before.
The Insights Guide Book of China recognizes four major styles of Chinese food, with Sichuan cuisine being known for its fiery hot spice levels along with its traditional cooking styles including the use of hot pots to slow cook the meals (see the page about Asian Food for a discussion of the different Chinese cuisines).
To my knowledge Szechuan Bistro is the first restaurant in the city that has enough variety and authenticity to call it Sichuan style. Some of the Chinese restaurants in the Asian District have authentic Sichuan dishes, and I have traditionally gone to Lotus Mandarin in Warr Acres for some of their dishes. Szechuan Bistro, though, is what I would call a "full service" Sichuanese restaurant with a good variety of dishes. Szechuan Bistro has an "American" menu in addition to the Sichuan dishes, and it offers all of the dishes normally found in any suburban Chinese restaurant. Not all of the food is spicy, and not even all of the Sichuan dishes have a high level of chile heat.
On my first visit to the restaurant I observed some traditional Sichuanese dishes being served to other tables, and when I asked why I did not see these dishes on the menu the staff said they were on the "Chinese menu." I was then given the second menu, but now when I go it appears that all customers are given both menus without having to ask (thus I believe the problem is now solved).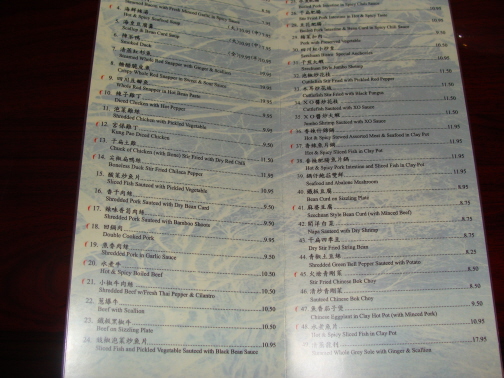 Chinese menu with red peppers next to the spicy items
The Chinese menu includes most of the traditional Sichuan style dishes, although it looked as if the regular menu had a few. Many of the items on the Chinese menu are marked as being spicy, and I think it would be a good idea to ask how spicy they will be before ordering. My experience with Sichuanese food in Seattle, though, was that there are many delicious dishes that are not particularly spicy, or that you can add your own chile as desired.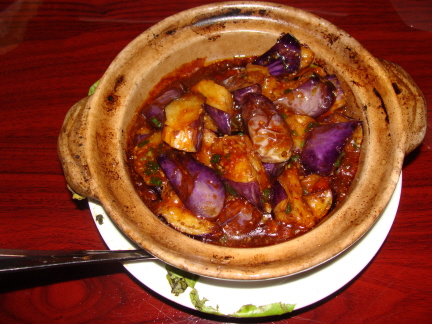 Chinese eggplant in clay pot
Chinese Eggplant In Clay Pot was one of the selections from the Chinese menu that I think makes a good starting point for trying the food. Not only do I enjoy this dish, but I have ordered it at two other restaurants in the city as a comparison. Chinese eggplant is a vegetable I enjoy quite a bit more than the American version, I think because it has a firmer texture and of course a different flavor. The sauce was what really made this an excellent dish, as had been the case with the ones I had tried in other restaurants. I cannot say the sauce at Szechuan Bistro was better than the others, but I would say that all of them were about equally good. The menu said it came with pork, but my dish was just the vegetables and the sauce. The manager told me after I asked about it that the English had been incorrectly translated on the Chinese menu and that it was just an eggplant dish (the ideal with items from the Chinese menu is to order them family style so that tables can order meats, vegetables, etc. and share all of them). I did not have a problem with the way it was prepared except that the one I had ordered at Chow's did come with pork, and mainly because of this fact I thought it was slightly better than the one at Szechuan Bistro.
The eggplant had been marked with a red chile indicating that it was a spicy dish, but to me it really had a barely noticeable heat level (the same was true with the eggplant dishes I had ordered at other restaurants). I was informed, though, that some of the dishes were considerably spicier.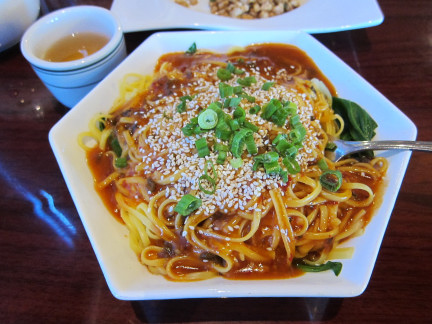 Dan dan noodles
One dish which is much spicier is Dan Dan Noodles, another item which turned out to be vegetarian. In this case I was rather surprised that a simple noodle dish could have enough flavor and substance to be a main dish. The sauce was what I really liked, and tasted very much like the Sichuan style sauces I have had in Seattle. In fact, some Sichuanese food is made with a heavy oil that gives it a distinct flavor, and the dan dan noodles had a hint of this oil (but really not very much compared to other dishes I have tried). In fact, I think this dish is a very good way to get an introduction to Sichuanese cuisine, or to try a new dish. The dish is quite spicy, a fact which was omitted from the menu, but the waiter warned me about it. For me the medium spice level was just about right.
Egg drop soup
Egg Drop Soup was an example of what I would call the American style menu, and is common in almost all of the Chinese restaurants in the city. I would also say that the one here was very much like others in the city, and did not stand out to me as being particularly better or worse than the ones at other restaurants.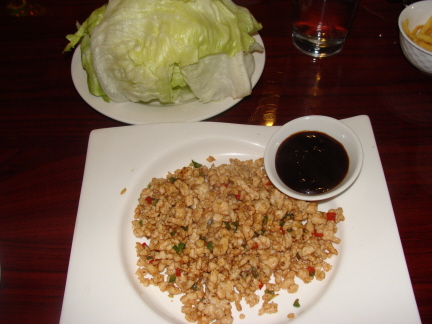 Chicken lettuce wrap
I also sampled the Minced Chicken in Lettuce Wrap which seemed to be a larger serving size than most in the city, as well as having lettuce that was very fresh and green (despite the way it looks in the photo). This had very good chicken and a very flavorful sauce, and is something I would recommend except for the fact that items from the Sichuanese menu are really the ones that stand out from what you can get at other restaurants.
One feature that I think is important to mention is that Szechuan Bistro has a very comfortable atmosphere. It was clean, I liked the tables, and everything was a positive (such as the music, the service, the prices, etc.). I asked if they could prepare a Sichuan style dish I had orderd in Seattle that was not on the menu, and they were not able to do this. This in itself, though, is not really a negative for the restaurant, and I have to say that this has proven to be an excellent restaurant for traditionally prepared Chinese food. I would not be surprised if it ends up being my favorite in Oklahoma City.
RESTAURANT DETAILS
RATING: 25
Cuisine: Chinese Sichuan
Cost: $$
Hours: Open Daily
Accessible: Yes
Tea: Jasmine (bags)
MSG: Yes
Smoking: No Smoking
Most Recent Visit
Oct. 8, 2012
Number of Visits: 2
Best Items
Dan Dan Noodles, Chinese Eggplant
Special Ratings
Dan Dan Noodles:


Chinese Eggplant:


Minced Chicken in Lettuce Wrap:

Restaurant Menu
Szechuan Bistro menu
Restaurant Web Site
Szechuan Bistro
MORE ABOUT THIS WEB SITE