okgourmet.com&nbsp &nbsp Home of Steve's Restaurant Reviews
Speedy Wok
11122 N. Rockwell Ave.
Oklahoma City, OK
(405) 721-3559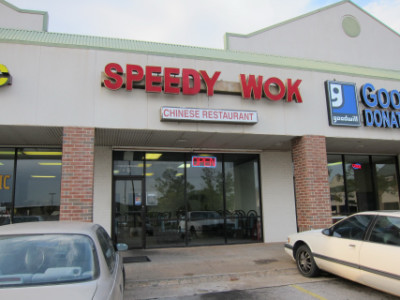 Speedy Wok is one of the small strip mall Chinese restaurants that have become quite popular by concentrating on take-out orders at cheap prices. Most of these "express" restaurants offer MSG-free food (including Speedy Wok), but Speedy Wok can be distinguished from some of the other restaurants by such features as a very ambitious menu and a large number of items with both large and small portions.
Speedy Wok has enough tables to offer dining in at the restaurant, and I have usually done this. Lately I have seen a number of take-out Chinese restaurants with one or two tables, but I usually find them to be unsuitable for dining because they do not serve hot tea, they do not have chopsticks, or the menu is too limited for anything other than Americanized Chinese dishes (and usually I find all three to be the case). Speedy Wok's large menu, though, and the customer service they provide, should make anyone feel comfortable who wishes to dine in.
Speedy Wok does not attempt to offer the kind of authentic Chinese menu found in various restaurants near N.W. 23rd and Classen. This does not mean, though, that there is no traditional, or at least flavorful and nutritious, Chinese food. The menu has its share of fried and gloppy dishes, but not all are that way.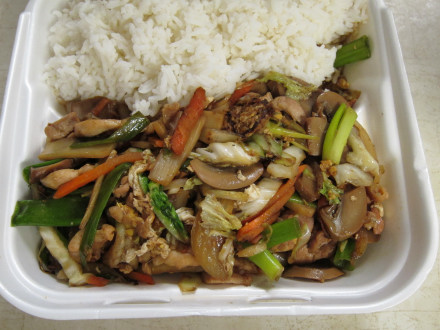 Mu shu chicken
One of the best dishes I have found is the Mu Shu Chicken, a flavorful dish with good quality chicken. I liked the vegetables, which included green onions (as opposed to the white ones which I think some restaurants use just for filler). The sauce was very flavorful, and I thought this dish tasted very much like ones I would get in the Asian District. The big problem was the pancakes, which were hard and broke apart easily. The simple solution, though, was simply to eat the meat and vegetables with the rice, and not even worry about putting it in the pancakes. I thought it was a delicious meal this way.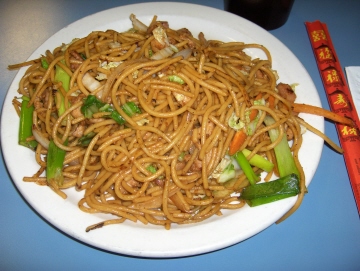 Vegetable lo mein
The Vegetable Lo Mein was good considering that this is something I rarely order (usually it is too Americanized). I found this one, though, to be flavorful and not too heavy on the cooking oil. The vegetables were fresh and this was an all around good meal (and pretty filling as well).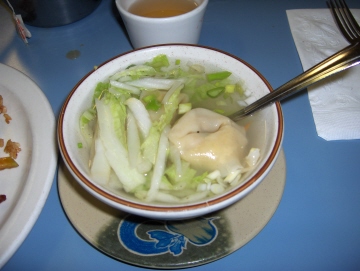 Small bowl of wonton soup
Wonton Soup is my favorite item that I have been ordering for several years. A small bowl is available with many lunch and dinner plates (or a choice of egg drop or hot and sour). A large bowl can be served as a meal, though, and I found it to be a refreshing change from soups served in other restaurants that are too salty with not enough vegetables (in addition, Speedy Wok serves about as many wontons as I think most people can eat). The above photo shows a small bowl I ate in the restaurant, but I think the large take-out orders must be three or four times the size of the one pictured.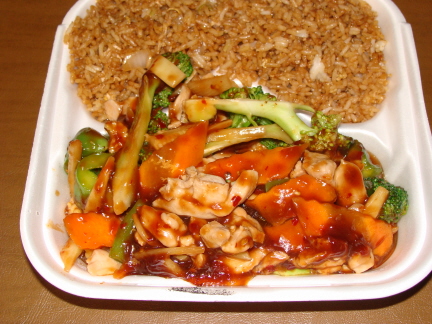 Hunan chicken
The Hunan Chicken was wrong for me in just about every way, and I would probably have to placed it in the "Americanized gloppy" category. The chicken was good, but it went downhill form there. The vegetables were not particularly good, with a lot of broccoli and bell peppers (any time a Chinese dish uses American style broccoli this is not a particularly good sign for me). The sauce was spicy beyond the point where it provided extra flavor, and instead it was just spicy with little else that I could taste.
My attempt at ordering Bean Curd Country Style, one of my favorite dishes, was also not as successful as other items I have tried. The tofu was overcooked and the vegetables were somewhat unappealing, although the sauce was good. With Speedy Wok advertising "MSG Free Low Calorie Cooking Chinese Food," the sauces are many times one of the better points of the restaurant.
The Hot and Sour Soup was quite flavorful, and I almost gave it a five-star rating except for the fact that the red chiles really overpowered the other flavors.
With most restaurants I have to average out the prices to determine the cost category into which it should fit, but at Speedy Wok, only the "House Specials" fall into the medium category (almost everything else is well within the inexpensive range). Even the House Specials, though (Triple Delight, General Tso Chicken, etc.) are less expesive than at most restaurants.
I always like the fact that the food is cheap and healthy, and I have enjoyed talking to the owners over the years. This is a very good neighborhood restaurant when you want something quick and not too fancy. I feel that there must be other very good dishes that I just haven't tried yet.
RESTAURANT DETAILS
RATING: 18
Cuisine: Chinese
Cost: $
Hours: Closed Sun.
Accessible: Yes
Tea: Jasmine (bags)
MSG: No
Smoking: No Smoking
Alcohol: No
Buffet: No
Special Features: Delivery within 30 min.
Most Recent Visit
Sep. 25, 2012
Number of Visits: 10+
Best Items
Mu Shu Chicken, Wonton Soup
Special Ratings
Lo Mein:


Mu Shu Chicken:


Hunan Chicken:


Bean Curd Country Style:


Wonton Soup:


Fried Rice:


Hot and Sour Soup:

Restaurant Menu
Speedy Wok menu
MORE ABOUT THIS WEB SITE