okgourmet.com&nbsp &nbsp Home of Steve's Restaurant Reviews
Speedy Wok
11122 N. Rockwell Ave.
Oklahoma City, OK
(405) 721-3559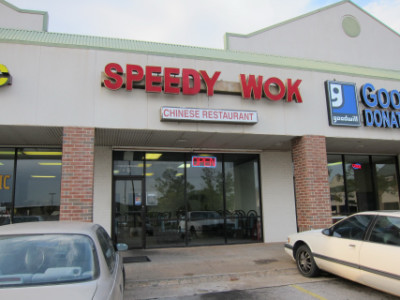 Speedy Wok is one of the small strip mall Chinese restaurants that have become quite popular by concentrating on take-out orders at cheap prices. Most of these "express" restaurants offer MSG-free food (including Speedy Wok), but Speedy Wok can be distinguished from some of the other restaurants by such features as a very ambitious menu and a more upscale dining area for those who wish to eat at the restaurant (the dining room was completely remodeled in early 2014).
The customer service has always been quite good, and they will be glad to try to customize your order as much as possible.
Speedy Wok does not attempt to offer the kind of authentic Chinese menu found in various restaurants near N.W. 23rd and Classen. Within the range of "Americanized" Chinese food, though, this seems to be one of the better restaurants.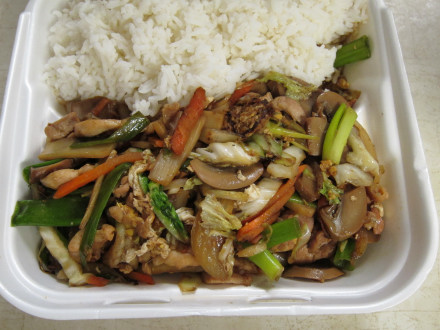 Mu shu chicken
One of the best dishes I have found is the Mu Shu Chicken, a flavorful dish with good quality chicken. I liked the vegetables, which included green onions (as opposed to the white ones which I think some restaurants use just for filler). The sauce was very flavorful, and I thought this dish tasted very much like ones I would get in the Asian District.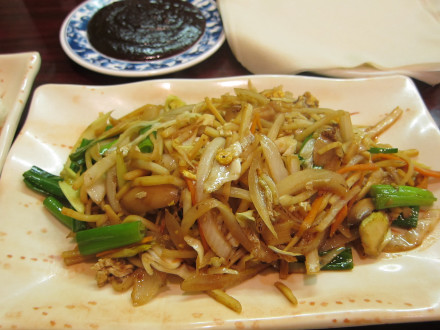 Vegetable mu shu
Vegetable Mu Shu is a good alternative to the meat versions by having the same sauce and "pancakes," extra vegetables, and a lower price. I am not satisfied by a lot of vegetable dishes, but this is one I will plan to order again.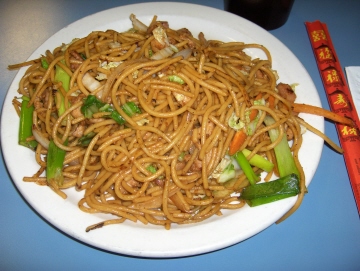 Vegetable lo mein
The Vegetable Lo Mein was good considering that this is something I rarely order (usually it is too Americanized). I found this one, though, to be flavorful and not too heavy on the cooking oil. The vegetables were fresh and this was an all around good meal (and pretty filling as well).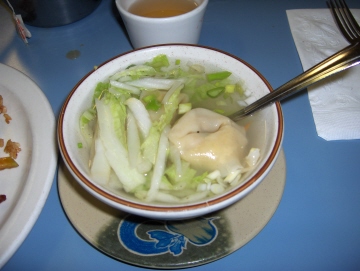 Small bowl of wonton soup
Wonton Soup has been my most frequently ordered item for several years. A small bowl is available with many lunch and dinner plates (or a choice of egg drop or hot and sour). A large bowl can be served as a meal, though, and many times I have found this to be enough when I do not have a huge appetite. The best part is the very substantial amount of wontons that are included, although I have found the broth to be of variable quality over several visits (but most of the time it is very good).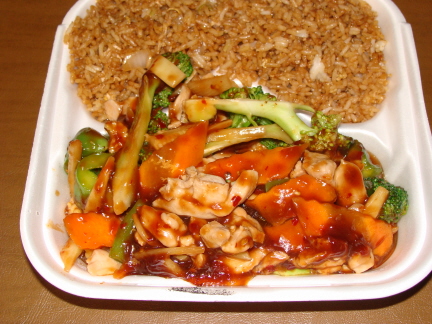 Hunan chicken
The Hunan Chicken was wrong for me in just about every way, and I would probably have to placed it in the "Americanized gloppy" category. The chicken was good, but it went downhill form there. The vegetables were not particularly good, with a lot of broccoli and bell peppers (any time a Chinese dish uses American style broccoli this is not a particularly good sign for me). The sauce was spicy beyond the point where it provided extra flavor, and instead it was just spicy with little else that I could taste.
Szechuan Pork, on the other hand, had a very flavorful sauce which was not too spicy and not overly sweet. The vegetables were much better than with the Hunan version, and this is one dish I would really recommend to people.
My attempt at ordering Bean Curd Country Style, normally one of my favorite dishes, also fell into the "fail" category for me. The tofu was overcooked and the vegetables were somewhat unappealing, although the sauce was good. With Speedy Wok advertising "MSG Free Low Calorie Cooking Chinese Food," the sauces are many times one of the better points of the restaurant.
The Hot and Sour Soup was quite flavorful, and I almost gave it a five-star rating except for the fact that the red chiles really overpowered the other flavors.
Along with the remodeling Speedy Wok also raised the price of many menu items out of the "inexpensive" category (but still not to the point that you would call them expensive). As an experiment I ordered the vegetable mu shu because it was one of the least expensive items on the menu. It turned out to be very filling, though, and I believe that many of the higher priced items on the menu now are simply because they have more food (and probably more than I can usually eat).
This is a very pleasant neighborhood restaurant where I enjoy chatting with the owners and getting some good, cheap food. The restaurant is so popular, though, that they often are busy preparing orders and do not have time to chat (and I think this is a good sign).
My Comments in a Nutshell
What I like most:
Cheap prices and better than average food
No MSG
Disappointments:
The difference between the best dishes and the worst ones is really quite noticeable, and I have had to explore the menu to find the best items.
Things to know:
Most of their orders are for take-out or delivery, but if you want to eat in the restaurant, the dining room is really quite comfortable.
Although they raised the prices in 2014, the "Platters" have a smaller serving, are the equivalent of lunch specials, and are available for dinner also.
The bathrooms do not look handicapped accessible to me. *** Update Dec. 2014 The bathrooms have mostly been fixed, but still do not have grab bars
RESTAURANT DETAILS
RATING: 19
Cuisine: Chinese
Cost: $
Hours: Closed Sun.
Accessible: Yes
Tea: Jasmine (bags)
MSG: No
Smoking: No Smoking
Alcohol: No
Buffet: No
Special Features: Delivery within 30 min.
Most Recent Visit
Dec. 20, 2014
Number of Visits: 10+
Best Items
Mu Shu Chicken, Mu Shu Vegetables, Szechuan Pork, Wonton Soup
Special Ratings
Mu Shu Chicken:


Mu Shu Vegetables:


Szechuan Pork:


BBQ Pork & Vegetables:


Hunan Chicken:


Cashew Chicken:


Lo Mein:


Bean Curd Country Style:


Wonton Soup:


Fried Rice:


Hot and Sour Soup:

MORE ABOUT THIS WEB SITE