okgourmet.com&nbsp &nbsp Home of Steve's Restaurant Reviews
Simply Falafel
343 S. Blackwelder Ave.
Edmond, OK
(405) 341-4646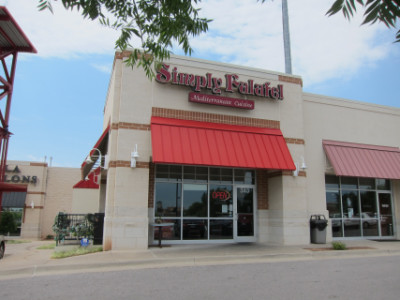 There are a number of factors that go into my impression of a restaurant, and at Simply Falafel there are some I cannot evaluate because I only had a sample of the food. From what I tried the flavor was wonderful and the service seemed to be very good. What I cannot yet evaluate is whether a meal here is sufficiently filling and whether the cost for a normal meal is within reason (but it seemed to be so from what I saw).
I did find out that the food here is Syrian (similar to Camilya's in Oklahoma City), and the menu is similar to many Middle Eastern restaurants in the Oklahoma City area. The restaurant is small and the owner greets every customer. I certainly do not mind that it is mostly a one-man operation because this is a good way to judge that the food will be consistent from one visit to the next.
I ordered hot tea with my food, and I thought it was good quality and a good bargain (this is not essential with Middle Eastern food but I would say it is very important). Everything here was very positive, but I just don't have a large enough sample size to say that all items on the menu will be the same way.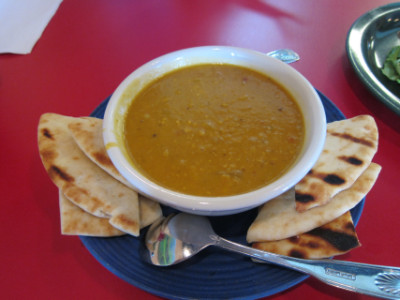 Lentil soup
I started out with Lentil Soup, which I shared, but it was enough to let me know that it was fresh with a good flavor. It differed from other restaurants, though, in being more tangy than most (in fact, it could be called downright spicy). I had the impression that this was more of a Middle Eastern style than the more common non-spicy versions (but I actually like both styles).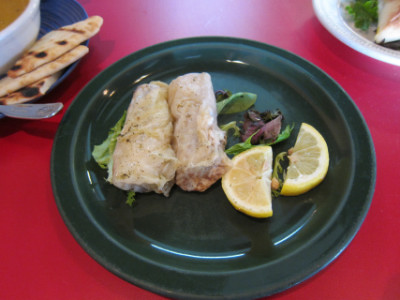 Cabbage rolls
I liked the Cabbage Rolls better than most, and the freshness of them seemed to be the key. I would say this was the best item I tried at Simply Falafel.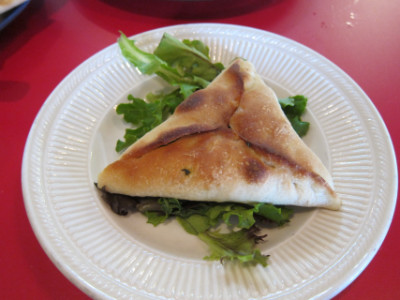 Spinach pie
The Spinach Pie was also a big hit, with a very good flavor. They are small, but they make a good appetizer.
This is high quality food served in a small, casual restaurant. I certainly think it merits further visits to try some of the other menu items.
A further note is that the restaurant is located south of 2nd St. across the street from the UCO campus (the location maps on some of the web sites are incorrect). Simply Falafel is at the south end of the strip mall where Cafe Icon is located.
RESTAURANT DETAILS
RATING: 23
Cuisine: Middle Eastern
Cost: $$
Hours: Open Daily except Sun. evening
Accessible: Yes
Smoking: No Smoking
Alcohol: No
Special Features: Halal Food
Most Recent Visit
Aug. 13, 2015
Number of Visits: 1
Best Item
Cabbage Rolls
Special Ratings
Lentil Soup:


Cabbage Rolls:


Spinach Pie:

MORE ABOUT THIS WEB SITE