okgourmet.com&nbsp &nbsp Home of Steve's Restaurant Reviews
Sheesh Mahal
4621 N. May Ave.
Oklahoma City, OK
(405) 778-8469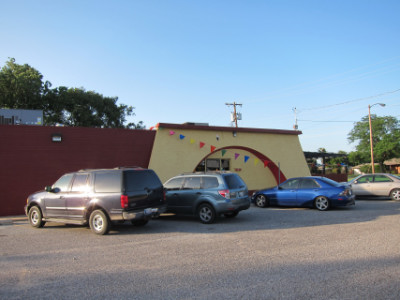 Sheesh Mahal is the latest restaurant in the same location which was the original Zorba's Restaurant, and more recently one of the Italia Express locations. I have a particular memory about this neighborhood since it is the one in which I grew up and went to grade school, although over the years it has been known more for neighborhood hangouts than restaurants which would attract a following from other parts of the city.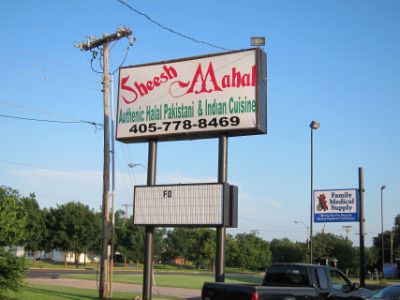 Sheesh Mahal's sign on May Avenue
One important development in this neighborhood since I left was the construction of one of the city's most prominent mosques, and the subsequent opening of several Middle Eastern restaurants in the surrounding area. Some of the restaurants happen to be among my favorites in the city, particularly the very good Moroccan restaurant called Cous Cous. Zorba's was an early pioneer of the Middle Eastern restaurants, but the ones opening now mostly specialize in halal cuisine (serving specially prepared meats, not serving alcoholic beverages, and usually sticking to authentic dishes from the owner's home country). Zorba's (which by the way, is still in business about a mile north of this location) was more of a "Mediterranean" restaurant which included dishes from Greece, Italy, and some Middle Eastern countries.
The sign in front of the restaurant says that it serves "Authentic Halal Pakistani & Indian Cuisine." Some other web sites had mislead me somewhat by indicating that Sheesh Mahal served Indian and Mediterranean food (making me think that they had two menus). This is not the case, but in fact the menu is entirely Pakistani (although they do a Pakistani version of falafel and other Lebanese dishes). There is some overlap between Pakistani and Indian food, so it is correct to call this a "Pakistani & Indian" restaurant (the "Halal" aspect would also make it very similar to food in Bangladesh).
I did not find many of the Indian dishes I might have wanted to order, nor did my dinner come with the chutneys or spicy pickled sauces I usually like to get with Indian food. Sheesh Mahal was a very good representation of Pakistani food, though, as I will attempt to explain in this review. In fact, I was much more impressed with this restaurant than a similar restaurant nearby which was my first exposure to Pakistani cuisine.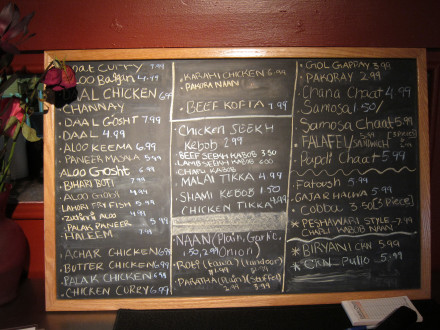 Sheesh Mahal posts their daily menu on a blackboard
The menu looks fairly daunting for first time visitors, but the staff will provide recommendations if you ask. I tried to order a dish with a spice level I would like, but other web sites indicate that you can custom order the spice level you want. In my case I decided I would like to try chicken, and Some of the dishes are Indian, but I believe they are done with a Pakistani twist, particularly in the way the curries are prepared. My admittedly beginning level knowledge of Pakistani cuisine is that it is primarily prepared to enhance the meat, while Indian food is famous for serving some of the world's most delicious vegetarian dishes.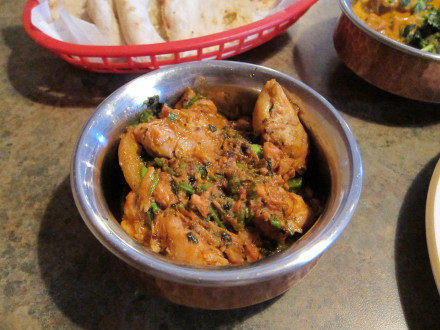 Karahi chicken
I asked for recommendations, which for me is a good idea when I am not very familiar with a particular cuisine. Not suggesting any of the vegetarian dishes, the staff did think the Karahi Chicken would be a good choice. I not only enjoyed the flavor of this dish, but I also thought they got the spice level just about right (equivalent to four out of five on my "chile scale"). There were several meat dishes available (including beef, which is not usually found in Indian restaurants), and meat items seem to be staples of Pakistani food.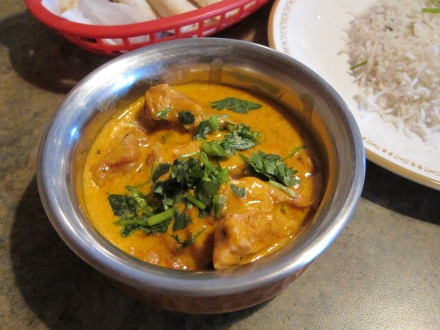 Butter chicken
The Butter Chicken was a dish I only sampled, but while it was good, I thought it had a flavor that was too subdued to really warrant a trip to one of the city's most unique ethnic restaurants (while the karahi chicken would be worth the trip for me).
The Rice was excellent, and was one of the best I have had anywhere (but I think costs extra, if I remember correctly).
The Garlic Naan had too much garlic for my taste, and was surprising considering the very good naan I have had at Taj and other Indian restaurants. It was fresh, though, and they do have both plain and onion naans (which I think may be better).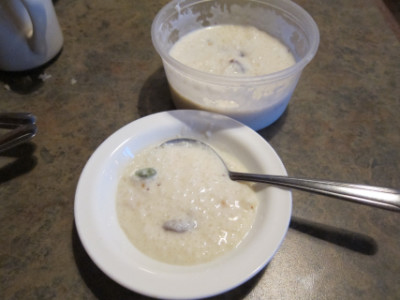 Rice pudding for dessert
Rice Pudding was excellent for dessert, but only comes in a large order which costs about $6 (and which I ordered in a take-home container). In addition, they have "daily" desserts which are different each day of the week. I think that these, too, are meant to share or else take some of it home.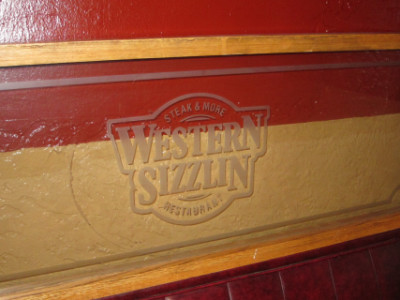 If Western Sizzlin is looking for one of their missing booths, I think I have found it
The food at Sheesh Mahal was very easy on my stomach (I sometimes have a problem with spicy food, especially when I am not used to it). My dinner was really more on the level of being "medium spicy," but it was enough to bring out the flavor of the obviously complex mixture of spices and other ingredients. I was really very impressed with the food overall.
When I went there was only one table available (a testament to the restaurant's popularity). I know that many of you have discovered this restaurant long before I did, and I am probably not providing any new information in this review, but I am glad to add my recommendation for Sheesh Mahal to others I have seen on the Internet.
My Comments in a Nutshell
What I like most:
Delicious, high quality food
Settles in stomach very well for spicy food
Disappointments:
Did not make available the chutneys and pickled sauces I usually get in Indian restaurants
Things to know:
Menu is on a blackboard--you order at cash register and then find a table
Serves Pakistani cuisine--some web sites say they serve Indian and Middle Eastern food, but I think this is a little misleading
Vegetarian choices seems to be limited--I think it's best to order a meat item here
Non-spicy items are also available
The handicapped ramp looks a little narrow and outdated, but I think it is usable
RESTAURANT DETAILS
RATING: 24
Cuisine: Pakistani
Cost: $$
Hours: Open Daily
Accessible: Yes
Tea: Chai
MSG: No
Smoking: No Smoking
Alcohol: No
Buffet: No
Most Recent Visit
Jun. 17, 2014
Number of Visits: 1
Best Items
Karahi Chicken, Chai, Rice Pudding
Special Ratings
Karahi Chicken:


Butter Chicken:


Rice:


Garlic Naan:


Rice Pudding:


Chai:

MORE ABOUT THIS WEB SITE