okgourmet.com&nbsp &nbsp Home of Steve's Restaurant Reviews
Sean Cummings' Irish Restaurant & Pub (Closed)
7523 N. May Ave.
Oklahoma City, OK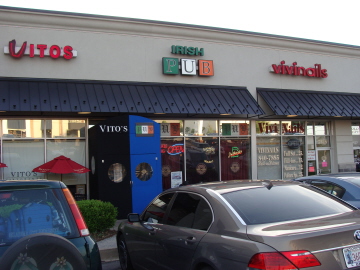 Note: In 2018 the Irish Pub reopened across the street and one block north at 7628 N. May. It has the same menu (or one that is very similar). Vito's has also relocated to 7628 N. May.
When I was visiting England it seemed that neighborhood pubs were a reliable source of good food, and although it was not fine dining it was enjoyable. For some items, such as fish and chips, I found it better to go to larger restaurants that specialized in that item. Although Sean Cummings' Irish Restaurant and Pub would not want to be accused of commiting the heresy of serving English food, the concept of Irish pubs is very similar to the English variety. At Sean Cummings' Restaurant the atmosphere is relaxed, drinks are an integral part of the menu, and the food served is what I would call comfort food. Because of this, when I went to Sean Cummings' Restaurant I felt right at home.
Over my lifetime it seems that American restaurants in Oklahoma City have largely disappeared. There is still an abundance of hamburgers and fried food, but it is difficult to find places that serve food that taste like home cooked meals. Although Sean Cummings' Restaurant is European, there are enough similarities to the home cooked meals I have experienced to say that this is a good place to satisfy these cravings. Like many European style restaurants, it is not as much the exotic nature of the food that attracts me as its familiarity, and the feeling that this is the type of food that I really like.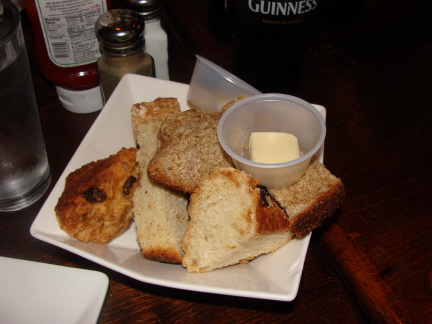 Bread served as an appetizer
Meals start out with a serving of bread. There is nothing earthshaking about the bread here, but it has become so hard to find freshly baked bread that when restaurants such as Sean Cummings' Restaurant serve it, it is somewhat of a special experience.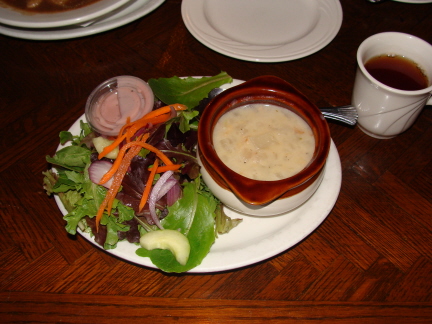 Soup and salad
A soup and salad plate are also available, such as the one pictured. I do not know the full list of soups offered, but the emphasis is on traditional varieties that taste home made. The Clam Chowder was very good, and Sean Cummings' Restaurant is one of the few sources of it in Oklahoma City (and like at Sean's former restaurant Boca Boca, seafood items are one of the best that can be ordered here).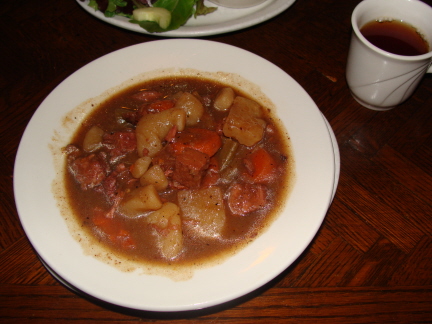 Irish stew
My initial visit to Sean Cummings' Restaurant was at the original location in The Village after Boca Boca had been turned into the Pub. Now the restaurant is located next door to Vito's, an Italian restaurant owned by Sean's wife (and which is also one of my favorite places in town). One common factor I found at both Sean Cummings' restaurants was that I enjoyed the Irish Stew, and so far this is my favorite dish at the restaurant. This is a classic stew with meat, potatoes, and vegetables thrown in, but I have had very few stews that taste as good as this one. Stew is a dish that I commonly associate with American restaurants, but it is one of the reasons I have found most American restaurants in the city to be so disappointing (and Sean Cummings' Restaurant, by contrast, to be so good). This dish is not a traditional American dish, but I think it is something that helped inspire American cooking when much of it was better than it is now.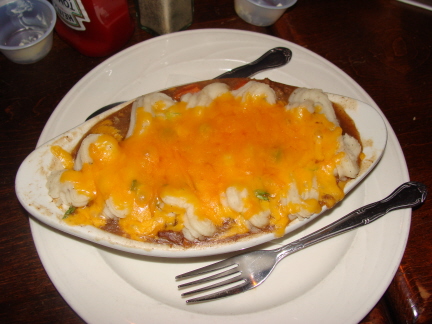 Shepard's pie
Shepard's Pie is another traditional comfort food, made with ground beef, carrots, green beans, and cheddar cheese. I thought it had a flavorful sauce, and was another good dish.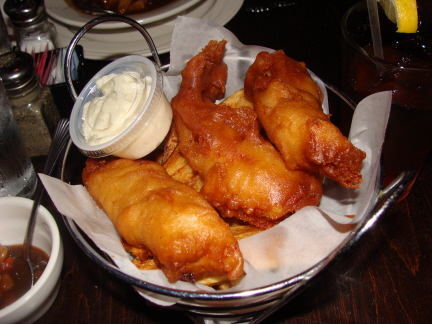 Fish and chips
To judge Fish and Chips my standards are primarily the ones I ate in London and secondarily the ones on the Oregon and California coast. I know Oklahoma City should not and probably cannot be held to the same standards, but the ones at Sean Cummings' Restaurant were quite good nevertheless. They were good fish with a good batter, and this is about all that is involved in the fish. The chips (french fries) were also good, but this is the area where I felt the ones in London were noticeably better. Really my problem with this dish was not one that I could critique, but was more of a personal one. There was a large quantity of fried food (fish and french fries), but I would have preferred to have a salad, cole slaw, or something to accompany it to balance the flavors and to offset eating so much fried food. Of course side dishes can always be ordered, but the fish was quite filling and I really could not hold anything else.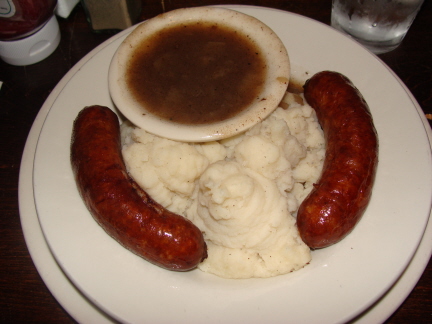 Bangers and mash
The Bangers and Mash dispel the idea that Irish food might be bland, with a very spicy sausage and peppery gravy for the mashed potatoes. The sausage tasted a little like bratwurst and the gravy was very much like I would expect brown gravy to be, except that it had quite a lot of pepper. The mashed potatoes were a little disappointing in the taste, but at least the texture was good and I did not believe them to be instant.
I am used to spicy Asian food, but I am not used to the kind of spiciness found in the bangers, so they were not quite as enjoyable as German bratwurst or other sausages would have been that do not have as much kick to them (I also do not care for the hot links served at barbecue restaurants). This is just my personal preference.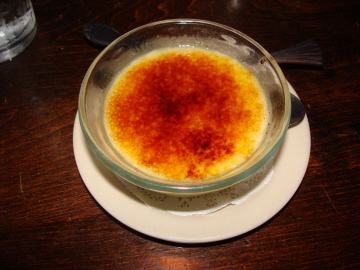 Creme brulee
Several desserts were offered, and the Creme Brulee I tried was good but I thought was overpriced, and better ones are served at other restaurants.
Sean Cummings' Restaurant offers a good choice of items, but my favorites are the ones I consider to be the more healthy options such as the Irish stew. Other dishes are available that I have not yet been able to try, and they all look interesting. Based on my experience here and at Boca Boca (Sean's previous restaurant), I would not be hesitant to try anything on the menu.
RESTAURANT DETAILS
RATING: 21
Cuisine: Irish
Cost: $$
Hours: Open Daily (dinner only)
Accessible: Yes
Smoking: No Smoking
Alcohol: Beer and drinks
Special Features: Live music
Most Recent Visit
Jul. 14, 2014
Number of Visits: 4
Best Item
Irish Stew
Special Ratings
Irish Stew:


Shepard's Pie:


Fish and Chips:


Bangers and Mash:


Creme Brulee:

Restaurant Web Site
Sean Cummings' Irish Restaurant & Pub
MORE ABOUT THIS WEB SITE