okgourmet.com&nbsp &nbsp Home of Steve's Restaurant Reviews
San Marcos Restaurant No. 3
12201 N. Rockwell Ave.
Oklahoma City, OK
(405) 722-1172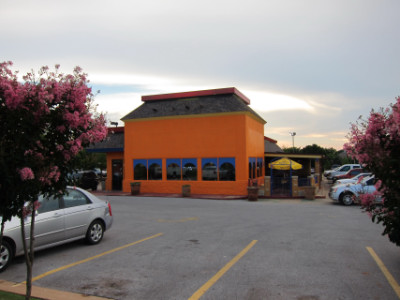 Note: In 2012 and 2013 I noticed a couple of changes in the food that seemed to indicate a change in management at this restaurant. The first change did not seem to be for the good, but the second (and current) one has made a lot of improvements that I really like. In this review I will include both old and new experiences which I think accurately reflect the food which is currently served.
San Marcos follows a familiar pattern in Oklahoma City of a Mexican restaurant expanding north from Capitol Hill with several branch locations. Unlike some other "mini-chains," though, the food at the north suburban branches tastes much the same as I would expect to find in the strongly hispanic area where the original restaurant is located. San Marcos does make some concessions to Tex-Mex style food by providing chips, queso, and sopapillas (all of which tend to raise the prices), and by offering several familiar Tex-Mex items on the menu. A large portion of the menu, though, is devoted to traditional northern Mexico style cuisine.
Many of the traditional dishes are a meat lover's delight, with steaks, ribs, and grilled meat of all kinds. Based on the vegetarian items I have tried, I would not recommend them as much as the meat dishes (some of them, such as the enchiladas, tend to be Tex-Mex style). Probably San Marcos' greatest strength, though, is in its variety. San Marcos serves traditional Mexican food and Tex-Mex, spicy and non-spicy, large dinners and a la carte.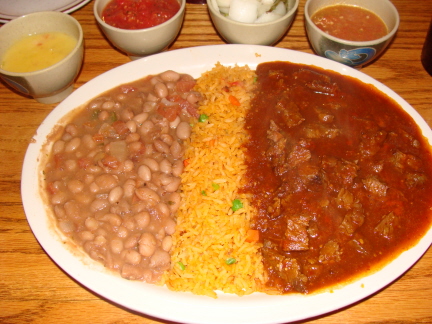 Guisado de chile rojo with beef
One section of the menu is devoted to guisado dishes (these are popular in northern Mexico). Guisado (or stew) is served with a choice of meats, and with a default red chile or optional green chile or entomatado (tomatoes). The best one I tried was the red chile with beef. The red chile has tended to be quite spicy, and the beef seems to be the best meat to blend with this sauce. The quality of the beef was also noticeable.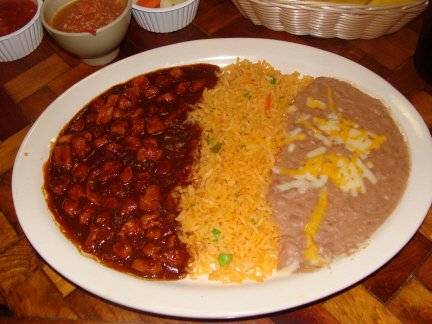 Guisado de chile rojo with pork
The Guisado de Chile Rojo can also be served with pork, but otherwise is the same as the beef dish. I thought the pork was dry, but otherwise I enjoyed this dish much the same as the beef dish, with the meat blending well with the spices.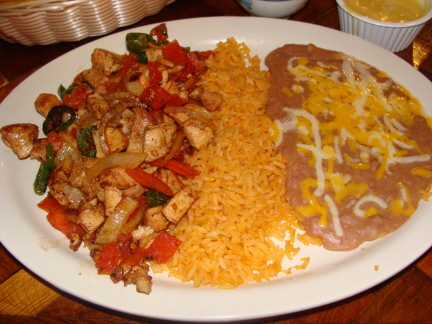 Guisado de gallina
Guisado de Gallina had good chicken, but when they had a particularly hot batch of chile I really felt it with this dish. This was the optional entomatada sauce, which might not have been the best choice (but at least the flavor was good).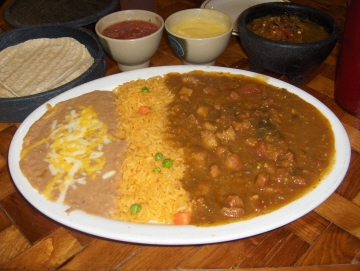 Guisado de chile verde
The Guisado de Chile Verde was not as enjoyable to me because the chile was hotter than the red, and I thought less flavorful. As was the case with the other dishes, though, I enjoyed the meat.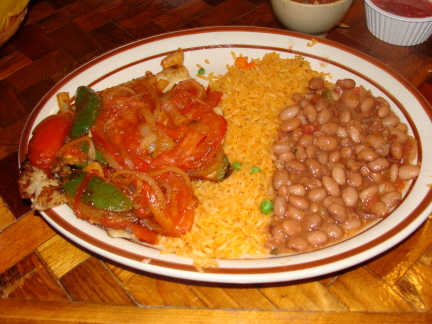 Pescado a la veracruzana
One dish I really enjoyed was Pescado a la Veracruzana, or Veracruz style fish. This was a fish fillet with onions, tomato, and green peppers. This was not the way I had seen this dish served before, and I am used to green olives being included. I thought the green peppers were too hot to add much flavor to the dish, but otherwise I enjoyed it (especially because the fish was good). Avocados were added for flavor, and in my opinion this is a good dish to try.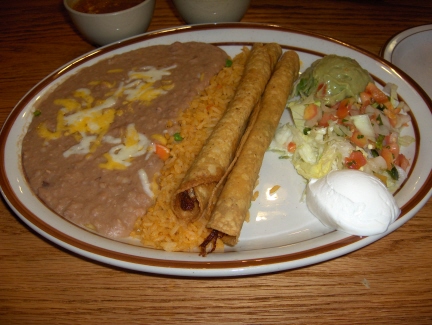 Flautas
Flautas are probably considered "traditional" Mexican food rather than Americanized, but the fried tortillas generally make them less appealing to me than Mexican tacos with the soft tortillas. Flautas also have less meat and more toppings than tacos. To be a purist about the flautas, the American style sour cream served here was not the same as the traditional crema (which is thinner), and combined with some other details these flautas seemed good but not great. Still, it was and enjoyable dish.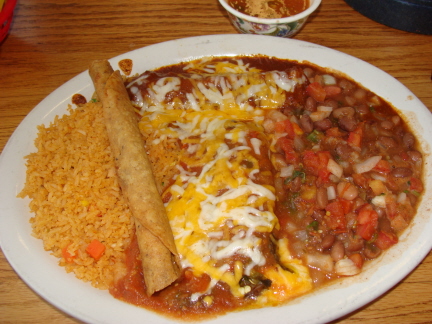 "Los Arcos City" plate with rice, flauta, tamal, chile relleno, and borracho beans
One word of warning about the flautas is that when I ordered them on the "Los Arcos City" combination plate they did not come with sour cream or guacamole. To me this was definitely not a good way to eat a flauta.
The Chile Relleno had a good chile, but was so covered with cheese that I think it is more representative of Tex-Mex style than a true Mexican style dish. Los Arcos was definitely not one of my favorite dishes.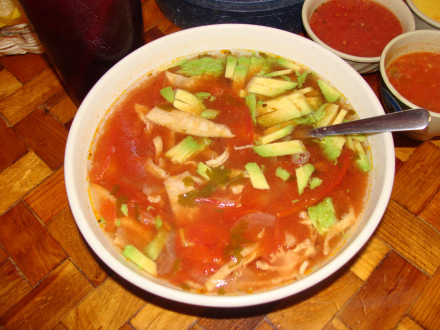 Tortilla soup
The Tortilla Soup had a good broth with fresh avocados, but I did not care a whole lot for the chicken white meat. The flavor was good but probably not very notable compared to other restaurants.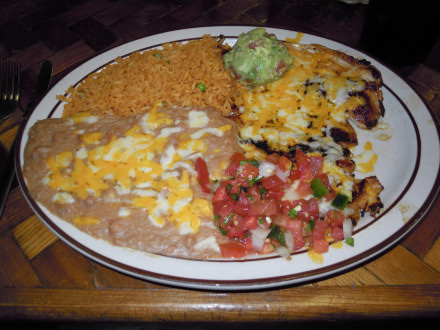 Pollo a la parrilla
Because the Pollo a la Parrilla was smothered in melted cheese, this dish gave me little indication that the food had improved after the "slump" I noticed about 2012. The chicken was good, but I thought this type of cheese was neither very authentic nor very good. Customers can opt for the dish without the cheese, and put other toppings on it (such as the salsa and pico de gallo they will give you on request). However, there are several other chicken dishes I enjoy more than ordering it this way.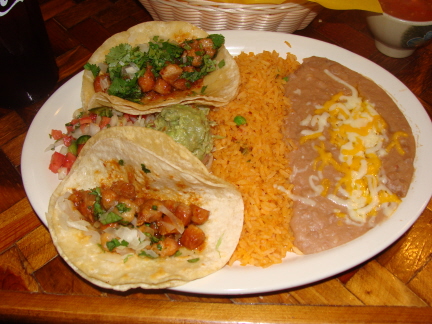 Pork tacos
Pork Tacos are listed on the "Mexican Tacos" section of the menu, indicating that they are one of the more authentic items. The restaurant is very up front about identifying which items are traditional Mexican dishes and which are Americanized. This is one that is about as traditional as I have found in Oklahoma, with soft tortillas, seasoned meat, and a garnish of onions and cilantro. It comes with a fairly spicy red sauce.
After experimenting with it, though, I think it is better to skip the red sauce, and instead to use the spicy table salsa they provide on request. To me the spicy table salsa does not blend perfectly with the taco, but it I think it is better than using the default red sauce (and the tacos are quite good regardless of the sauce that is used).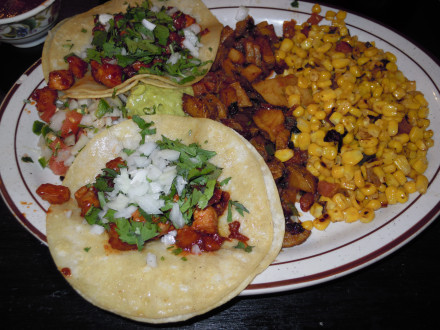 Pork tacos with potatoes and corn
Even though most dishes at San Marcos come with rice and beans, the waiter suggested substituting other items to provide more variety. In this case, the Mexican Corn and Potatoes were both very good, and I think gave the plate more of a "south of the border" flavor than the standard rice and beans would have done. The substitution of potatoes and corn costs extra.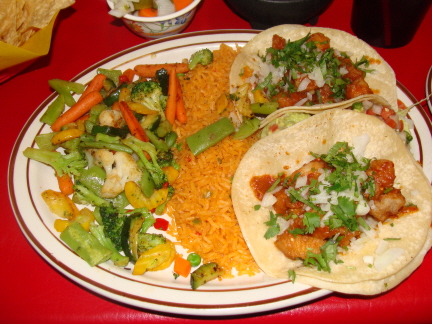 Fish tacos with Mexican vegetables
The Fish Tacos had a good quality fish, but I thought the red sauce that came on them was rather disappointing. For these tacos I would have preferred to add my own pico de gallo, salsa, or other sauce to give it flavor. I did think the onions and cilantro was a good touch, though.
The Mexican Vegetables were cooked very well so that they were slightly soft, and I especially liked the flavoring instead of cheese that many restaurants use.
San Marcos also serves tacos al carbon, carne asada, and barbacoa under the "Mexican Tacos" section of the menu (meaning that they come with soft tortillas).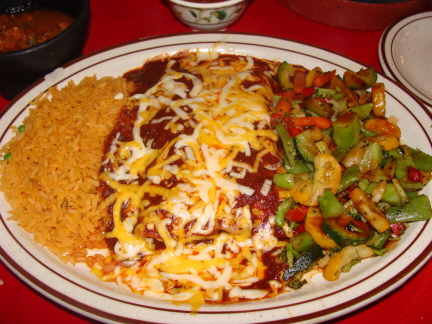 Chipotle enchiladas
The Chipotle Enchiladas were too spicy for me, although they did have a good flavor. This is something I ordered only once (and then again several years later when I had forgotten about the experience I had the first time).
The Green Enchiladas had green chile with a good flavor, and just the fact that they came with green chile made them fairly unique for Oklahoma restaurants. San Marcos has several types of enchiladas, and some are more Tex-Mex style, but the green enchiladas were one of the best I have tried at San Marcos. This dish was not as spicy as comparable green chile enchiladas at other restaurants.
Most meals come with Refried Beans, but I usually prefer the Borracho Beans made with whole beans (and the Charro Beans are even better).
The Rice was very flavorful and well prepared.
The Spicy Salsa is one of the best, if not the best one I have found in OKC (it is also good to take home the portion you do not eat in the restaurant). The spicy salsa is free on request.
San Marcos used to serve authentic Mexican style aguas frescas drinks, but they were discontinued in 2009 due to a lack of people ordering them. From talking to the employees I gather that the drinks are still available at the restaurant's other locations. I judged the horchata and the melón (canteloupe) to be rather thin, but serving these drinks was one of the major factors that made me enjoy San Marcos.
SPECIAL DISHES (Not on the Menu)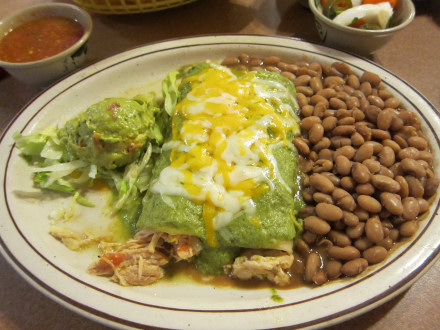 Chicken enchiladas with 'grandma' sauce, or enchiladas abuelitas
Probably my favorite dish at San Marcos is Enchiladas Abuelitas, or "Grandma Enchiladas," made with a special green sauce mixed with sour cream. These are not on the menu, and only available Thursday through Sunday (and not always even on these days). When available, though, these are excellent, very authentic, and usually very spicy (but, thankfully, not as spicy as the chipotle enchiladas).
The enchiladas pictured are made with chicken, but customers have a choice of meats and side dishes (this one is with beans and guacamole). Making this and other "special request" dishes available to customers is one of the changes I noticed with the current management, and I would encourage anyone who has any special requests to make them known to the restaurant (and I am sure they will do their best to fulfill them).
My Comments in a Nutshell
What I like most:
They have several very authentic items, some of which are not on the menu (but they will let you know what is available).
The main reason I keep going back (apart from the food) is that almost all dishes can be served without side dishes, saving a considerable amount of money over time. Also they are glad to make substitutions for the rice and beans (usually for $1 extra).
Disappointments:
The chips have such a strong corn oil taste that I usually do not eat them.
Many times I do not care for the toppings on dishes (a sauce I do not like or a dish covered with cheese). They will be glad to change the orders, but I was disappointed the first time I ordered many of the items and got the "default" version.
The sauces that come on the tacos have been disappointing to me (I usually order tacos without the sauce and I use the spicy table salsa).
Things to know:
They have several other locations--the newest one is at N.W. 40th and MacArthur where Los Amigos used to be.
Some very authentic (not Tex-Mex) food is available from certain parts of the menu or by asking the servers.
This is one of the few restaurants in the city that is really warm and comfortable for me in the winter.
Usually has sporting events showing on TV, but the sound is not on so it does not interfere with conversation.
Not much here is really spicy unless you ask for the spicy salsa, or order the authentic items from the menu. Items that are too spicy for me are the chipotle enchiladas and dishes with entomatada sauce.
RESTAURANT DETAILS
RATING: 21
Cuisine: Mexican
Cost: $$
Hours: Open Daily
Accessible: Yes
Additional Locations: 2301 SW 59th St., 4024 N. May Ave., 4101 N. MacArthur
Smoking: No Smoking
Alcohol: Beer
| | |
| --- | --- |
| Chile Index: | |
Most Recent Visit
Dec. 26, 2014
Number of Visits: 10+
Best Items
Tacos from the "Mexican Tacos" portion of the menu, Mexican Corn, Potatoes, Spicy Salsa, "Grandma Enchiladas" (usually available Thur.-Sun.)
Special Ratings
Guisado de Chile Rojo:

beef
Guisado de Chile Rojo:

pork
Guisado de Gallina:


Chile Relleno:


Pescado Veracruzano:


Pollo a la Parrilla:


Pork Tacos:


Chicken Tacos:


Fish Tacos:


Bean Tostada:


Flautas:


Green Enchiladas:


Tortilla Soup:


Guacamole:


Rice:


Beans:

refried
Beans:

borracho
Beans:

charro
Mexican Corn:


Mexican Vegetables:


Potatoes:


Salsa:


Salsa:

spicy
Pico de Gallo:


Queso:


Chips:


Sopapillas:

Special Dishes (Not on the Menu)
Grandma Enchiladas:

Thurs.-Sun.
Restaurant Web Site
San Marcos
RELATED ARTICLES
Nov. 6, 2015 : Enchiladas Worth Seeking Out (Oklahoma City, OK)
MORE ABOUT THIS WEB SITE