okgourmet.com&nbsp &nbsp Home of Steve's Restaurant Reviews
Sala Thai
1614 N.W. 23rd St.
Oklahoma City, OK
(405) 528-8424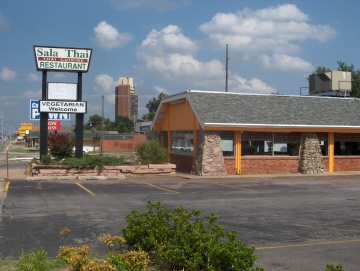 Sala Thai's long time owner Nick left a few years ago to start Thai Palace in Edmond, the restaurant that I think not only sets the standard for Thai food in Oklahoma, but has some of the best Thai food in the nation. "Mrs. Nick" continued to operate the restaurant until late 2006 when new owners took over. While many people may continue to visit this 23rd Street institution out of loyalty to the food Nick and his wife introduced, the new management faces a tough job living up to that standard.
My initial impression of the "new" Sala Thai is that the food is quite good, and may even be better than has been the case in the past few years since Nick left. The new owners have kept the extensive menu they inherited with enough choices to either make a Thai food aficionado go wild or to leave a person so perplexed they will need to ask for suggestions. Like any type of cuisine, there is a learning curve when a person is first introduced to it, and Thai food presents one of the best opportunities to experience delicious healthy cooking.
At the "old" restaurant the Ginger Thai Style with tofu was one of my favorite dishes. Using what I believe is a safe assumptions that the new owners are preparing food that is at least as good as was served previously, this should still be a good choice, especially for those who do not want to order the spiciest dishes right off the bat.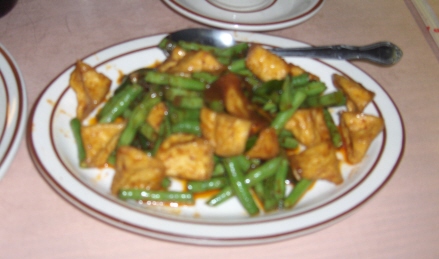 Spicy Green Bean made with Prig Khing Curry
The Spicy Green Bean dish I tried after the ownership change was delicious, with not only a good flavor but with the texture I associate with better versions of pad prig khing sauce (I am sorry for the poor quality photo, but the food was very good). Tofu can be substituted for the choice of meats that come with the dish, and I was very happy with the way the tofu was cooked. The default spice level was the same as I have found in Thai restaurants that cater to Thai people who are used to the "authentic" stuff, so overall I would have to give this dish "thumbs way up." I did have to pick up some fish sauce from the counter, though, to give it the additional flavor I enjoy.
Thai Basil was a dish I liked at the old restaurant, and that should still be good.
I am not sure if the lunch specials are still available. These were served between 11 a.m. and 1 p.m. with a choice of any three items, either with meat or vegetarian. The lunch special is a good way to sample the food at Sala Thai, and get a price break as well.
RESTAURANT DETAILS
RATING: 23
Cuisine: Thai
Cost: $$
Tea: Jasmine (bags)
MSG: No
Smoking: No Smoking
Most Recent Visit
Jan. 24, 2007
Number of Visits: 6
Best Item
Spicy Green Bean, Thai Basil
Special Ratings
Spicy Green Bean:


Thai Basil:

MORE ABOUT THIS WEB SITE