okgourmet.com&nbsp &nbsp Home of Steve's Restaurant Reviews
Saii Asian Bistro
6900 N. May Ave.
Oklahoma City, OK
(405) 702-7244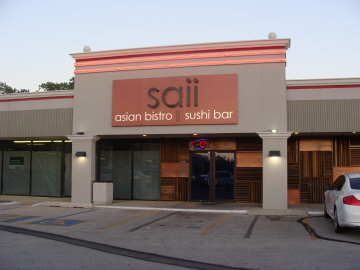 There are several "Asian bistros" around Oklahoma City, and these are somewhat hard to judge in a review. Saii Asian Bistro, like some others I have visited, offers several types of Asian cuisine, including Thai, Japanese, and Chinese. I would have to try all of them to write a fair review of the food, and then I would have to try to find the best dishes in each category. At Saii, though, I do not think they are really trying to be a restaurant that specializes in Thai, Japanese, Chinese, and whatever other types of food are on the menu. Instead, the owner explained that it is a place where a group of people can come to relax and enjoy a meal, and that every person can order the type of food they like. This probably persuaded me as much as anything I have heard about the idea of Asian bistro restaurants.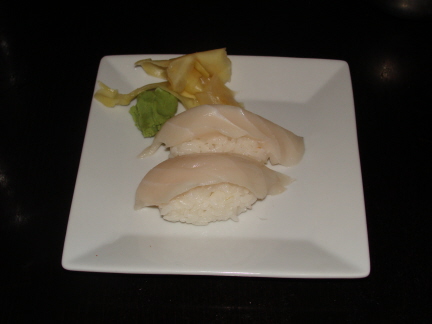 Tuna nigiri
Most of what I heard about Saii before I went was that it was a sushi restaurant. In fact, it looked as if about half of the restaurant's staff was devoted to the sushi bar, which I will have to say looked very impressive. I saw several orders of rolls being prepared (such as California rolls), but they also had a good selection of traditional nigiri fish and seafood selections.
For me sushi is usually an appetizer, and a good practice is to ask the sushi chef what is recommended at the particular time I am there (since the freshness and quality of fish is variable, even at the best sushi restaurants). On the chef's recommendation I ordered the Superwhite Tuna Nigiri (raw fish with rice), while salmon was the other recommended selection. I would have to try more items to compare it to Tokyo, but so far I think Saii has sushi quality that is comparable to Tokyo (which in my opinion is the city's premier sushi restaurant). Just from observing the sushi chefs at Saii it looks as if they put a lot of effort into the sushi preparation, and I am not surprised that the fish had the flavor and freshness that it did.
The sushi rice was better than most, and I understand that this is where many otherwise good sushi restaurants fall down. The waitress told me that the rice had MSG, and because of this I would probably not want to make an entire meal of nigiri or other items with the sushi rice. However, the flavor was like it should be, and it did not fall apart as happens in many sushi restaurants.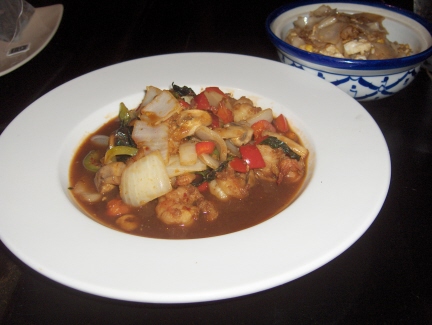 Spicy Thai kra pao with shrimp
Since the owner is from Thailand, and a large number of the dishes on the menu are Thai, this seemed to be a good reason to try the Thai food. On my initial two visits both servers recommended Spicy Thai Kra Pao as one of the best Thai dishes. This is not surprising, since basil dishes are usually among my favorites at Thai restaurants.
In describing this dish, though, I feel as if I am writing about two different dishes on two visits. The first was served with shrimp, but the dark brown sauce was so lacking in flavor that it was hard to enjoy the other ingredients to the dish. This dish really confirmed my worst fears about an Asian restaurant that offered so many cuisines that it could not do any of them really well.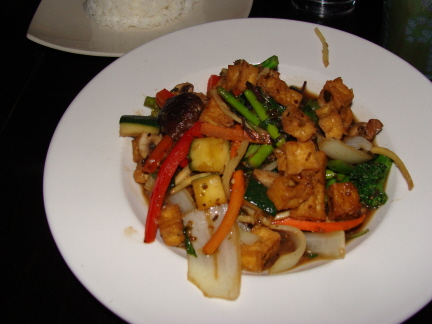 The "upgraded" Thai kra pao with mixed vegetables, served with tofu
I had a conversation with the owner, though, and he told me about several changes he was making in the kitchen and the restaurant that convinced me to return to Saii and give it another try. The second time I tried the kra pao it still had the dark sauce, but the flavors had been transformed into the lively and complex type of Thai food that I really like. I do not really care how a dish looks, I care about the taste. This one had a flavor that I thought could compete with just about any Thai restaurant in the city. I asked for the dish to be spicy, and I was pleasantly surprised that they made it "Thai spicy." I do not really think this was the main factor in making the second dish better, though; I think it was primarily because it was probably cooked by the owner or someone who knew how to prepare Thai food and took the time to do it correctly.
One notable improvement to the kra pao was the assortment of mixed vegetables that were included, that frankly made this one of the better Thai dishes I have had in Oklahoma. I ordered the dish with tofu, and I was very impressed with its quality. I still recommend the shrimp, but for my personal taste I thought the tofu was probably better. With as many vegetables as they put in the dish I do not think anyone will go away hungry if they get the meatless version.
Of course one of the main ingredients to kra pao is the basil, and the one here was fresh and aromatic as well as flavorful (and I found it to be so in the first dish I tried as well).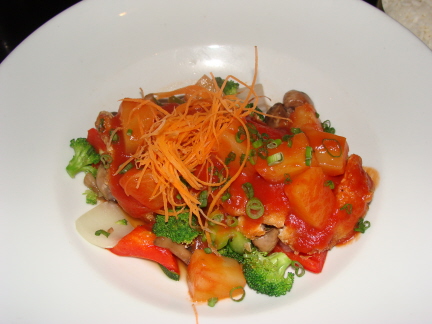 Pungent chicken
Pungent Chicken was definitely non-spicy, and I thought would be a good test of a part of Saii's menu I had not yet tried. This tempura fried chicken breast with Mandarin sweet and sour sauce seemed to fit the "Asian bistro" concept with supposedly Japanese breading and Chinese sauce. I thought, though, that it probably had more of a Thai origin since the sweet and sour sauce was not anything like the standard Chinese sweet and sour I find in many restaurants (it was similar, though, to the Thai sweet and sour sauce that I like much better). In any case it was very good. The only thing I would argue with was the cost (the crispy chicken with tamarin sauce at Thai Stop was probably equally good at a lower price). However, the sauce at Saii was complex, flavorful, and different from others I have tried, so I thought it was worthwhile ordering.
When upscale Asian restaurants (especially bistros) serve specialty teas instead of the standard jasmine that I usually find, this is a cause for suspicion that they are just trying to charge artificially high prices. One of the specialty teas at Saii was jasmine, though, so I tried it. This turned out to be exceptionally good and not much more expensive than at other restaurants, so I was very happy with the tea. The type of tea leaves used were very much like an herbal tea, and the large tea bag they gave me lasted for several refills of hot water.
The atmosphere at Saii is very upscale, and prices are high for Asian food. The service is very good, though, and they can many times customize orders. While it may be easy for a restaurant serving several cuisines to be mediocre in all of them, I think Saii is very competitive with the rest of the city at least in the Thai and Japanese cuisine (and this seems to be about 90 percent of the menu). The only thing is that Saii does not conentrate on the Thai food being extremely spicy unless this is what the customer wants. So far I have been pretty happy with the results.
RESTAURANT DETAILS
RATING: 22
Cuisine: Thai and Sushi
Cost: $$
Hours: Open Daily except Sun. lunch
Accessible: Yes
Tea: Jasmine (herbal)
MSG: Yes
Smoking: No Smoking
Alcohol: Beer
Buffet: No
Most Recent Visit
Oct. 23, 2011
Number of Visits: 3
Best Items
Thai Kra Pao, Sushi
Special Ratings
Thai Kra Pao:


Pungent Chicken:

Restaurant Web Site
Saii
MORE ABOUT THIS WEB SITE