okgourmet.com&nbsp &nbsp Home of Steve's Restaurant Reviews
Rudy's Country Store & Bar-B-Q
3437 W. Memorial Rd.
Oklahoma City, OK
(405) 254-4712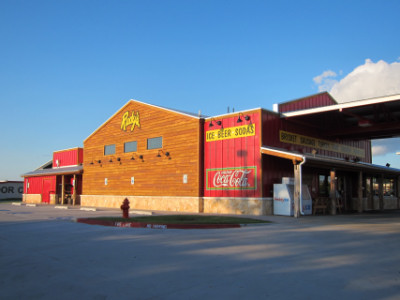 It is interesting for me to compare the Rudy's Bar-B-Q in Oklahoma City with the one in El Paso. I tried the one in El Paso several years ago, while the one in OKC was opened recently (although the one in Norman has been open at least since 2009). Both of the Rudy's I have tried tasted just about the same. I found more choices on my most recent visit, but I think this is true throughout the Rudy's chain, and some of items may have been added since my visit to the El Paso restaurant in 2007.
For El Paso, Rudy's was one of the best barbecue restaurants in town. I did not eat much barbecue in El Paso because I was able to make frequent trips to Oklahoma City where it was better. Now that I have been able to try Rudy's shortly after eating at some local OKC barbecue places, this reconfirms my feeling that sometimes barbecue is all relative. Rudy's seems "middle of the road" compared to several very good barbecue restaurants in Oklahoma City, but I think it should still be considered pretty good. I will try to explain some of what I think are the good points and bad points about Rudy's compared to other Oklahoma barbecue. For me, I think there is better barbecue elsewhere. This does not mean, though, that Rudy's should not be given a chance.
Rudy's has a large variety of pop
One thing very noticeable about Rudy's is that it offers a lot of choices. This is evident beginning with the drinks. The ice chest full of pop was quite colorful, and it looked as if they had just about everything available. When I went to Rudy's in El Paso I got a bottle of Jarritos soda from Mexico, but here I opted for iced tea (which was good as well).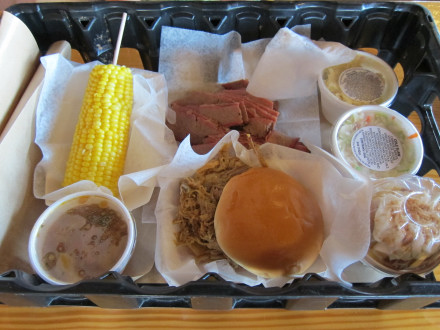 Green chile, pulled pork sandwich, banana pudding, cole slaw, potato salad, brisket, corn on the cob
The "dinner" pictured consisted of all the individual items ordered for two people (each item comes a la carte, and meat is sold by the pound). Sandwiches are the only meat items that have a fixed price and that come in a fixed quantity. I would say that if this dinner had been for more people it could have included a huge variety of items.
As with my experience in El Paso, the Brisket was the best meat I tried (at both restaurants I also got a free sample of turkey). There are several local barbecue joints in Oklahoma City that have brisket which seems more flavorful to me, but I give the one at Rudy's a solid five stars (probably for meat quality more than flavor). So far this is the best item I have found at Rudy's.
The Pulled Pork Sandwich had a good smoky flavor, but I was not as impressed with the meat as I have been at other restaurants. I rated this as four stars, but part of this was that I did not care much for the bun or the sause (which I explain further near the end of the review).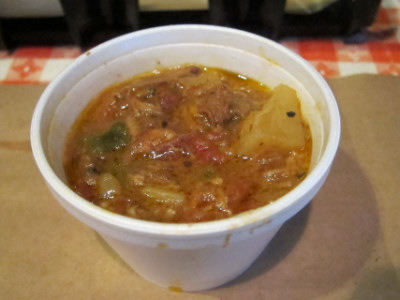 Rudy's green chile stew
I was alerted to the fact that they have Green Chile Stew by Gil's Thrilling and Filling Blog, as well as the fact that the meat in the stew is smoked. I thought it had good meat and good green chile (and the tomatoes and potatoes are ingredients I like to have in stew as well). It was not terribly spicy as it would most likely be in New Mexico, but the chile had a good flavor. The only drawback I find with the stew is that it is quite a bit of food for a side dish, but it is small for a main dish, so it was hard to figure out if my appetite would be big enough for it (it turned out that the dinner was more than I could eat without taking some of it home).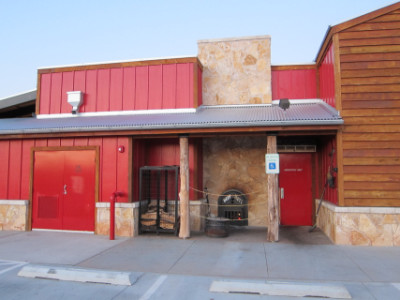 Rudy's smoker
Rudy's outside smoker is a good indication that this is real barbecue (although it is actually enough to know that Rudy's originated in the Austin and San Antonio area). They seem to have successfully maintained their food quality throughout the chain, and this is not easy to do. I thought the food in El Paso and Oklahoma City was quite similar at both Rudy's locations.
The Sause was really the biggest pitfall I found with the restaurant. I agree with other opinions I have read that the spicy "sause" (this is the way it is spelled at Rudy's) was better than the "sissy" version, but both were really just about equally good to me. Actually, though, there are few sauces I really like in Oklahoma City, and I liked Rudy's less than most of them. My personal recommendation for good sauce is at Billy Sims, but about all I can say is that this is my own opinion.
Another personal problem I have is that I sometimes get a reaction from barbecue sauce that is very similar to a MSG reaction, and now I have to add Rudy's to this list (although I did not experience a reaction when I went to the restaurant in El Paso). I am not saying this to discourage others from trying any of these restaurants, but it is to explain why I can give a restaurant a good score yet make just one or very few visits to it. I do not know what ingredients in several barbecue restaurants are giving me a reaction, but I can find enough good alternatives in the city that will give me an enjoyable and stress-free meal.
In going back to some of the good points about Rudy's, I can say that all of the side dishes have been fairly good (but I think they are better at some restaurants in Oklahoma City). I thought the beans (which I ordered in El Paso) and the cole slaw were the best vegetables I tried, although the potato salad was also pretty decent.
The Banana Pudding was excellent, and was a very good treat for me (although I still recommend the banana pudding at Oklahoma Station if you can make it to their one location at N.W. 50th and Meridian).
The report on Gil's Thrilling and Filling Web Site lists a number of other items at Rudy's which I have not yet tried, including breakfast tacos. In fact, I would say one advantage Rudy's has over many local barbecue restaurants is the variety of food offered other than standard barbecue, and it certainly seems that there is something for just about everybody.
I can certainly see myself going back for the green chile stew.
RESTAURANT DETAILS
RATING: 21
Cuisine: Barbecue
Cost: $$
Accessible: Yes
Additional Location: 3450 Chatauqua Ave. (Norman)
Smoking: No Smoking
Most Recent Visit
Jul. 26, 2013
Number of Visits: 1
Best Items
Brisket, Banana Pudding
Special Ratings
Brisket:


Pulled Pork:


Green Chile Stew:


Potato Salad:


Cole Slaw:


Banana Pudding:


Sause:

MORE ABOUT THIS WEB SITE