okgourmet.com&nbsp &nbsp Home of Steve's Restaurant Reviews
Royal Bavaria Brewery & Restaurant
3401 S. Sooner Rd.
Moore, OK
(405) 799-7666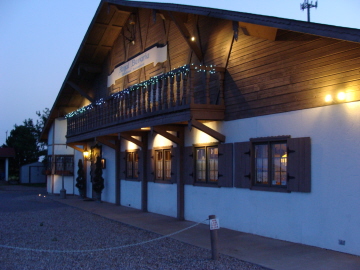 Oklahoma has traditionally had a hard time bringing in authentic and truly good ethnic restaurants such as Asian and Mexican, but with a large number of German immigrants it seems to excel in this particular genre of food.
Royal Bavaria is one of the premier German restaurants in the state, and as good as the food is, it would probably not be such a memorable experience without the home brewed beer that is served. I have eaten German food from Washington, DC to Washington State, and the offering here is near the top in quality of the food and the atmosphere.
I should point out that I have been to Royal Bavaria when it had its original owner, and there were quite a few changes I noticed in 2009 with the new management. In my opinion these changes were for the good, but the restaurant did not go from bad to good-- it went from good to better.
One feature I really appreciated was that the restaurant is now totally non-smoking. This may be due to a state law rather than customer demand, but I found the previous non-smoking section to be inadequate. There is an outdoor patio that I think serves as the smoking area for those who prefer it.
The new owner was a long time employee at Royal Bavaria before taking over, and I would say the food is really the same as it has always been. It was explained to me, though, that he felt it to be important to have an extended stay in Germany where he lived with a German family and learned many aspects of home made (as well as restaurant style) German food. Perhaps some would not fully appreciate the commitment made to preparing the food here, but I got the feeling that this was about as authentic as one would find in a German restaurant in the U.S.
I do not need help in determining what food I enjoy, but a dining companion confirmed that the "new" restaurant was authentic and served high quality German food (from having a German background). Being authentic is not a substitute for serving good food, but in the case of Royal Bavaria I think customers get both.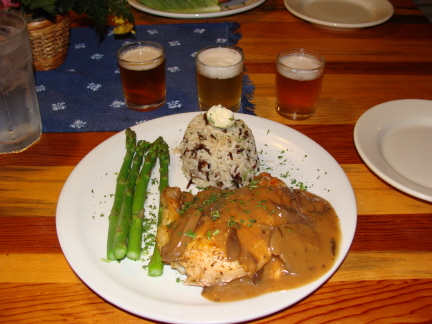 Hähnchenbrust in Cognacsause
One entrée I sampled at both the "old" and "new" restaurant was Hähnchenbrust in Cognacsause (chicken breast in cognac gravy with mushrooms). This was outstanding both times, and I think must be the best item served. One thing I enjoyed about this dish was that it was good without the breading that comes on many of my other favorite German dishes. I cannot attest as to how healthy this dish is, but it certainly seems to be.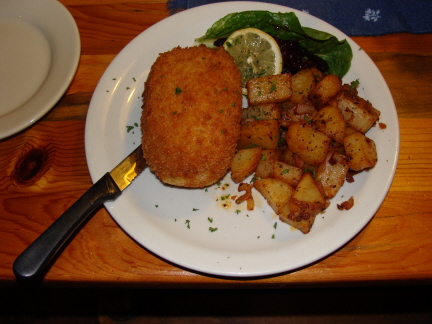 Cordon Bleu
Cordon Bleu is a breaded dish stuffed with cheese and ham for a delicious, traditional dish. Different types of meat are available, and the veal I sampled was very good. In terms of flavor this was probably as good or better than the chicken dish I rated as my favorite, but chicken is something I prefer to order when I can. My dining companion thought the cordon bleu was prepared well and was an excellent example of German food.
The Sauerbraten on my first visit was good but not outstanding. However, I have not tried it recently.
Side dishes were good, but the most notable was the Bavarian Potato Salad I tried on my first visit.
One feature I would probably rate as a minus with Royal Bavaria is that customers have to pay extra for a basket of bread. I tried the bread on my first visit, and thought it was good. On a later visit, though, I skipped the bread, and found the meal to be quite filling enough without the bread.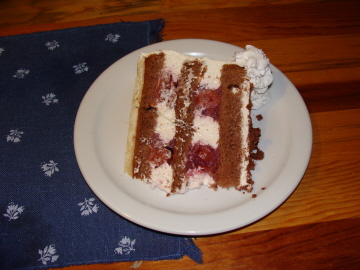 Black forest cake
Black Forest Cake is one of the dessert items available, and I thought this was a good treat after an equally delicious dinner. My dining companion thought this was the only item we had that was not really similar to ones served in Germany, but we enjoyed it anyway.
I do need to mention that Royal Bavaria serves home brewed beer, and sample glasses are available (as shown in the photo of the Hähnchenbrust). I am not a good judge of such things, but a lot of people seem to think the beer is one of the best features of Royal Bavaria. I can say that I enjoyed it, but I will have to let the reader decide how the beer would rate compared to other restaurants.
RESTAURANT DETAILS
RATING: 25
Cuisine: German
Cost: $$$
Hours: Open daily (dinner only)
Accessible: Yes
Smoking: No Smoking
Alcohol: Beer, Wine
Most Recent Visit
Jun. 16, 2009
Number of Visits: 2
Best Items
Hähnchenbrust, Bavarian Potato Salad
Special Ratings
Hähnchenbrust:


Cordon Bleu:


Sauerbraten:


Bavarian Potato Salad:


Red Cabbage:

Restaurant Web Site
Royal Bavaria
MORE ABOUT THIS WEB SITE