okgourmet.com&nbsp &nbsp Home of Steve's Restaurant Reviews
Revolve Pizza
5500 W. Memorial Rd.
Oklahoma City, OK
(405) 792-2858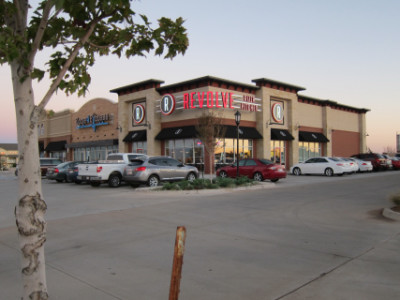 I have the opinion that trying to give a numerical rating to pizza restaurants is an inexact science. I try to let readers know which ones I find to be the best, and Revolve certainly seems to be one of these. I like fresh flavors and good ingredients, and Revolve is one of the best examples of this I have found.
Some people find Revolve to be pricey, but I believe the food is appropriately priced for the quality you get. I would rather have a smaller amount of good quality pizza, as I got here, than to have a large pizza of mediocre quality that is probably too big for me to even eat.
Revolve was offering a special deal where customers could "pick 2," meaning a small individual sized pizza with a small pasta or salad (or the pasta and salad together). The pizza and salad combination is probably not for huge appetites, but I believe it is plenty for a normal one.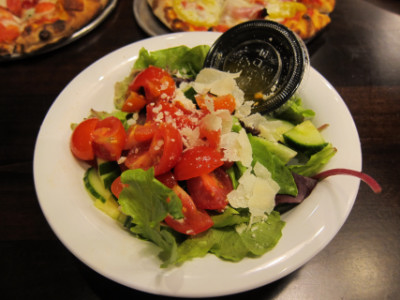 Small Revolve salad in the "Pick 2" dinner
The Revolve Salad is fresh and flavorful enough to pay extra for it, but it is also one of the choices available in the restaurant's mix and match specials. This is actually one of my favorite salads in the city, and I think the best one I have found in any pizza restaurant.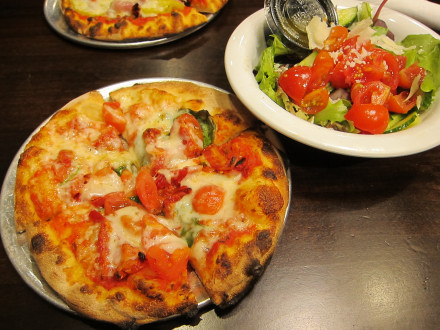 Three ingredient pizza with basil, cherry tomatoes, and sun dried tomatoes
One of the choices available for an individual pizza is the Three Ingredient Pizza, as shown in the photo (this one was made with basil, cherry tomatoes, and sun dried tomatoes). One of the ingredient choices is garlic, but all pizzas include some garlic (and I think it is sufficient without having to order it as a special ingredient). I enjoyed this particular pizza, although next time I will probably experiment with some other choices.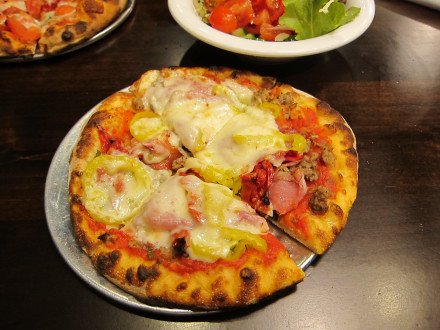 "True Italian" with pepperoni, house made Italian sausage, prosciutto, sun dried tomatoes, and basil
"True Italian" is the name for one of Revolve's "Signature Pizzas," and comes with many more than three ingredients. The most prominent items included are the meats: pepperoni, house made Italian sausage, and prosciutto. This was pretty much a meat-lover's pizza, and the portion of it I sampled was very good.
The cheese on these pizzas was especially good, although its flavor was more evident on the vegetarian pizza than on the one that loaded with meat. The sauce was also quite good (maybe as good as Hideaway's sauce). The crust did not really make an impression on me that was either positive or negative.
They do have large pizzas also, but as far as I could tell the only sizes available are large or individual sized.
I did think the drinks were too expensive, and because of this I have to agree with some of the comments I have read about the prices that are charged at Revolve. The meal I had, though, was quite a good value, and is available for take-out if you want to get your drinks elsewhere. The pizza is worth trying, though, whether it is in the restaurant or for take-out.
RESTAURANT DETAILS
RATING: 23
Cuisine: Pizza
Cost: $$
Accessible: Yes
Smoking: No Smoking
Alcohol: Beer, wine by the glass
Most Recent Visit
Oct. 29, 2014
Number of Visits: 1
Best Item
Pizza
Special Ratings
Build Your Own Pizza:


True Italian Pizza:


Revolve Salad:

MORE ABOUT THIS WEB SITE