okgourmet.com&nbsp &nbsp Home of Steve's Restaurant Reviews
Red PrimeSteak
504 N. Broadway Ave.
Oklahoma City, OK
(405) 232-2626

The Good Egg Dining Group is known for high quality restaurants in Oklahoma City, with Red Prime being generally considered the most upscale of the various restaurants. Located in downtown Oklahoma City, I would call it upscale yet casual, with reservations accepted but not required, and a range of attire can generally be seen.

The historic Buick dealership that now houses the restaurant is the type of setting that lets customers know they are not going to an ordinary restaurant. There is enough space inside to provide a comfortable setting, and the outdoor patio dining on the sidewalk is popular in the summer. The bar has a large wine selection, and provides a relaxing atmosphere.

Red Prime is probably best known for its steaks, with more limited options for different types of food than Cheever's (another Good Egg restaurant). I would have to say, though, that steak is generally considered one of Oklahoma's specialties, and it is probably as good at Red Prime as you will find anywhere in the city.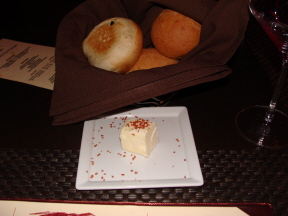 Bread served as an appetizer
Oklahoma City has some well known downscale but high quality steak restaurants (although the steaks are not a whole lot less expensive than at Red Prime). There is disagreement among patrons whether the steaks at these places measure up to Red Prime and the other upscale steak places, and whether the main difference in the restaurants is in the atmosphere. One area, though, where Red Prime is a clear winner is in the appetizers. The bread served with meals is fresh and tastes home made, and is about as well prepared as I could expect at any steak house.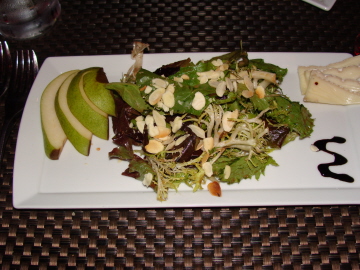 Mixed green salad
The Mixed Green Salad is not only excellent, but it would be in the running for the city's best. I personally prefer the one at Boulevard Steakhouse, but the greens, fresh pear, dressing, and other ingredients here were first rate.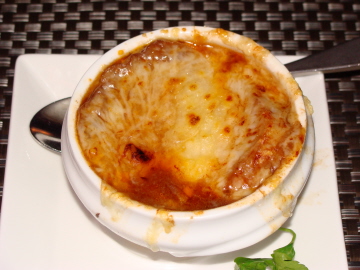 French onion soup
French Onion Soup is another choice for an appetizer, and I thought it was well prepared and lived up to the general high quality of all the food served here. I would choose the salad instead of soup, but this is only because I prefer fresh greens to cheese.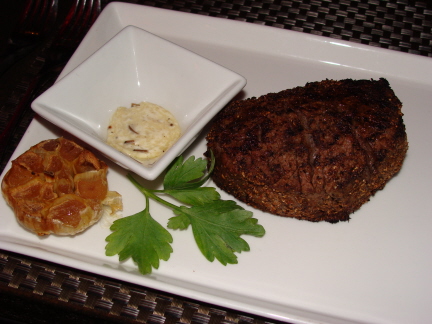 10 oz. filet with a choice of sauce
Of course Red Prime has a well deserved reputation for its steaks. The list of cuts available includes the ones people generally consider to be top quality. Steaks are guaranteed to be USDA Prime Midwestern beef, with filet, ribeye, New York strip, and prime sirloin being served. Wagyu beef is also available. The menu lists several cuts as being "40 day" dry aged steaks, and prices on the menu seem to vary according the the steak's size and cut, as well as the preparation that goes into it. I think anything ordered here would be considered among the best beef that can be ordered in Oklahoma.
The Ten Ounce Filet I ordered was something I consider a "special occasion" meal, with the flavor and quality being something I would expect from a top quality steak restaurant. The steak was perfectly cooked with no differences in quality that I could perceive from one end of the meat to the other (a mark of good quality beef). For me it would be hard to justify spending extra money for the Wagyu steak when this one was about as good as it gets. Still, it would be interesting to try the Wagyu steak for comparison.
Red Prime offers two choices of enhancements to the meat: a crust that is cooked into the steak and a sauce that is added as desired. The toasted coriander crust I tried provided a light seasoning that I thought fit the steak perfectly. Black truffle butter was one of the several sauces available, and I thought was excellent. I will have to say that Red Prime has excellent service, and the waiter helped quite a bit in deciding which crust and sauce to order.
The restaurant's web site lists the full menu, and other main dishes are available, as well as vegetables and an assortment of side dishes. One interesting dish is a beef carpaccio "Cheeseburger Style," and other less expensive dishes than the steak look as if they would be good for a more casual meal.
RESTAURANT DETAILS
RATING: 25
Cuisine: Steaks
Cost: $$$
Accessible: Yes
Smoking: No Smoking
Alcohol: Beer, Wine, Drinks
Most Recent Visit
Jun. 15, 2009
Number of Visits: 1
Best Item
Filet
Special Ratings
Filet:


French Onion Soup:


Salad:

Restaurant Web Site
Red Prime
MORE ABOUT THIS WEB SITE