okgourmet.com&nbsp &nbsp Home of Steve's Restaurant Reviews
Ranch Steakhouse
3000 W. Britton Rd.
Oklahoma City, OK
(405) 755-3501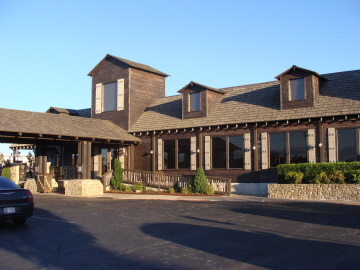 Growing up in Oklahoma I never realized that other parts of the country did not enjoy the same abundance of good quality steaks as here, but in recent years it has been much harder even in the Southwest to find the same kind of beef I remember as a youngster. I am not sure where along the supply chain much of the beef seems to have lost its flavor, but I have learned to distrust many of the claims made by restaurants of serving great steaks.
Ranch Steakhouse on the north side of Oklahoma City, though, goes a long way in my quest to find steaks that live up to my expectation of the way I know they can be. I do not know if Ranch Steakhouse has the best steaks in Oklahoma, but I believe it is close. I cannot afford to go to all of the steak restaurants to find out which one is actually the best, but at Ranch Steakhouse I am pretty sure people will be satisfied that this is about as good as it gets.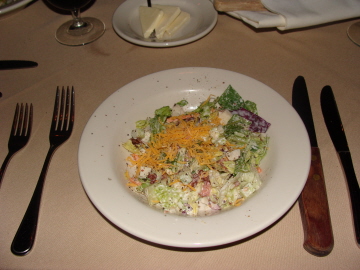 Chop house salad
Even though I thought the steaks were top notch, I did not feel the same way about the Chop House Salad. This was a good salad, but it did not seem to me to reach the same level as the salads at Boulevard Steakhouse, Cheever's, or a number of other good restaurants. The fact that it was topped with cheddar cheese was not a good sign to me, and I was underwhelmed enough by the other ingredients to think that maybe putting cheese on top was actually an improvement. Still, it was not bad, just a little below the level I would expect in a very good steak restaurant.
There are quite a few other choices for salads and appetizers, so I do not know if I would have a better opinion overall if I tried some of the other items.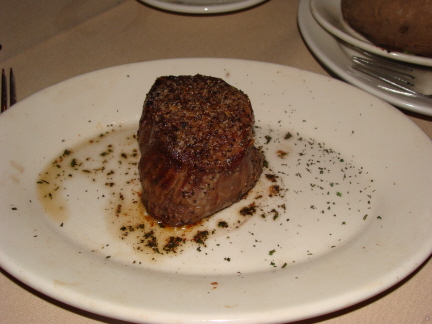 Filet made with all natural Oklahoma beef
Of course the steak is the main reason to come to Ranch Steakhouse. All of the steaks are "Prime," but to me the real attraction is the Oklahoma grass fed, all natural, hormone free beef served in three cuts (filet, strip, and rib eye). I think one reason the flavor and quality of beef has changed is that producers have abandoned the "old way" of raising cattle, where they had a grass fed diet. The potential health benefits of eating all natural beef, though, should not be minimized.
The Filet I ordered was excellent in flavor and in the way it was cooked. Although not large in size, I would rather have a smaller portion that is very good than a larger quantity of lesser quality steak. In case anyone thinks grass fed beef is not as flavorful as the corn fed variety, the steak at Ranch Steakhouse should prove this wrong (although others are certainly allowed to form their own opinion about this).
On my second visit I ordered the Strip (also from the Oklahoma grass fed beef menu), but the extra fat and slightly different flavor convinced me that on any subsequent visits I will probably stick with the filet (although the strip was also what I considered to be an excellent steak).
Ranch Steakhouse has recently begun to serve Kobe beef that supposedly goes a step further than the grass fed beef in providing all natural meat (I first saw the Kobe beef on the menu in 2010). One of the reasons I was impressed with Red Prime was that they offered Kobe beef (or wagyu, which is another name for the same type of steak), although I could not afford to order it at Red Prime. Ranch Steakhouse offered a small Kobe Beef Filet at a price that was comparable to the other filets, and thus I was finally able to try it. The good news was that it was excellent as I expected, but probably the even better news was that I thought the Oklahoma grass fed filet was just as good. I could tell the difference in flavor, but I will still go with the Oklahoma beef because it is like the steaks I remember when I was growing up.
Steaks are available with a choice of toppings for an extra charge, but with beef this good I am not sure it could be improved upon.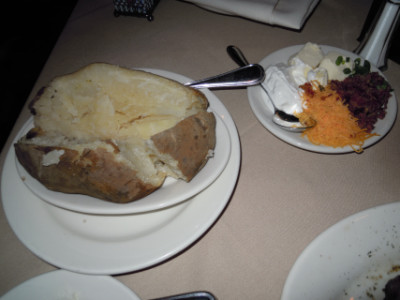 Baked potato with everything on the side
I wish some of the side dishes lived up to the quality of the steak, but the meat seems to be some of the best in Oklahoma. I had a Baked Potato with dinner that was good, but was not really any better than I have had at a number of other restaurants (including inexpensive ones). Quite a few of the side dishes looked too expensive to order and run the risk that I might not care as much for them as a simple potato, so this is the problem at this restaurant. The meat is really worth what you pay, but I am not as sure about some of the side dishes.
The Au Gratin Potatoes proved my theory that some of the side dishes were not very worthwhile, with this one being unattractive to me because of too much garlic, too much cheese in relation to the other ingredients, and potatoes that were not crispy enough with a texture I did not enjoy.
After several visits I have concluded that Ranch Steakhouse probably has the best steaks I have tried in Oklahoma City (or in the case of Red Prime, which also has excellent steaks, Ranch Steakhouse seems to be less expensive). The problem, though, is that many of the side dishes at Ranch Steakhouse do not match up to the steaks. Ranch Steakhouse is my personal choice for "best steak," but for a whole meal experience, including salad and side dishes, other restaurants such as Boulevard Steakhouse or Red Prime might be a better choice.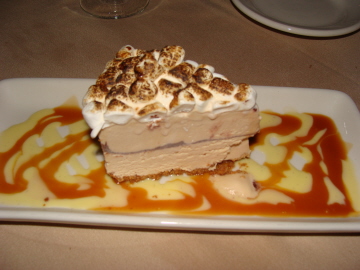 Dulce de leche cake
One feature that does seem to be as good as the steaks, though, is the desserts. The Dulce de Leche Cake I tried was one of the best after dinner treats I have had in Oklahoma City. I also understood from the waiter that this is the only dessert Ranch Steakhouse makes in house, so this may be the only one about which I would have such a high opinion. This particular dessert, though, was well worth the money.
Ranch Steakhouse is located in north Oklahoma City away from the popular tourist areas (but just down the street from the popular "restaurant strip" on Lake Hefner), so it does not seem to be on the tourist radar for out of town visitors. I think, though, that it offers an excellent taste of Oklahoma steak. It is certainly popular with locals, and it usually seems that even when I go on weekdays, I end up getting one of the last tables available. I think there is good reason the locals make regular visits when they want a fine dining experience.
RESTAURANT DETAILS
RATING: 26
Cuisine: Steaks
Cost: $$$$
Hours: Closed Sun.
Accessible: Yes
Smoking: Non-Smoking Area
Alcohol: Beer, Wine
Most Recent Visit
Jul. 14, 2010
Number of Visits: 3
Best Items
All Natural Oklahoma Beef, Kobe Beef, Dulce de Leche Cake
Special Ratings
Grass Fed Filet:


Grass Fed Strip:


Kobe Filet:


Baked Potato:


Au Gratin Potato:


Salad:


Dulce de Leche Cake:

Restaurant Web Site
Ranch Steakhouse
MORE ABOUT THIS WEB SITE