okgourmet.com&nbsp &nbsp Home of Steve's Restaurant Reviews
Queen of Sheba Restaurant
2308 N. MacArthur Blvd.
Oklahoma City, OK
(405) 606-8616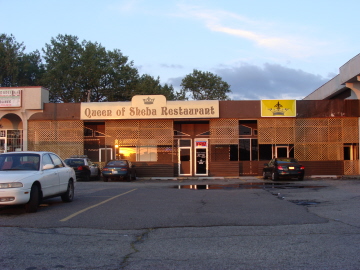 Queen of Sheba Restaurant, located in a strip shopping center at N.W. 23rd and MacArthur that at first glance looks largely abandoned, may not be the first place on people's minds when considering where to eat out. For readers of this web site who have written in with suggestions, though, this has probably been the number one recommendation for ethnic food. Thus I knew before going that it would be good, but even so I think the flavor and quality of the food was somewhat surprising.
I think the main factor that keeps more customers from coming is the fact that Ethiopian food is new to most people (including me the first time I came here). Speaking for myself, it was somewhat hard to overcome the hurdle of trying something that I had no idea of what to expect, and I will admit that the main reason I tried it was the recommendations of other people. I had heard that Ethiopian food is eaten by hand with no utensils, and this turned out to be true. As to what kind of food to expect, I was thinking it would be something like Middle Eastern food, and in fact this is a pretty good way to describe it. There were enough differences, though, to say that you really have to try it to see what it is all about.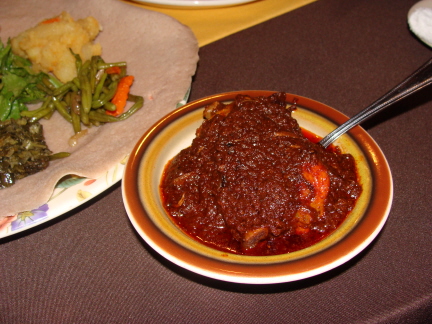 Yedor watt is the restaurant's most popular meat dish
Queen of Sheba's signature dish is Yedor Watt, a tangy stew with a chicken leg and thigh. Although well seasoned, it was not spicy, and I thought it offered a good idea of the flavors involved in Ethiopian food. From the picture it looks as if the portion size is too small for a satisfying dinner (and it looked the same in person), but this turned out not to be the case. It comes with a large salad and a large side portion of injera bread.
The traditional yedor watt comes with a hard boiled egg, and the menu listed it, but it was not included (the owners indicated in the future they would take this off of the menu). I think if you want this you could ask for it (and it may come at an extra charge), but this particular feature of authentic Ethiopian food did not turn out to be popular in Oklahoma.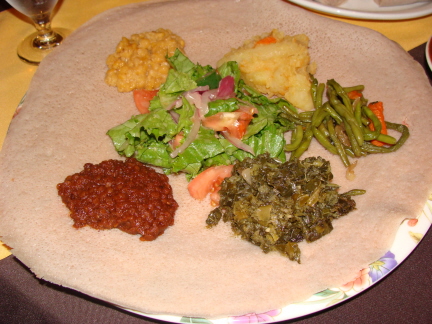 Vegetable plate with lentils, chickpeas, potatoes, green beans and carrots, collard greens, and salad
Queen of Sheba is one of the few restaurants in town where vegetarians can probably eat as well as the carnivores, at least in terms of the restaurant making an attempt to provide flavorful, nutritious, and varied dishes.
The Vegetarian Plate offers a good sample of the non-meat dishes served, and comes in a large enough portion that I don't think anyone will go away hungry. Several dishes are served with an ample supply of injera, an Ethiopian style bread that looks somewhat like a very flat pancake. Small pieces of the bread can be broken off to wrap around a mouthful of food (and thus the entire plate can be eaten with no utensils).
I did not think that any of the vegetarian dishes were noticeably better than the rest, but rather all were good, and made a good balance of food when served together. Lentils were the spiciest dish, and in fact were the only item served that really had a kick to them. They were probably the item that I thought would make the best main dish, with the flavor and texture somewhat like vegetarian chili.
Green Beans were better than I expected, with a flavoring that would have made a whole plate of them very enjoyable.
Potatoes probably had the best flavor of anything served, but a whole plate of them along with the large amount of bread served would not be the type of meal I would want to eat without some green vegetables to go along with them.
Salad came with a house made dressing, but the only thing I did not like about it was having to eat it using the injera to scoop up bites of it (I would have liked the salad better with a fork). Otherwise, though, I thought taking each bite of the main dishes with a piece of bread was a good experience.
A hot tea that was similar to Middle Eastern style teas was very good, and something that contributed to an excellent meal.
The food does not take a long time to prepare, but customers may want to plan to stay a while to enjoy the decor, musical videos, and the family style bread that is meant to be eaten with a long conversation and a leisurely meal.
The prices are not high, but are a little more than average for ethnic restaurants in Oklahoma. The only other place I have seen Ethiopian restaurants was Washington, D.C., though, so I think having one in Oklahoma is something not to be overlooked.
RESTAURANT DETAILS
RATING: 23
Cuisine: Ethiopian
Cost: $$
Hours: Closed Sun. & Mon.
Accessible: No (No Handicapped Parking)
Smoking: No Smoking
Alcohol: Beer, Wine
Most Recent Visit
Aug. 27, 2009
Number of Visits: 2
Best Items
Yedor Watt, Lentils, Chickpeas, Green Beans, Potatoes
Special Ratings
Yedor Watt:


Lentils:


Chickpeas:


Collard Greens:


Green Beans:


Potatoes:

MORE ABOUT THIS WEB SITE