okgourmet.com&nbsp &nbsp Home of Steve's Restaurant Reviews
Primo's d'Italia
1215 Garth Brooks Blvd.
Yukon, OK
(405) 350-9090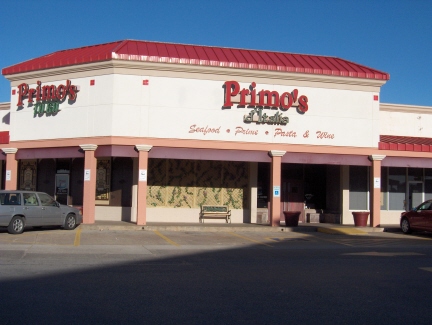 In Oklahoma it seems that the best Italian restaurants are unpretentious places in strip malls, and such is the case with Primo's. Although the setting can be considered "romantic," the norm is for patrons to wear blue jeans (I have bought some of mine at a western wear store in the same shopping center). Families with kids are just as comfortable as couples, and the hostess offers all guests a choice of the type of seating arrangment they would like.
The restaurant is also much improved since state law mandated that they eliminate the smoking area that was pretty much contaminating the whole restaurant. Now, however, the main problem is simply having to wait for a table on weekends and busy nights (although there is ample seating in the waiting area). A takeout counter is also available, but because of the size of the takeout servings they are only recommended for families of four persons or more.
Recently I have not noticed the crowds that I used to see at Primo's on a regular basis. It may be that some people are now going to the new location in south Oklahoma City, but there is also more competition from nearby restaurants. I would still expect to have to wait for a table at times, however.
It may be my imagination, but I believe Primo's has expanded the menu since it first opened. With my limited experience of trying different dishes, though, I believe the best dishes are the ones I have always liked, and that have been offered from the beginning. In fact, my main gripe about the restaurant is that some dishes are so good but others are mundane. Most patrons just have to experiment to see which ones they like.
The Bread served before the meal was a very nice touch, with an olive oil dip for flavor and nutrition. I saw in my notes that we did not used to be served bread, so this must be a new addition.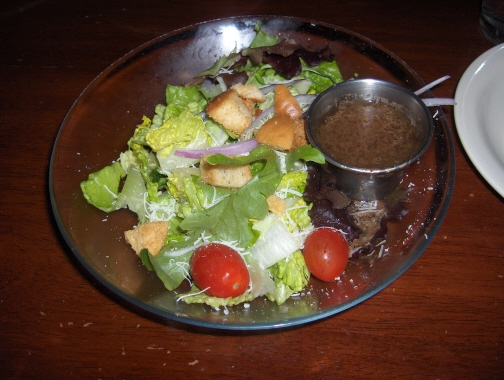 House salad
The House Salad was loaded with spinach leaves and other greens, making this much more the type of salad I enjoy eating than the ones primarily composed of iceberg lettuce. The dressing tasted home made. A salad seems as if it is an easy thing to make, but few of the moderately priced restaurants do it as well as Primo's.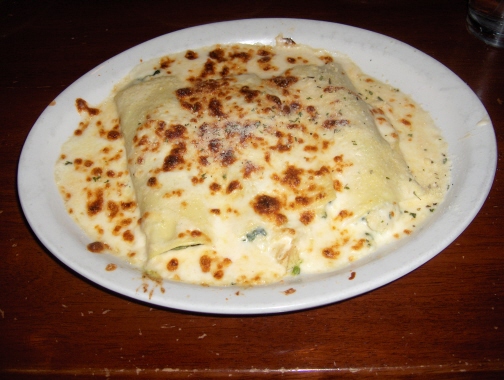 Canneloni with Alfredo Sauce
As for the food, my primary recommendation is to order the Canneloni. Two kinds are served, but I like the one with chicken and alfredo sauce. For some reason Primo's just seems to have gotten this dish dead on, and I have never had one at another restaurant that I liked as much as here. I think the sauce has the right texture and flavor.
In the past I have enjoyed the Chicken Parmiagiana very much. I cannot say for sure it is the best in the OKC area, but it may very well be.
For me things went downhill when I tried to order dishes with marinara sauce as the main flavor component. The Manicotti seemed very ordinary and flavorless, especially compared to Italian restaurants in larger cities.
The Chicken Cacciatore was very strange. Loaded with so much garlic it could be smelled across the table, it nevertheless tasted very good. It was full of pasta, though, with small chunks of white meat chicken. I believe the classic versions do not have pasta, or the pasta is on the side as at Papa Dio's. The dish should also have a whole chicken or meat with the bones intact for more flavor. The one at Primo's was almost totally lacking the sauce that normally comes with this dish. I do not recommend that purists order this dish, but at least the flavor was not bad.
Primo's serves smaller portions than the other restaurants and at a reduced price, so I figure I can afford to experiment with different dishes in a way that I hate to do when more money is invested.
Some of the best Italian food in the metro is found in various upscale restaurants at higher prices. Primo's is one of the better "family restaurants," though, where kids can feel comfortable and everyone can afford to eat.
RESTAURANT DETAILS
RATING: 21
Cuisine: Italian
Cost: $$
Hours: Open Daily
Accessible: Yes
Additional Locations: I-40 & Sooner Rd., I-240 & S. Walker
Smoking: No Smoking
Alcohol: Beer, Wine
Most Recent Visit
Dec. 28, 2007
Number of Visits: 5
Best Items
Chicken Parmiagiana, Canneloni
Special Ratings
Chicken Parmiagiana:


Canneloni:


Manicotti:


Chicken Cacciatore:


Asiago Spinach Pasta:


House Salad:

Restaurant Web Site
Primo's
MORE ABOUT THIS WEB SITE