okgourmet.com&nbsp &nbsp Home of Steve's Restaurant Reviews
Pops
660 W. Highway 66
Arcadia, OK
(405) 233-2020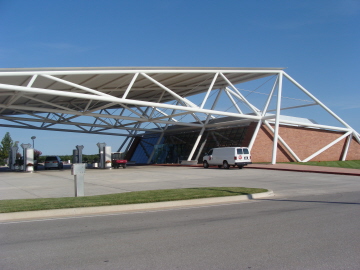 In traveling around the country I discovered that the word "pop" is not universally used to describe a soft drink, but "soda" is more popular in many areas, and near Atlanta "Coke" is often used as a general term for any type of soda pop. People from all parts of the country, though, seem to be fascinated with the wide variety of "pop" at Pops in Arcadia, Oklahoma, along the old U. S. Highway 66 just east of Interstate 35.
Pops is a gas station, store, and restaurant, but unlike most convenience stores that resemble it, Pops specializes in pop from around the country, including well known brands and regional brews that would probably not otherwise be seen unless you travel to other states.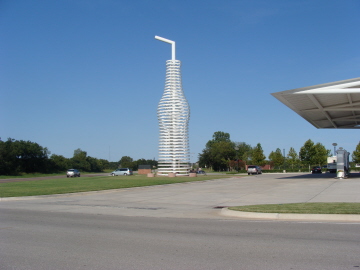 Pops' unique sculpture of a pop bottle identifies its location as you drive along old Hwy. 66
Of course, the most important issue with this unique store is finding it. Arcadia is located a few miles east of Edmond on State Highway 66 (the former U. S. 66). The modern looking building is the only one of its kind in the area, but the large sculpure of a pop bottle near the road makes it obvious you are in the right place.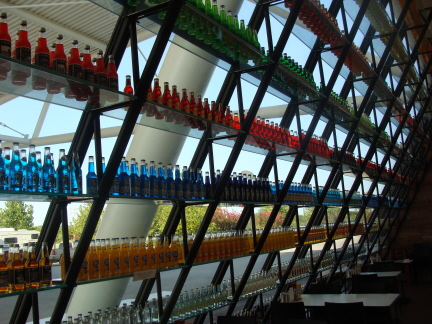 Displays in the window show some of the varieties of pop sold
I had seen pictures of the displays of pop in the windows, showing a large variety of brands and flavors. What I did not realize, though, is that the actual bottles for sale are in coolers so that you can drink it on the spot or take it with you. I am not sure, but I believe the selection sold is much greater than is displayed in the windows. The window displays are aranged by color, but in the coolers they are displayed by flavor (all the orange is together, all the strawberry, etc.). I actually like this much better than I typically find in grocery stores where they display all the varieties together made by one company (although it is not much of an issue to me since I rarely if ever buy the popular commercial brands).
My biggest interest at Pops was in the root beers. I noticed that they carried my favorite brands from Seattle (as well as some from Oregon), but it also offered a chance to try regional brands from all over the country. Several of them were organic or made with real sugar instead of corn syrup, and a good representation of sarsaparilla was also available. The price charged per bottle seemed high for anything that could be purchased elsewhere, so I selected things I was pretty sure I could not find at other stores.
Pops also has a dining area that serves American food (hamburgers, sandwiches, etc.), and hopefully I can try it sometime. I thought it was worth the stop just for the pop.
RESTAURANT DETAILS
RATING: *
Cuisine: American, Soda Pop
Hours: Open Daily
Smoking: No Smoking
Alcohol: No
Most Recent Visit
N/A
Number of Visits: N/A
Best Item
Soda Pop
Special Ratings
N/A
Restaurant Web Site
Pops
MORE ABOUT THIS WEB SITE