okgourmet.com&nbsp &nbsp Home of Steve's Restaurant Reviews
Pho' T&N (Closed)
13325 N. MacArthur Blvd.
Oklahoma City, OK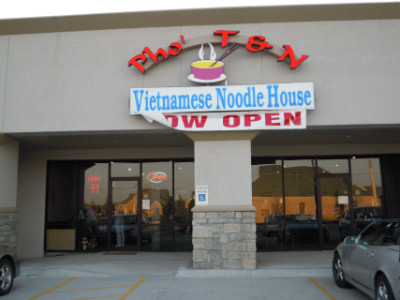 One thing I appreciate about Vietnamese food is that it has not become Americanized as some cuisines in suburban areas always seem to be. Vietnamese cuisine was one of my favorites to begin with, but the prospect of finding authentic Asian food makes it even more probable that I will try every pho and Vietnamese restaurant within driving distance.
Pho' T&N is a suburban Vietnamese noodle house that in size and ambiance is not too different from many others in north Oklahoma City. This one, though, seems to be exclusively run by the family who owns it, and even though it has an ample sized dining room, both the scale of cooking and the number of customers who visit seem to fit what I would call a "family run restaurant." The advantages of this should be obvious when it comes to making special requests on an order and being served food that tastes home made. There are not really any obvious disadvantages on the menu, and it seems to have just about every item the other suburban Vietnamese restaurants offer. In fact, the menu is more varied than many I have seen, with banh mi sandwiches, smoothie drinks, and several varieties of noodle soup being some of the items I do not see at every Vietnamese restaurant.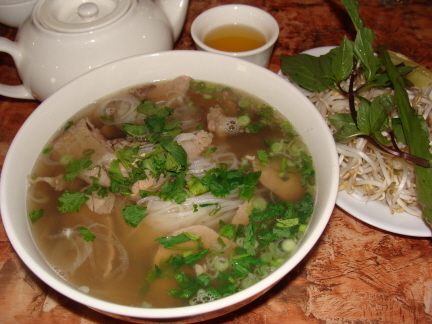 Pho is the restaurant's specialty
An order of Pho largely answered my question about whether Pho T&N would be worthy of repeat visits (so far I have made several). The pho was good in all aspects, including the meat, broth, and vegetables. One of the best features is that there are more varieties of beef and other types of noodle soup than I usually find, so I am looking forward to trying several of them.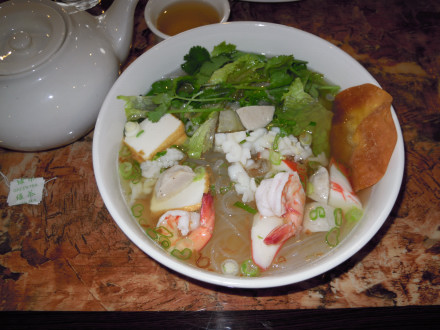 Seafood clear noodle soup
Seafood Clear Noodle Soup is listed under the "beef noodle soup" section of the menu, but it is actually a seafood based soup with clear colored rice noodles. In fact, the one with fish and seafood is a variation of the soup listed on the menu (the menu version includes pork balls), so this leads me to believe that they can make other types of soup on request. On a subsequent visit I ordered the menu version (see the next picture below), and there were several differences between the two soups including the vegetables that were included. The variety of seafood in this one, though, was very good.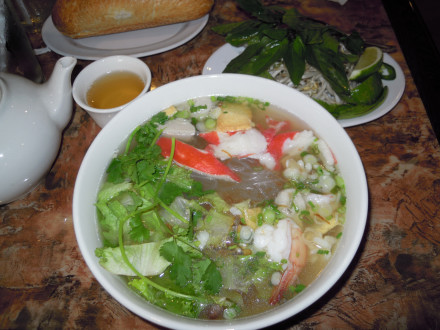 Seafood clear noodle soup with pork balls
After trying the regular version of Seafood Clear Noodle Soup I found that the pork balls really did not add much to the flavor I experienced with the purely seafood version. The seafood itself in both versions had some varieties I liked better than others (the squid was the least enjoyable), but the pure seafood soup had more of the "good stuff." My opinion was that the seafood version was better.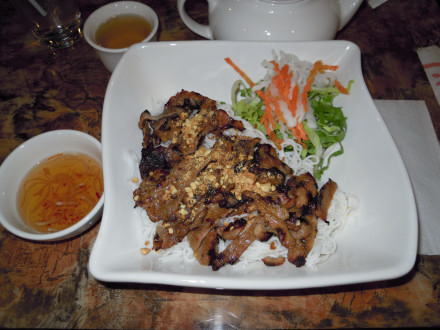 Bún thit nuong (grilled pork)
Vermicelli plates are usually what I order when not eating pho, and several varieties are available at Pho' T&N. I was disappointed that they did not have chicken with lemongrass, but I ordered Bún Thit Nuong (grilled pork) on the theory that this is usually a good choice when lemongrass flavored meat is not available. As it turned out, the meat was the best feature of the dish. With well cooked and excellent flavored meat, this easily surpassed similar versions I have had at other suburban Vietnamese restaurants. The disappointment, though, came in the flavoring of the noodles. This had some vegetables to go with it, but there was no mint or other flavoring that I find in the best versions. I use Kim Wah at May Avenue and Britton Road as the standard for bún dishes (they also serve chicken with lemongrass), and the one at Pho' T&N did not have as much flavor. The flip side, though, as already mentioned, was that the meat was very good here (and possibly better than at Kim Wah).
Pho' T&N serves a very good green hot tea, although when it comes to tea I prefer the nearby Pho'ever which serves jasmine tea made from loose leaves. Pho' T&N offers a brewed chrysanthemum tea but I did not care much for the flavor of it.
I have not run into any issues with MSG or had to limit my choices due to some items that have too much MSG.
RESTAURANT DETAILS
RATING: 21
Cuisine: Vietnamese
Cost: $$
Hours: Open Daily except Sun. dinner
Accessible: Yes
Tea: Jasmine (bags)
Smoking: No Smoking
Alcohol: No
Buffet: No
Most Recent Visit
Aug. 15, 2015
Number of Visits: 5
Best Item
Pho
Special Ratings
Pho:


Bún Thit Nuong:


Seafood Clear Noodle Soup:

MORE ABOUT THIS WEB SITE