okgourmet.com&nbsp &nbsp Home of Steve's Restaurant Reviews
Pho' Nomenal Vietnamese Noodle House
7504 N. May Ave.
Oklahoma City, OK
(405) 608-4151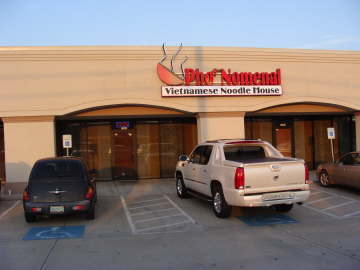 Pho' Nomenal Vietnamese Noodle House is aware of the fact that many people in northwest Oklahoma City like to eat Vietnamese soup and noodles, but it is not always convenient to travel to Classen Boulevard where the majority of pho restaurants are located. Pho' Nomenal is a little more expensive than most of the Vietnamese restaurants in the Asian District, but not when the extra gas and travel expenses are factored in. I am one of the ones who benefit from having Pho' Nomenal closer to me than the Asian District restaurants, and I am very glad it has opened.
Pho' Nomenal is located next door to a Japanese restaurant on May Avenue south of Wilshire, and the two restaurants are connected by what seems to be a common kitchen (and I have heard the two restaurants have the same owner). Both of these restaurants have upscale interior, and seem to be following the trend of most Asian restaurants that have opened recently to have a nicer decor and to be somewhat more expensive than the small neighborhood "hole in the wall" restaurants. In the case of Pho' Nomenal I found the high prices to be mainly on the drinks rather than the food. Regardless of how they do it, though, I end up having to pay more than in the typical Asian District restaurant.
Many consider Pho' Nomenal to be the first pho restaurant in far northwest Oklahoma City, but I have actually been ordering pho at Kim Wah, about a mile to the north on May Aveune, for quite some time. Kim Wah has a giant Chinese buffet so their Vietnamese food tends to get overlooked, but my feeling is that Kim Wah is the best suburban Vietnamese restaurant for the limited number of items it sells (although Pho' Nomenal has such an extensive menu compared to Kim Wah it is bound to have items that are good alternatives).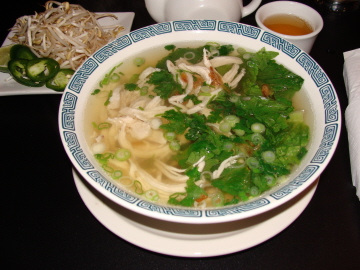 Chicken & rice noodle soup
When I visited Pho' Nomenal for the first time I took advantage of the fact that it serves soup other than beef by getting the Hu Tieu Ga (chicken and rice noodle soup). This is in addition to the chicken soup with egg noodles, and other types of meat that are served in a chicken broth. This soup was not bad compared to other Vietnamese chicken soups I have tried. I did not consider it to have a rich flavor, but it had a good one. The vegetables were fresh, and the seasonings were good.
The best feature of the soup was the quality of the chicken, which tasted fresh and had a good flavor. I will say that this chicken was better than the one I sampled at Pho Hoa in the Asian District (which many consider to be the city's best pho restaurant), although the broth tasted better at Pho Hoa. It seems that at most Asian restaurants that serve noodle soup I have to judge the different components separately, and as a rule no restaurant excels in all of them. At Pho' Nomenal the best part of the soup seems to be the meat they use.
Missing from my order was a garnish of Thai basil that I have found to be normally served with Vietnamese soup. However, the basil comes with other types of soup, such as pho (beef noodle soup).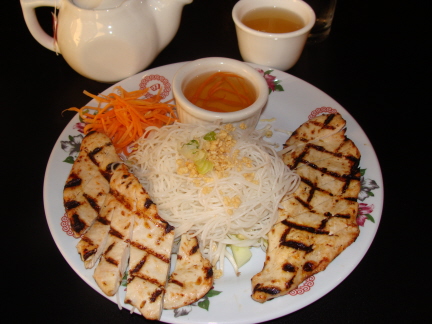 Grilled chicken & vermicelli
Pho' Nomenal has choices for a main dish other than soup, and one I tried was the Grilled Chicken Vermicelli Noodles dish, or bún ga nuong. This was a good dish with a lot of mint and other flavoring, although I did not think it had as much flavor as the one at Kim Wah. Pho' Nomenal, though, had very good meat, and I would say better than most others I have tried.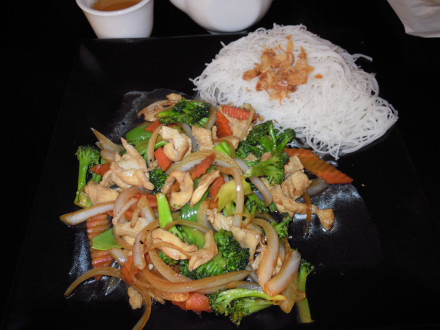 Stir fried chicken & vegetables
In an effort to try something different the staff recommended Stir Fried Chicken and Vegetables that comes with vermicelli. This comes with a sauce that is not too sweet, but has a different flavor than the fish sauce used with the grilled chicken. Although it was loaded with vegetables, it was missing the mint, peanuts, and other flavors that come with the grilled chicken. Sprinkled on top of the vermicelli was garlic that I normally would have pushed aside, but I found this to be a good mix with the other flavors. The surprising thing, though, was that the chicken was not up to the standard I have found with the other dishes at Pho' Nomenal (at least in terms of the flavor in my dish). Because of this I do not give this dish as high a rating as some of the others, but my personal preference is also for the grilled chicken dish rather than this one.
One disadvantage of Pho' Nomenal is that the hot tea is quite expensive. They do have a good selection of boba tea, though.
The large menu at Pho' Nomenal is one of its biggest advantages over the suburban competitors, and as I have tried different dishes I have found some very good items. This is without yet even trying the pho, their signature dish.
RESTAURANT DETAILS
RATING: 22
Cuisine: Vietnamese
Cost: $$
Hours: Open Daily
Accessible: Yes
Tea: Jasmine (bags)
MSG: Yes
Smoking: No Smoking
Alcohol: No
Buffet: No
Most Recent Visit
Jul. 19, 2011
Number of Visits: 4
Best Items
Rice Noodle Soup, Vermicelli with Chicken
Special Ratings
Chicken & Rice Noodle Soup:


Vermicelli with Chicken:


Stir Fried Chicken with Vegetables:

MORE ABOUT THIS WEB SITE