okgourmet.com&nbsp &nbsp Home of Steve's Restaurant Reviews
Phő Liên Ḥa
901 N.W. 23rd St.
Oklahoma City, OK
(405) 521-8087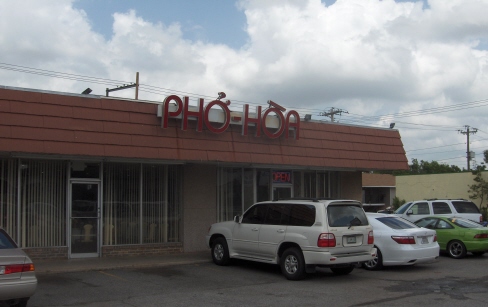 Note: This restaurant was formerly known as Pho Hoa, but as of 2011 it is named Phő Liên Ḥa. There is a Pho Hoa chain of restaurants on the west coast, but the Oklahoma City restaurant is not part of the chain.
At first glance Vietnamese noodle soup seems to be pretty much the same everywhere you go. The beef broth, noodles, and side dishes with mint and bean sprouts do not seem to vary at any restaurant. A few, though, such as Phő Liên Ḥa in Oklahoma City, live up to a freshness and flavor standard that make them a truly great pho restaurant.
One of the things that is different about Pho Hoa, even for the really good restaurants, is the variety of soup that is available. Different types of meat and broth are offered, so that customers do not have to order beef if they do not want it. Along with the variation in ingredients, several sizes are served (all pretty large, though).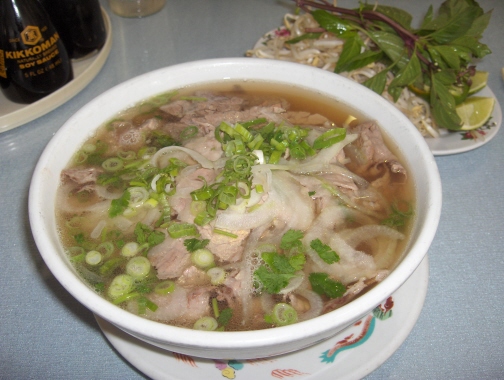 Pho with rare steak
As a beginning point I tried Pho with Rare Steak, since I usually find this to be one of my favorites. The one here was so good it became one of my favorites in the city. On another visit I tried different types of meat, and all were outstanding. Even though the broth at Phő Liên Ḥa was one of the best I have tried, I thought the quality of the meat was more noticeable in setting it apart from many of its competitors.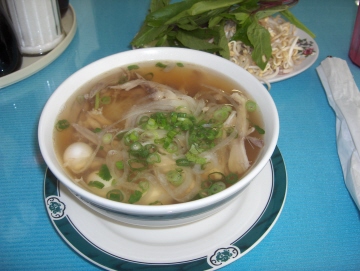 Pork soup
The Pork Soup did not offer the variety of meat available in the beef soup, but the broth was very flavorful and was probably my favorite at the restaurant. This is also a type of soup that is only available at a handful of the Oklahoma City Vietnamese restaurants.
One of my biggest problems at Vietnamese restaurants has been the overuse of MSG, but I did not find that to be the case here. I cannot say the restaurant is MSG-free, but I did not suffer the after-effects of it as I have at other restaurants.
Phő Liên Ḥa is not a "full sevice" Vietnamese restaurant in the sense of offering very many options other than pho. With a noodle soup this good, though, it is probably enough for most people. Several sizes are available, and I have yet to think that I should have ordered the large bowl in order to satisfy my appetite. Any size soup here is one of the most satisfying lunch or dinner items that can be found.
RESTAURANT DETAILS
RATING: 23
Cuisine: Vietnamese
Cost: $$
Accessible: Handicapped space is available, but not properly marked
MSG: Yes
Smoking: No Smoking
Buffet: No
Most Recent Visit
Dec. 19, 2008
Number of Visits: 3
Best Item
Pho, Pork Soup
Special Ratings
Pho:


Pork Soup:

MORE ABOUT THIS WEB SITE