okgourmet.com&nbsp &nbsp Home of Steve's Restaurant Reviews
Phő Ca Dao
2431 N. Classen Blvd.
Oklahoma City, OK
(405) 521-8819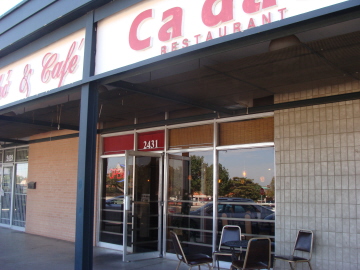 With such a large choice of Vietnamese restaurants in the Asian District it is hard to go to all of them, even if that is your mission such as it has been for me. Pho Ca Dao, though, is one that I think a lot of people will not want to miss. One of their strong points is the great variety of noodle soup that is served, and it seemed that the customers I observed did not limit themselves to ordering the standard pho. In addition, though, Pho Ca Dao has a pretty good menu of other types of Vietnamese dishes, and serves items that are not typically found in the suburban Vietnamese restaurants.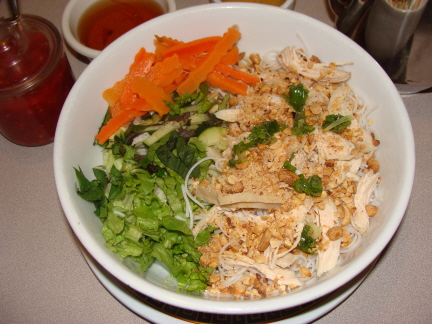 Chicken bún
I had read on the Internet that the Chicken Bún was a good choice, and this over the years has been my standard dish for comparing Vietnamese restaurants. The bún (vermicelli bowl) at Pho Ca Dao was not only good, but I think was probably equal in quality to the best I have had in Oklahoma City. While the one at Lido was the first one I tried and in my mind still the standard for comparison, Pho Ca Dao's bún had different chicken and fish sauce that I thought were at least equally good, if not better. The shredded chicken at Pho Ca Dao was flavorful and although it looked dry, it was actually anything but the dried out and tasteless chicken I find at some restaurants. The nuoc mam (homemade fish sauce) was not as sweet as at Lido, and was darker. Like the chicken, I thought it was different enough to be a good alternative to the standard sauce found at Lido and a number of other restaurants, yet it was equally good if not better. I really liked Pho Ca Dao's vesion of the vermicelli bowl.
Other aspects of the vermicelli bowl were very similar to others served around the city, except they were better. The dish had mint and vegetables at the bottom to give flavor and substance, but this one had more of the "good stuff" than most restaurants (and was probably equal to Lido). It also had more peanuts than any other restaurant, including Lido, and they were finely chopped up as they should be.
My take on the vermicelli bowl was that this was probably a more authentic version than is served at most restaurants, and I think this was probably especially true of the fish sauce.
The variety of soups served is quite large, and includes bún bò Huê which I have only found at a couple of other restaurants. However, in a brief conversation with the cook I was informed that some of the soups have MSG while the vermicelli bowls do not, so I would have to ask about that before ordering any of the soups.
They have quite a few boba drinks, and there are a number of possibilities I would look forward to on a return visit.
RESTAURANT DETAILS
RATING: 23
Cuisine: Vietnamese
Cost: $$
Hours: Closed Sun. dinner
Tea: Jasmine (bags)
MSG: Yes
Smoking: No Smoking
Buffet: No
Most Recent Visit
Oct. 17, 2011
Number of Visits: 1
Best Item
Chicken Bún
Special Ratings
Chicken Bún:

MORE ABOUT THIS WEB SITE