okgourmet.com&nbsp &nbsp Home of Steve's Restaurant Reviews
Phő 89 Cafe (Closed)
9010 S. Pennsylvania Ave.
Oklahoma City, OK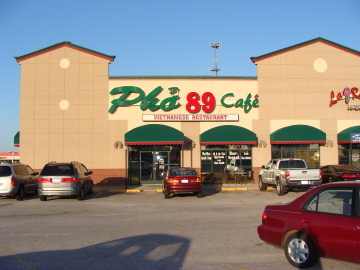 The best Vietnamese restaurants with the most authentic and widest variety of food are generally found in the "Little Saigon" district along Classen Boulevard where the Vietnamese community originally settled and began to showcase their cuisine to Oklahoma City. Vietnamese food has a strong French influence, and I think this is one of the reasons it has been quite popular in the United States, offering the best in both Asian and European flavors.
I found Pho 89 to be comparable to the Asian District restaurants because it has its roots there, and took its large Vietnamese menu with it when it moved to the suburbs. Pho 89 draws its customers from both the Oklahoma City and Norman areas, and the people here seem to want the sophisticated Vietnamese cuisine that this restaurant offers.
I was fortunate enough to experience a large variety of Vietnamese food in Seattle, in restaurants that many consider some of the most authentic in the country. The Vietnamese food in Oklahoma City does not compare with Seattle in terms of some of the more unusual and exotic dishes, but otherwise Pho 89 (along with some other restaurants I have tried in the Asian District and elsewhere in OKC) comes close to providing west coast quality food. Even though I have only tried a small sample of the food at Pho 89, the large menu selection made it clear that I could make a number of trips and have the opportunity for a number of new experiences with different dishes in one of my favorite cuisines.
The two items I have tried so far at Pho 89 were good enough that I think anything ordered here should be enjoyable. The menu is explained in English, and it provides good variety without relying too much on the type of "mystery meat" I have found at some of the Classen Boulevard restaurants. Pho 89 is actually much like some of the restaurants in Seattle that achieve variety through using different vegetables, spices, and preparation methods while usually sticking with the types of meat with which most people are familiar (although the "mystery meat" found at many Vietnamese restaurants is equally a part of true Vietnamese cuisine).
Pho 89 serves pho, but the menu is quite extensive with other types of soup, noodle soups and dishes, rice platters, and combination dishes.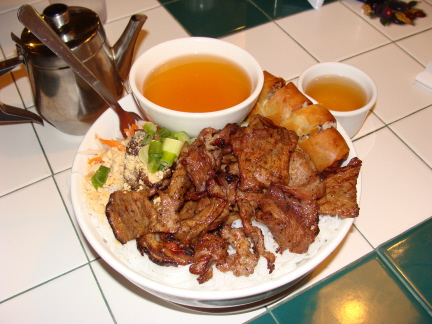 Bún Cha Giò Thit Heo Nuóng
Bún Cha Giò Thit Heo Nuóng was a rice vermicelli noodle dish with grilled pork and homemade egg roll. With a mixed veggie salad this was a balanced and complete meal similar to the vermicelli dishes I have tried at other restaurants. However, I thought it had more flavor and variety than the typical vermicelli dish. The meat was well cooked and good quality, and the egg roll was an equal part of the experience.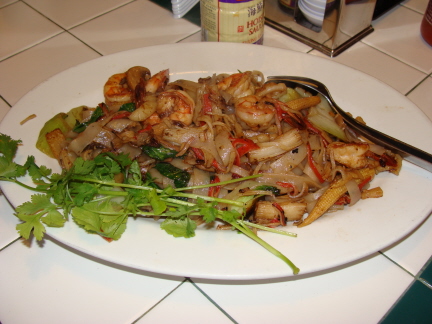 Hù Tiêú Xào Ap Chao
Hù Tiêú Xào Ap Chao was a dish served with flat rice noodles, shrimp, crab, squid, barbecue pork, and baby bok choy. This had a very good flavoring, and all the meats were well cooked. Like the first dish mentioned, it was something I had not tried before, and was something I would like to order again. I thought all the ingredients and flavorings of these dishes were quite good.
To me the vermicelli noodle dish was a good test of the restaurant, since some version of this dish is usually the first one I order at any Vietnamese restaurant. This dish seems to be good at any Vietnamese restaurant, and they all serve similar toppings, but the variation lies in its flavor and quality. I thought the one at Pho 89 was among the best I had tried, and I was impressed with the quality of the meat and the egg roll, as well as the quantity of food served. Many restaurants outside of the Asian District serve similar dishes, but few with as much flavor.
Pho 89 was casual, but one of the best things about it was that it was large enough to provide ample and comfortable seating (and also serves enough customers to provide a very large menu for a suburban Vietnamese restaurant). I wish to thank KJ, a loyal and regular customer at Pho 89, for recommending it to me and the readers.
RESTAURANT DETAILS
RATING: 23
Cuisine: Vietnamese
Cost: $$
Hours: Open Daily
Accessible: Yes
Smoking: No Smoking
Most Recent Visit
Jul.12, 2009
Number of Visits: 1
Best Items
Bún Cha Giò Thit Heo Nuóng, Hù Tiêú Xào Ap Chao
Special Ratings
Bún Cha Giò Thit Heo Nuóng:


Hù Tiêú Xào Ap Chao:

MORE ABOUT THIS WEB SITE