okgourmet.com&nbsp &nbsp Home of Steve's Restaurant Reviews
Perri's Pizza & Café (Closed)
2140 W. Britton Rd.
Oklahoma City, OK



MINI-REVIEW
Perri's Pizza was a small place in The Village which served hand-tossed New York style pizza. As it may sound from the description, this pizza was much better than average, and in fact I thought it was comparable to some of Oklahoma City's best pizza restaurants such as Papa Angelo's.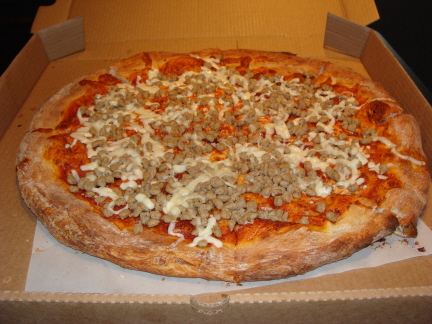 Sausage pizza
This is a photo of the sausage pizza, but I am not sure about the size. I think I got it because it was a daily special, and Perri's had different specials each day (two of them were pizzas, and the others were lasagna, chicken parmesan, eggplant parmesan, and baked ziti).
I intended to make a return visit and then write a review, but when I went the second time I found the restaurant closed. As far as I know it has not reopened, although at the time I heard rumors that Perri might open a pizza restaurant at the then newly-opened Outlet Mall on IH-40.
I enjoyed the pizza, the atmosphere, and the prices. It was too bad I was only able to make one visit.
RESTAURANT DETAILS
RATING: *
Cuisine: Pizza
Most Recent Visit
Jul. 22, 2009
Number of Visits: 1
Best Item
Pizza
Special Ratings
Pizza:

MORE ABOUT THIS WEB SITE