okgourmet.com&nbsp &nbsp Home of Steve's Restaurant Reviews
Papa Angelo's Pizzeria
6744 N.W. 39th Expressway
Bethany, OK
(405) 491-6767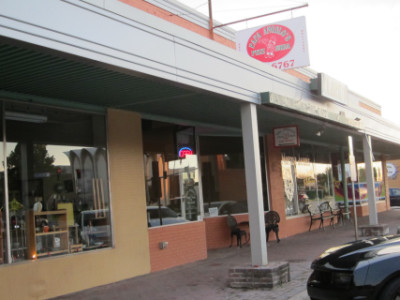 I am not sure of the story about Papa Angelo's, but I know it has a New York connection. I had read that this is the one place in the metro where I could order authentic New York style pizza. Although New York City pizza can be recognized by its thin crust, I do not know what constitutes a good New York pizza except by tasting it. Papa Angelo's is certainly one that I would call good, and I really think would do New York proud.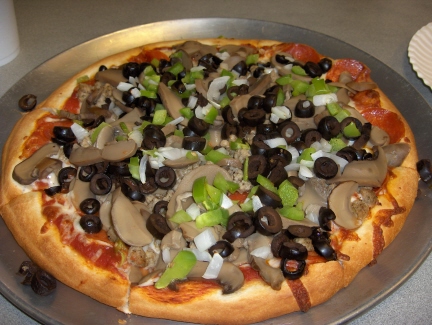 Combination pizza with "everything" on it
I lucked out on my first visit to the restaurant because they were offering some specials. One was a Combination Pizza that was recommended by the employees as being one of their best, and was certainly a bargain when compared to paying for each of the toppings individually. Although it was a meat lover's dream, it was also a veggie lover's delight, with mushrooms, olives, green peppers, tomatoes, and onions that almost obliterated the view of the several types of meat that were included. Everything was fresh and delicious as I had read from previous reviews. I could not have asked for a better New York style pizza as I have come to know them from various restaurants I have visited.
The only problem I have found is that the combination pizza is not on the menu, and apparently is not always offered as a special. The menu offers several sizes of crust, and each topping goes for 45 cents to over a dollar (depending on the size of the pizza). These pizzas are good for large groups, but it is hard for one or two people to get small pizzas with a large number of toppings at a bargain price.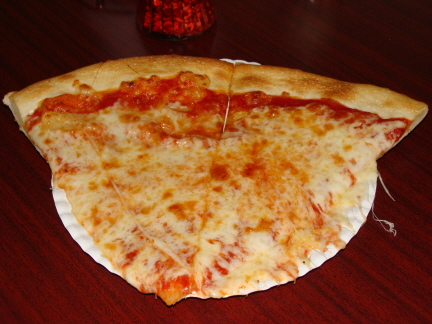 Individual slices on the lunch special
At lunch the restaurant makes it fairly easy to get smaller portions with various lunch specials. Included in this is a Two Slice Pizza lunch special that comes with a drink. The one shown in the photo was cheese, but toppings can be added for a small extra charge. One notable thing about the lunch special is that the slices are not sitting around getting cold-- when the slices pictured were ordered they were made from scratch and individually cooked, and it seems that no customers are served pizza that is not freshly cooked. I will have to repeat my previous opinion, though, that the best pizzas at Papa Angelo's are ones with one or more toppings (and not the cheese pizza as shown in this picture).
Some "pasta" dishes are also served, including ziti, lasagna, and calzone. After trying the pizza, though, this is definitely something I would want to order on return visits.
RESTAURANT DETAILS
RATING: 22
Cuisine: Pizza
Cost: $$
Hours: Closed Sun.
Accessible: Yes
Smoking: No Smoking
Most Recent Visit
Jun. 24, 2008
Number of Visits: 1
Best Item
Combination Pizza
Special Ratings
Combination Pizza:

MORE ABOUT THIS WEB SITE