okgourmet.com&nbsp &nbsp Home of Steve's Restaurant Reviews
1 Smart Cookie
12100 N. Rockwell Ave.
Oklahoma City, OK
(405) 721-5959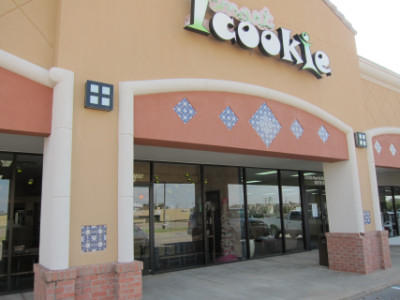 1 Smart Cookie is a true bakery in that it does not serve food or sandwiches, only baked goods to go. There is a good selection of sweet bakery items, but the largest selection is found with the cookies. I would gather from the name of the business that cookies are its specialties, and in fact for this particular item I think it has just about everyone else in town beat.
My perception of the bakery was really quite different than it turned out to be. I had heard that the cookies are expensive (which they turned out to be), and I thought it must be sort of a gimmick that people would only want to frequent when they were in a mood to splurge. The reality, though, was that the cookies really are worth the price-- for the flavor, freshness, and quantity of the cookies served. Maybe it would be a little expensive if one were to pig out and eat a lot of them at one time, but my experience was that an order of about four cookies were big enough to last over a good time period, and the flavor was certainly better than you get with most restaurant or store-bought cookies.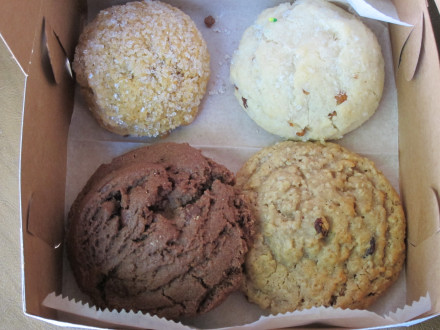 Top row: pumpkin, pecan sandy
Bottom row: double chocolate, oatmeal raisin
These cookies, in fact, have a home made flavor that I think makes them worth the cost. I did not like all of the cookies equally, but I liked all of them. There is probably nothing here that is not worth trying.
My favorite was the Pecan Sandy. In fact, it was more a case that if I had to pick just one it would be this one than that some were markedly better than others. All of them were fresh and delicious, and all were equally enjoyable.
Just for the sake of continuing my report, I will say that the Oatmeal Raisin was the next best cookie. This is probably because the oatmeal sounded the least appealing to me out of the four, but turned out to be quite good.
The one that was a bit of a letdown was the Double Chocolate, only because at most bakeries the chocolate would be my favorite, but here it was about equal to the others (but still as good or better than I could find in most other bakeries).
One Smart Cookie prepares a large number of special orders, and they have a lot of seasonal specials such as the pumpkin cookie which was included in my order. At the prices they charge this might be considered somewhat of a special treat, but I think it is one that most people can afford every now and then, and they will not be disappointed by what they get.
I do not know their hours, but I know the day I went they closed about 3:00 or 4:00 in the afternoon.
RESTAURANT DETAILS
RATING: *
Cuisine: Bakery
Most Recent Visit
N/A
Number of Visits: N/A
Special Ratings
Pecan Sandy Cookie:


Oatmeal Raisin Cookie:


Pumpkin Cookie:


Double Chocolate Cookie:

MORE ABOUT THIS WEB SITE