okgourmet.com&nbsp &nbsp Home of Steve's Restaurant Reviews
Museum Cafe
415 Couch Dr.
Oklahoma City, OK
(405) 235-6262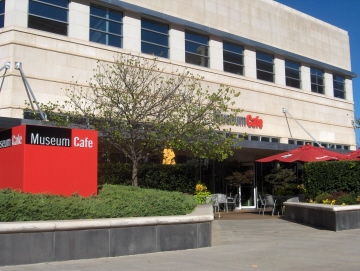 Downtown Oklahoma City has seen a rebirth of activity in recent years, and this has extended to the culinary scene. Museum Cafe at the Museum of Art has become so popular that reservations are advised (unless you have time to wait for a table), a sign that the city's core has a thriving economy as well as good taste. Museum Cafe combines fine dining with the type of service and menu that is appropriate for the lunch hour so that patrons can return to work on time, yet offers an atmosphere that encourages diners to relax and enjoy themselves as long as they wish.
Although the Museum of Art occupies the main portion of the building, the restaurant is separate with its own hours of operation, including dinner several nights a week and Sunday brunch. The museum is closed Monday, but the cafe is open from 11 a.m. to 3 p.m.
When I visited the outdoor patio was the first area to be filled up, providing a respite for workers who occupied an indoor office all day. I would think that on inclement days when the outdoor tables were not being used it would be even more necessary to have a reservation for one of the indoor tables.
The food seemed to run the range from light salads and sandwiches to substantial meals. Most dinners seemed different and a little more upscale, though, than those served in the typical restaurant. Everything I saw coming out of the kitchen looked appetizing with a very nice presentation, even if the items themselves were not very much out of the ordinary.
I observed all tables receiving a complimentary freshly baked roll with the meal. The Museum Cafe is probably not known for serving large portions, but the bread was quite good and was effective in making the meal more substantial.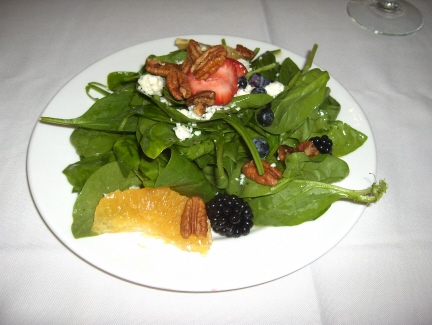 Spinach salad
The Spinach Salad was something I purposely ordered in order to have a light lunch. Two sizes were available, but I was surprised that the small one I ordered was almost a meal in itself. With the fresh fruit, pecans, spinach leaves, and feta cheese, I can say that if I had ordered the large salad it would have been easily consumed despite any lack of appetite I might have had. I thought this could easily be classified as one of the best salads I have ever had. It would be harder to say if it was better than the salad at Boulevard Steakhouse, but the two were very comparable. The salad at Museum Cafe was not even very expensive for the amount of fresh fruit and quality ingredients that were served.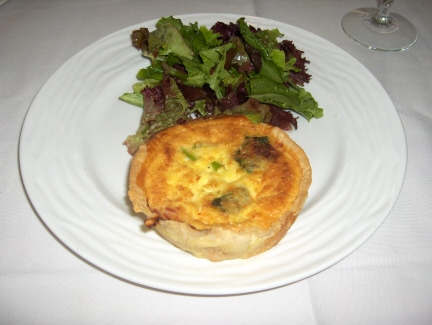 Quiche at Museum Cafe
I am normally not a big fan of Quiche, but when I got to taste a sample of the one here I thought it was one of the better ones I have tried. I have become a big fan of steamed eggs at Chinese restaurants, and I thought this quiche had a similar light texture that I liked. The crust of the quiche, normally one of the hardest parts to get right, was good. I will have to say that Museum Cafe does quiche quite well.
The reports I have been hearing about Museaum Cafe were correct. Everything was very good, and perhaps better than I expected. The adjacent Museum of Art was quite worthwhile as well.
RESTAURANT DETAILS
RATING: 24
Cuisine: Fine Dining
Cost: $$
Hours: Lunch Daily; Dinner Tue.-Sat.
Accessible: Yes
Smoking: No Smoking
Alcohol: Wine
Special Features: Outdoor Patio, Sun. Brunch, High Tea Tue.-Thu.
Most Recent Visit
Oct. 8, 2008
Number of Visits: 1
Best Item
Spinach Salad
Special Ratings
Spinach Salad:


Quiche:

Restaurant Web Site
Museum Cafe
MORE ABOUT THIS WEB SITE