okgourmet.com&nbsp &nbsp Home of Steve's Restaurant Reviews
Mr. Sushi (Closed)
214 S. Santa Fe Ave.
Edmond, OK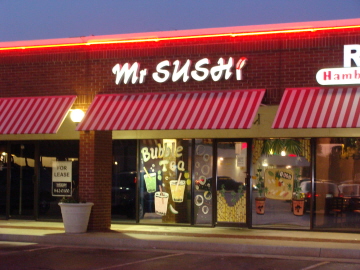 The strange thing about Mr. Sushi is that although it arguably has the best sushi in the Oklahoma City metro (at least I would argue that it does), I had never heard of it or read anything about it in periodicals or restaurant review web sites. I found it by accident when I visited House of Hunan for the first time (both restaurants are in the same shopping center on the northeast corner of Edmond Rd. and Santa Fe Ave.). This is not a "full service" Japanese restaurant with a wide range of cooked dishes, in fact the miso soup and gyoza dumplings are about it for anything that is served heated.
The best sushi restaurants are probably those where customers can watch the sushi being prepared and talk to the chef about what is recommended. Mr. Sushi brings this to a level that is unusual even for sushi restaurants; the dining room is so small that all the tables are within sight of the sushi bar and just about anyone in the restaurant is within conversation distance of anyone else (including the sushi chef).
In the case of sushi restaurants small is probably good, since it is easier to maintain quality control. I found the quality at Mr. Sushi to be at a level that I am sure would be acceptable in any large city. The main limitation in the Heartland is that there is a limited variety of sushi that would meet the chef's quality standard, thus the menu is relatively small.
"Sushi" does not mean just fish, and Mr. Sushi also serves vegetarian rolls and vegetarian seafood substitutes. Some sushi is made with cooked or smoked fish rather then the more common raw variety, and all is in keeping with the idea of sushi being a "snack" where several orders of various types would make up a meal.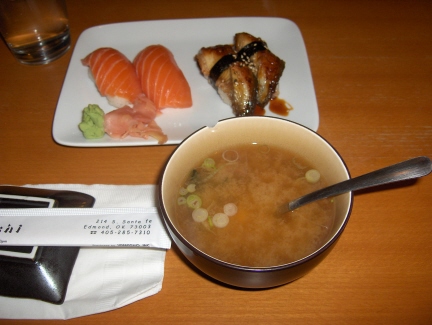 Salmon sushi, unagi, and miso soup
The Miso Soup I had for a starter was very good, but I rarely encounter any that is bad so in this respect Mr. Sushi is much like a lot of other restaurants.
Salmon Nigiri was the recommendation of the day by the chef, and I was surprised how much I liked it after trying the salmon at some of the city's other sushi restaurants. A good sushi chef will recommend different things at different times of the year, so the one experience with sushi here does not necessarily mean this is a better sushi restaurant than the others in the city. I can say, though, that none of my other experiences with salmon have matched the one here.
Cooked Unagi (freshwater eel) was also recommended, and I enjoyed it as well.
The chef was ready to make more recommendations, but I decided to go with a California Roll, something I have ordered at a number of restaurants. It was about as I expected-- good quality but not something that I think shows off the chef's skills as well as the nigiri. The roll contained a "crab mix," as well as avocado and cucumber. Most of the time I think if I am going to get avocado it is better at Mexican restaurants, but a California roll provides a good change of pace.
Mr. Sushi does have an extensive menu of rolls, many of which contain the same fish or seafood served in the nigiri. Some of them might be worth a try, but I have not sampled any other than the California roll.
Sashimi is also available (seven pieces are served per order), so there is really a pretty good choice of fish available at Mr. Sushi. I have found that if the chef recommends something, the advice is trustworthy.
Smoothies and milk-tea drinks are available, as well as hot tea.
I know that the most important thing at any restaurant is the food, but I also found here something that I think is important for any sushi restaurant-- friendly people and a sushi chef who gets a feel for what the customer wants and who makes the appropriate recommendations.
RESTAURANT DETAILS
RATING: 23
Cuisine: Japanese
Cost: $$
Hours: Closed Sun.
Accessible: Yes
MSG: No
Smoking: No Smoking
Buffet: No
Most Recent Visit
Sep. 20, 2008
Number of Visits: 1
Best Item
Sushi
Special Ratings
Salmon Sushi:


Unagi:


California Roll:

Restaurant Web Site
Mr. Sushi
MORE ABOUT THIS WEB SITE