okgourmet.com&nbsp &nbsp Home of Steve's Restaurant Reviews
Mi Pueblo Mexican Grill (Closed)
7708 N. W. 23rd St.
Bethany, OK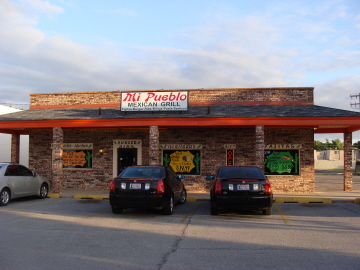 Going to Mi Pueblo made me think about how far Mexican food has progressed in Oklahoma City. During the 1980's I visited numerous Mexican restaurants in south Oklahoma City looking for "real" Mexican food (and even there I had limited success). One item I thought would be a good test was carnitas, a dish popular in El Paso but which I had never seen in Oklahoma. I finally found a place on May Avenue near S.W. 29th that served it (near the end of my search when I had few places left to look). It turned out that the owners were from El Paso and they served carnitas not because customers asked for it, but because it was something they enjoyed and they wanted to have it available for their own family.
Now there is not only "real" Mexican food north of Interstate 40, but customers have the luxury of going to different restaurants to evaluate different dishes and make comparisons. I believe by any comparison Mi Pueblo would be considered one of the more authentic and better Mexican restaurants in the Oklahoma City metro (it is actually located in the suburb of Bethany). What makes Mi Pueblo different from many restaurants is that the authentic dishes are featured the most prominently, while Tex-Mex dishes are available if you want them (but even these are apparently closer to authentic Mexican food than at most restaurants).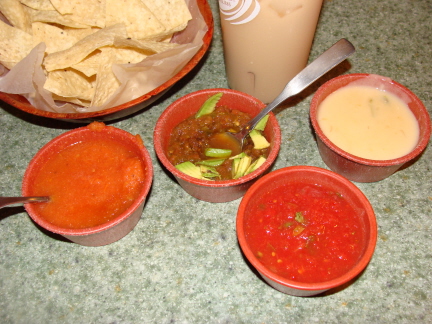 Habanero salsa, avocado salsa, regular salsa, and queso are all complimentary
The most unauthentic aspect of Mi Pueblo seems to be the queso and sopapilla that are served "free" with the meal (but it is apparent to me that the prices have been adjusted higher to pay for them). Although I consider Oklahoma style queso to be mediocre and not even close to authentic Mexican chile con queso, I could call the one at Mi Pueblo the "best of the mediocre," since it was one of the best I have tried in the city. It had a good consistency and flavor, and I actually found some green chile floating around inside.
Upon entering I saw a salsa bar with several types of Salsa available, so I knew this was going to be more satisfying than at most restaurants. Unlike queso, I think good salsa is an important part of the meal, and Mi Pueblo definitely has some good ones. I asked the waiter for a spicy one, and ended up with two kinds. The Habanero Salsa was the spicier of the two, and had a good flavor. The Avocado Salsa was a mixture of different ingredients including chunks of avocado, with green colored chiles. Although I don't know the exact ingredients used, it was quite good and just spicy enough. There was at least one other salsa available that I did not try, but what I had was quite enjoyable.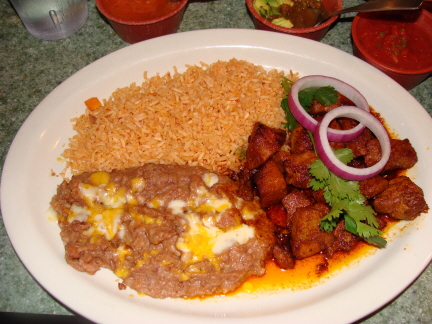 Asado de puerco
Asado de Puerco was listed on the menu as the "especialidad de casa," and I found out that it was slow cooked with a rather involved preparation that made it one of the restaurant's special dishes. This "roast pork" was a Monterrey version of the carnitas served in Ciudad Juarez and El Paso, but both use the same kind of meat. The asado de puerco at Mi Pueblo had an earthy flavored red chile that was very good but not too spicy, and I thought this made it something that people would want to try even if they could find carnitas or roast pork at other restaurants. I do not necessarily want to try the same thing at every restaurant, but it is good when each restaurant has its own special dishes.
What was disappointing about the asado de puerco was that the meat was not consistent-- some of it being moist and tender with other parts being dry. This is the same thing I find with the majority of restaurants in El Paso that serve carnitas, so to me it was not a big deal (but it was enough to keep it from being my favorite dish at the restaurant).
Although I did not get a photo of it, the Enchiladas Suizas I sampled were quite good, and I would say totally delivered the authentic version. This is one of my favorite dishes when I go to Mexico (which unfortunately because of the problems they are having I do not do very much these days). The green tomatillo sauce was exactly right for this dish, and the chicken inside was good quality. I was not only impressed by this dish, but I was surprised that they could prepare one in the United States that was so close to the originals I experienced in Mexico.
The Refried Beans are definitely a standout item at Mi Pueblo. It was explained to me that they are not made with as much water as the standard beans, yet they did not taste in any way dry or prepared incorrectly. I think the reason I liked them was that they had more of a bean flavor than most versions (and beans happen to be one of my favorite foods).
The Horchata is possibly the best in Oklahoma City, although it was different than most by seeming to be more puréed and not having particles of different ingredients floating around. It was not too sweet and had a good flavor, so I thought it was quite enjoyable. Other aguas frescas drinks are also available.
RESTAURANT DETAILS
RATING: 22
Cuisine: Mexican Nuevo León
Cost: $$
Hours: Open Daily
Accessible: Yes
Smoking: No Smoking
Alcohol: Beer
| | |
| --- | --- |
| Chile Index: | |
Most Recent Visit
May 13, 2011
Number of Visits: 1
Best Items
Enchiladas Suizas, Horchata, Spicy Salsa, Refried Beans
Special Ratings
Asado de Puerco:


Enchiladas Suizas:


Refried Beans:


Rice:


Salsa:


Salsa:

spicy
Queso:


Chips:


Sopapillas:


Horchata:

Restaurant Web Site
Mi Pueblo
MORE ABOUT THIS WEB SITE