okgourmet.com&nbsp &nbsp Home of Steve's Restaurant Reviews
Mi Familia Guatemalan & Mexican Restaurant
1708 N. Rockwell Ave.
Bethany, OK
(405) 789-6609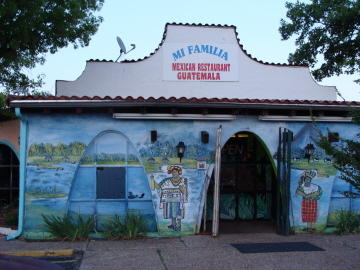 Since 2008 I have had the chance to try several Guatemalan restaurants in the Oklahoma City metropolitan area including Mi Familia (which is located in Bethany, a suburb on the west side of OKC). I have spent a large amount of time in both Guatemala and Mexico, and although I think both cuisines are quite good, Mexico seemed to be the clear winner in both variety of food and providing a taste experience.
When it comes to the way the cuisines are represented in Oklahoma City, though, I have been much more impressed by the way Guatemalan food has been prepared on the whole than the typical Mexican food that is served. At least when it comes to Mi Familia, I think the food tastes good, fresh, home made, and flavorful. Maybe best of all, it is cheap enough to try just about anything you want (one problem with many Mexican restaurants is that they are too expensive for the type of food that is served).
Mi Familia serves Mexican food as well as Guatemalan, but the list of Guatemalan dishes is long enough to provide a good choice. The Guatemalan menu contains a lot of baked or grilled meat, sour cream but not very much cheese, and is at most only mildly spicy. I wish I could try everything, but so far I can only report on the items listed below.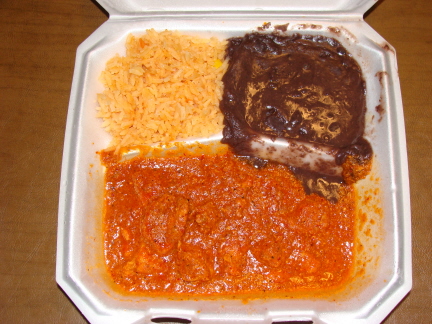 Pipian with rice and beans
Pipian is a mildly spiced but flavorful chicken dish that makes a good introduction to Guatemalan food. Every restaurant (and probably every cook) has their own recipe, so the one here was slightly different from others I have tried. I thought this was as good as the others I have tried, though.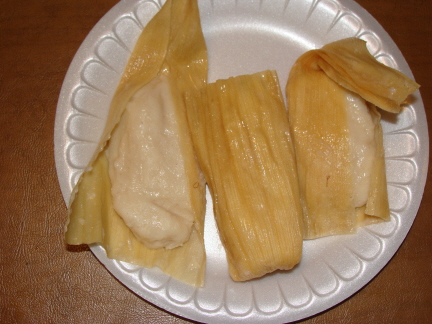 Tamales
The Tamales were plain on top with only the corn husk in which they were wrapped, and this is the way I like them. Although they were very good, I think it is best to use them as a side dish, with something like the pipian serving as the main course.
The Plátanos Fritos were a good side dish, and were typically Guatemalan.
Black Beans were served with the meal, and I think are both healthier and more flavorful than many refried beans served in Mexican restaurants. The Mexican menu at Mi Familia lists "rice and beans" with most meals, so I do not know if it also serves refried beans. I know in Mexico and along the border, though, it is not uncommon to find black beans served with the meal.
All the Guatemalan restaurants in OKC have features that make them notable, but here it seems that there is a larger than average menu with the same food served all day, so you do not have to go at certain times to get certain dishes. I was looking at the menu again before writing this article, and I am still impressed with how reasonable the prices are. The restaurant is not fancy but it is clean and comfortable. I think it is really worth a try.
RESTAURANT DETAILS
RATING: 22
Cuisine: Guatemalan & Mexican
Cost: $
Smoking: No Smoking
Alcohol: Beer
Most Recent Visit
Jun. 22, 2009
Number of Visits: 1
Best Items
Pipian, Tamales
Special Ratings
Pipian:


Tamales:

MORE ABOUT THIS WEB SITE