okgourmet.com&nbsp &nbsp Home of Steve's Restaurant Reviews
Meiki's Italian American
6916 Northwest Expressway
Oklahoma City, OK
(405) 721-5522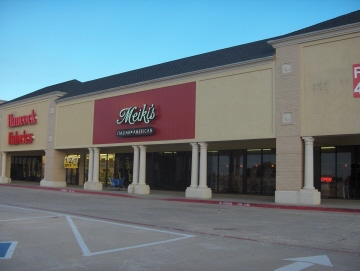 For years this restaurant was known as Meiki's Route 66, a popular restaurant on N.W. 39th Street (historic U.S. 66) serving red sauce style Italian food. I have read that it specializes in pizza and calzones, but the menu includes a large list of Italian dishes along with hamburgers, chicken breast sandwiches, and chicken pockets on the American menu.
The new restaurant at Northwest Expressway and Rockwell is in a large space and is popular enough that it may get full at times. Casual Italian restaurants with moderate prices are usually a big draw, since most people cannot sustain a habit of visits to more expensive restaurants, no matter how good the food might be. I also think a reason for Meiki's popularity is that people think the food is better than average.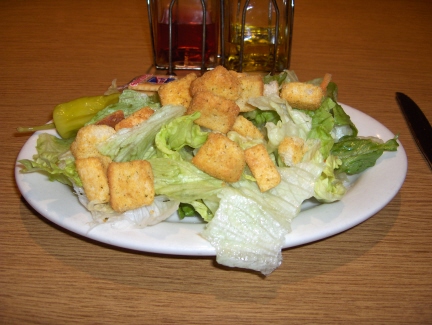 A salad comes with the meals at Meiki's
Dinners at Meiki's come with a salad and garlic bread. The Dinner Salad had pretty standard lettuce and dressing. With the iceberg lettuce used in the salad about all I can say is that it was fresh. The dressing was good and I enjoyed the croutons. This was pretty much a fairly average salad.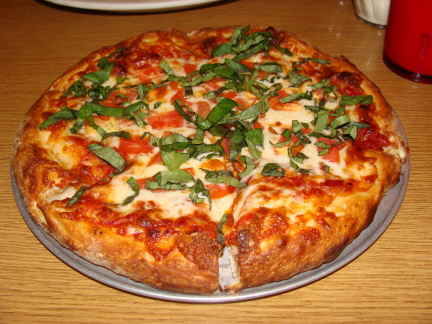 Margarita pizza
Pizza is one of the major attractions at Meiki's, and I found out why when I tried the Margarita Pizza with fresh basil and thin-sliced tomatoes. I thought this was probably one of the three or four best pizzas of this type in the city, with the flavors being as vibrant as the colors in the photo. Italian food has much in common with Thai and other Asian foods, one thing being that anything made with basil is likely to be good. Here the basil was fresher and more noticeable than normal, with there being no "weak links" in the other components of tomatoes, cheese, and crust.
Besides the margarita pizza, customers can build their own cheese pizza with extra toppings, order the Supreme with everything, or get the Vegetable pizza with the same ingredients as the vegetarian calzone (mushroom, black olive, green pepper, and onion).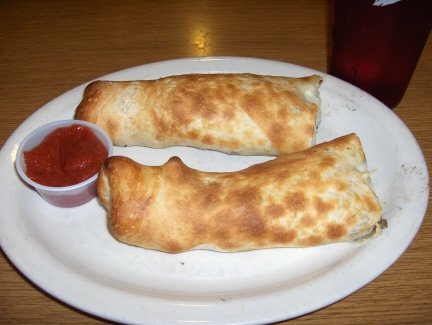 Calazone can be ordered with meat (sausage and Canadian bacon) or vegetarian (mushrooms and black olives)
Calazone is known as Meiki's other specialty besides pizza, and so far I have found none better in Oklahoma City or most other cities. In many restaurants calazone seem to be more like a snack or a fast food meal than something that is really satisfying, but the one at Meiki's was satisfying in both flavor and substance. I got the vegetarian calazone order, and I thought the crust and the sauce were strong enough so that people would enjoy either the vegetarian or the meat version. The mushrooms were quite good, something that is not always the case at restaurants. The crust was made with pizza dough, and the one here is one of the best. I thought the onion flavor was too strong, and I do not know if customers are allowed to custom order the ingredients inside so that this can be changed. Mozzarella cheese inside gives the calazone extra substance and flavor. A meat version is also available for those who think the veggie one might not be filling enough (although I thought it was).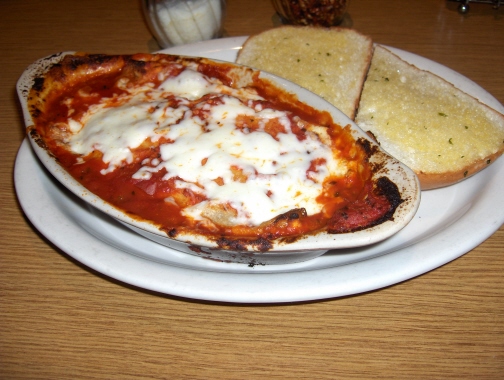 Manicotti at Meiki's
Other than pizza, most of the items listed on the menu were pasta dishes. Based on the waitress' suggestion I ordered Manicotti on one of my early visits. It may be fairly hard to make an impressive manicotti since no meat is involved, but it is something I enjoy when they get it right. The waitress indicated it was good because of the home made crepes used to wrap the ricotta cheese, and I will have to admit that the dish was pretty much as advertised. The sauce, cheese, and crepes were all good, and as far as I could tell were home made. The sauce was a typical Italian American style red sauce, and I liked it better than most. This was not my favorite sauce in OKC but it was certainly something that would make me want to return to the restaurant. The cheese was high quality both inside and on top. The photo makes it appear that the dish was burned, but this was only along the edge. Otherwise I thought it was cooked just right.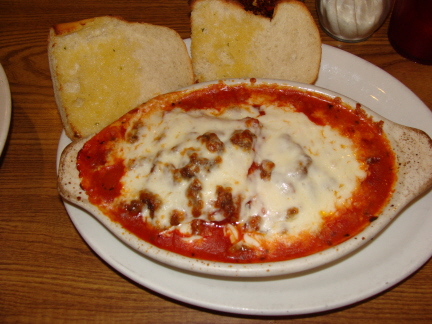 Lasagne
Lasagne was pretty much a copy of the manicotti except that it came with sausage and did not have the crepes. The menu points out that lasagne has Meiki's slow-cooked red sauce, but other dishes do as well, so the other ingredients largely determine which dish will be each person's favorite.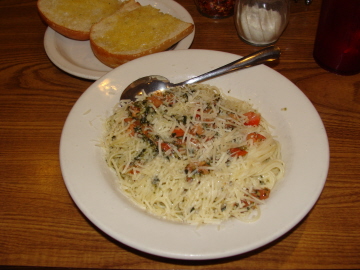 Angel hair pasta with pesto
Angel Hair Pasta with Pesto is one dish that does not use red sauce, but it does come with Meiki's "fresh basil and chopped tomatoes." I thought this dish was good, and probably more healthy for the type of diet I like to follow than some of the red sauce dishes. I do think, though, that some other restaurants serve a better pesto (but this one was good).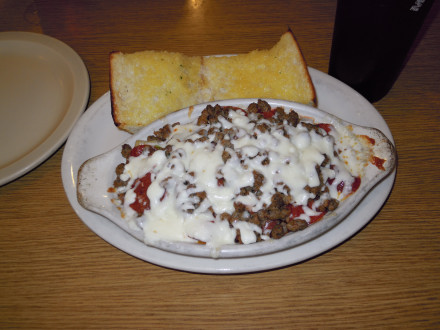 Rigatoni
Rigatoni is made with sausage and pepperoni, and I thought the meat was good. The dish had a fresh flavor, although I did not think the flavor was very memorable. The green peppers and mushrooms give this dish a similar taste to the vegetarian items, but of course with two types of meat included.
The Garlic Bread that came with the manicotti and other dishes was pretty unappealing, almost to the point that I would consider not eating it at future meals even though it comes free with the meal. I thought the amount of garlic used was over the top and I really did not enjoy it.
Meiki's serves Italian Cream Soda in addition to the standard drinks for a change of pace that is not available in many restaurants.
One of my main problems with Meiki's is with the portion sizes-- half orders are not available except for the calazone and regular dinner plates are larger than what I would call a normal size (but they are not large enough to be split by two persons). At the same time prices have risen over time so that it is still moderately priced for Italian food, but probably not for restaurants in general. The food is good, but I sometimes have a hard time finding something that fits my budget and my appetite.
Meiki's does not claim to be "authentic," but is a good, old fashioned Italian American style restaurant. I think the most authentic thing about it is the way the meals are made from scratch with fresh ingredients, so that it is hard not to like the food here. Even though it is no longer on historic U.S. 66, it is still worth a stop whether you are a local or are passing through.
RESTAURANT DETAILS
RATING: 20
Cuisine: Italian
Cost: $$
Hours: Closed Sun.
Accessible: Yes
Smoking: No Smoking
Most Recent Visit
Feb. 2, 2012
Number of Visits: 7
Best Items
Pizza, Calazone
Special Ratings
Margarita Pizza:


Calazone:

Veggie
Manicotti:


Lasagne:


Rigatoni:


Angel Hair Pasta:


Salad:


Italian Cream Soda:

MORE ABOUT THIS WEB SITE