okgourmet.com&nbsp &nbsp Home of Steve's Restaurant Reviews
Margarita's Mexican Restaurant
7800 N. May Ave.
Oklahoma City, OK
(405) 848-8394

Update 2013: Margarita's has moved across the street to 7801 N. May Ave.

*** An updated review is located on Steve's Food Blog.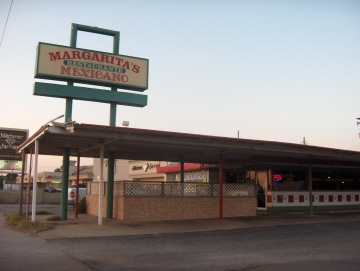 Margarita's is a small restaurant that is quite popular because it not only offers the "Tex-Mex" food many Americans have come to expect from north side OKC restaurants, but also dishes that give patrons a taste of the owner's home state of Zacatecas, Mexico. Many people who do not even know the difference appreciate the down home style of Margarita's in both food and decor.
The owner points out that everything is made fresh from scratch, while some other restaurants have the habit of preparing items ahead of time in large batches (including one in which he worked before starting Margarita's). I would have to state that everything does seem to be quite fresh. I think the restaurant is trying more to provide consistent quality than to offer a huge menu that might have some hits and misses.
Mexican restaurants in north Oklahoma City fall under the general category of "Tex-Mex," and have a sameness in the menu and the flavors just about anywhere you go. I noticed some of this at Margarita's, with the Salsa tasting just about like the ones everywhere else. Although the complimentary bowl of Queso was better than at most other restaurants, this is still a Tex-Mex tradition that is not followed in Mexico or other parts of the U.S.
The drink menu began to give me some hope that Margarita's would be a little more authentic than other north side restaurants. Horchata was available, and I was apprehensive that this would be another "dumbed down" item as I thought the salsa was. The horchata was freshly made and quite delicious, though, somewhat to my surprise. The real test was that after sitting for a while the ingredients began to separate, with some cinnamon and other items dropping to the bottom as they would in the real Mexican version if you do not keep the drink stirred with your straw.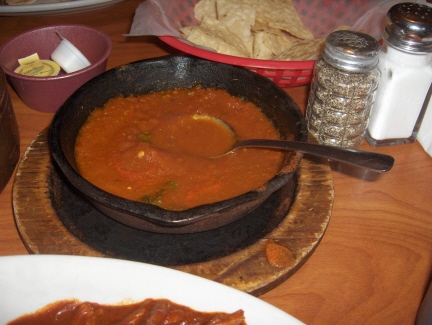 Margarita's spicy salsa can be requested
The next good sign was the large bowl of Salsa Picosa that came out when I asked for something spicier than the bowl of salsa that had been placed on the table. This was truly hot and truly good. Like the salsas served in the better Mexican restaurants it seemed freshly made, and certainly did not come from a can or a bottle.
The food became more understandable when I learned the owners were from Zacatecas and had brought many recipes with them. While the majority of customers probably want and expect the items to which they are accustomed in other restaurants, Margarita's offers items not found in most other establishments, and is more representative of the type of food that would be served in Mexico.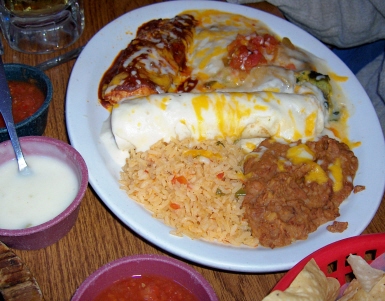 Combination plate with tamal, chile relleno, fajita enchilada, rice, and beans
Tamales here are fresher and have a richer flavor than the typical ones served in Tex-Mex restaurants. The one I tried here was permeated with red chile, and was worthy of a Christmas or New Year's celebration at which the tamal is a requisite.
Enchiladas seemed totally Tex-Mex, and bore little resemblance to ones I have seen south of the border. The Fajita Enchilada was not really an enchilada at all. With no chile on top it did not fit the definition of to "en-chi-le-ar" or to top it off with some type of chile. Instead it was more like a burrito with sour cream and cheese on top. The Beef Fajita meat inside, though, was so good it did not matter whether the dish was authentic or not. Of course, I do not think fajitas are at all authentic, seeming to be popular almost exclusively north of the border. This whole thing was a blow for Margarita's status of trying to serve authentic Mexican food, but it was a treat for the taste buds.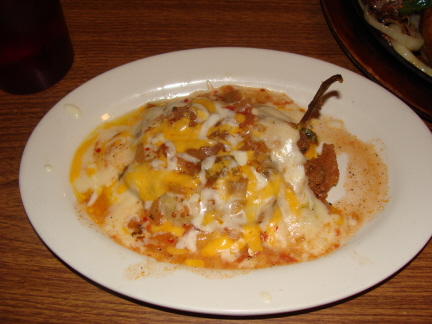 Chile relleno served a la carte
The Chile Relleno is a pretty typical Mexican dish found in most restaurants in OKC. The ones I have tried at Margarita's used a mild chile with flavorful Mexican style cheese, and was overall a good item. Some authentic rellenos can be quite greasy but this was not so-- just cheesy and delicious. In fact I thought the large amount of cheese detracted from it by covering up the taste of the chile.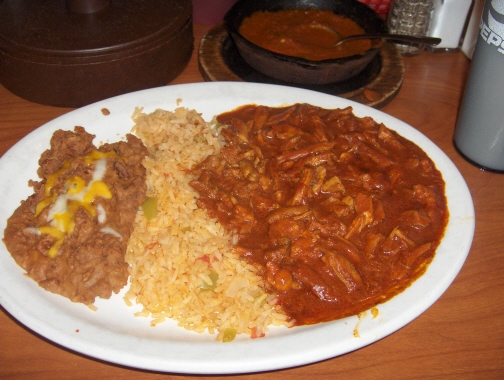 Chicken mole Zacatecas style
The Chicken Mole was listed under the "Specialties," and I think this is where some of the more authentic dishes can be found (all seemed to be meat dishes). Using a mild red chile sauce it tasted much like mole I have had that was representative of Queretaro (another state in central Mexico), except not as spicy.
I should mention that the Flour Tortillas that came with the meal were quite good, and are almost a requirement to successfully eat a plate of mole.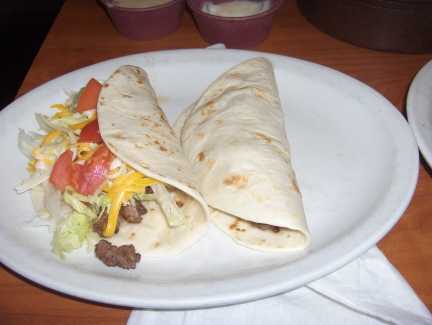 Carne asada tacos
Tacos de Carne Asada had a lightly spiced good quality meat (as opposed to the more heavily spiced fajita meat) and were excellent in their simplicity of the meat, lettuce, tomato, and cheese. They came with flour tortillas that were better than average, but I thought they were better with corn tortillas (these will be brought to the table at no charge). Carne asada is found in a wide area of Mexico, but I am sure the owner brought his special way of cooking to the restaurant.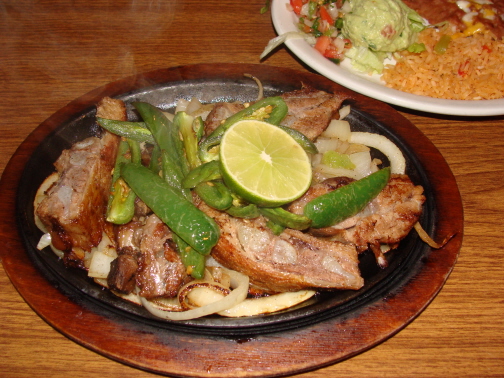 Costillas Zacatecanos
Costillas Zacatecanos, or pork ribs, were listed under the "House Grill Specials" section of the menu which includes several types of grilled meats and shrimp. My dinner, though, took about a half hour to prepare, and toward the end of that time they said it was about "ready to come out of the oven" (meaning that I do not think it was grilled since this usually involves a shorter cooking time). Regardless of the cooking method, though, this was an excellent dish that contained a substantial amount of meat (I really would have been full on a much smaller portion of ribs). It was cooked with jalapeños and onions, and the meat was well seasoned. This was the only dish I could find on the menu identified as originating in Zacatecas, but I know from ordering the mole that there are others.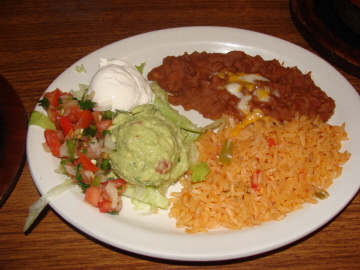 Beans, rice, guacamole, pico de gallo, and sour cream that come with the costillas Zacatecanos
The "House Grill Specials" all come with a side plate which includes rice, beans, guacamole, sour cream, and pico de gallo. I really could not see any reason to eat sour cream with the ribs, but the rest of the items were good. The Refried Beans were much better than average, but the plate was supposed to come with Borracho Beans which they gave me when I asked for them (they were also very good). In fact, the plate was too large for me to finish even with one order of beans, but by sharing I was able to avoid having leftovers.
The Guacamole was also very good, and was thick and flavorful.
Tortilla soup
Tortilla Soup comes with a tomato flavored broth that seems to be full of "secret herbs and spices" that make it one of the best around. The main issue with ordering tortillas soup is not whether it will be good (I think it is one of the best), but whether it will be large enough for a meal without ordering something else. I would say give it a try-- you may be surprised how filling it can be. There is a substantial amount of chicken, and the tortillas provide a good amount of substance.
One thing about Margarita's is that there is a good variety of items, and I have not found any one thing that is a "must try" to the exclusion of others. The trick for me, though, is to avoid the Americanized items and to find the owner's specialties that originated in Zacatecas or are respresentative of food from other states in Mexico. Most of the items I have found to be disappointing are ones that are served on the lunch specials, and this might be a good guide. If in doubt, though, I would ask the staff what they would recommend that is authentic (and in my opinion some of the dishes here come as close to being authentic as I have found in Oklahoma City).
Margarita's is somewhat expensive for smaller dinners such as the tortilla soup, but I think it is more reasonable for large plates such as the ribs. This is partly because dinners come with chips, salsa, and queso (but thankfully sopapillas are not served automatically with the meals). This is not a taco restaurant where people can order a few a la carte items for a cheap price. Margarita's is one of the better places, though, to get large meals of authentic food (and in some cases the Tex-Mex food is pretty good also).
RESTAURANT DETAILS
RATING: 21
Cuisine: Mexican Zacatecas
Cost: $$
Hours: Closed Mon.
Accessible: Yes
Smoking: No Smoking
Alcohol: Beer
| | |
| --- | --- |
| Chile Index: | |
Most Recent Visit
Nov. 3, 2011
Number of Visits: 4
Best Items
Costillas, Fajitas, Tortilla Soup, Carne Asada, Spicy Salsa
Special Ratings
Fajitas:


Carne Asada Tacos:


Costillas Zacatecanos:


Chile Relleno:


Cheese Enchilada:


Tamales:


Chicken Mole:


Tortilla Soup:


Refried Beans:


Borracho Beans:


Rice:


Guacamole:


Salsa:


Salsa:

spicy
Queso:


Corn Tortillas:


Flour Tortillas:


Horchata:

MORE ABOUT THIS WEB SITE