okgourmet.com&nbsp &nbsp Home of Steve's Restaurant Reviews
Mamasita's (Closed)
1121 N. W. 63rd St.
Oklahoma City, OK &nbsp Nichols Hills



Mamasita's is unique in its style of Mexican food served in Oklahoma City--it is neither Tex-Mex nor totally authentic, but is based on the American style of Mexican food that is popular in California. In this case I think it is totally fine that the food is not served the traditional way it would be found in Mexico. California style Mexican food has become a style of its own with some dishes prepared a little differently than I would like them, but mostly flavorful and healthier than average recipes that go along with the fresh vegetables and ingredients grown in the state.

A question about a "California style" restaurant in Oklahoma would be whether it can live up to the expectations that would come from this fresh style of cooking. I was pleasantly surprised at Mamasita's, not that it was the best west coast style Mexican food I have ever had, but that it really surpassed all my expectations for something I would be able to find in Oklahoma. The flavors were good and the food seemed fresh. Prices were not terribly unreasonable, and portion sizes were good.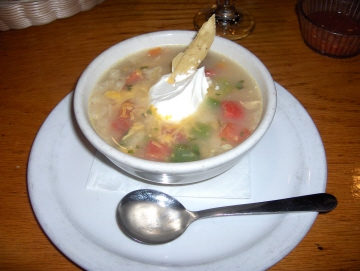 Tortilla soup
The Tortilla Soup let me down somewhat in terms of flavor. I thought the broth needed more kick and the vegetables were rather bland. I do not know how tortilla soup is supposed to be served in California, but the ones I have eaten in Mexico have generally provided much more flavor than this one. The lack of red color in the broth indicates that it is not tomato based, and perhaps this is the reason it tasted different. The food quality was good, but I just did not think the flavor was anything special.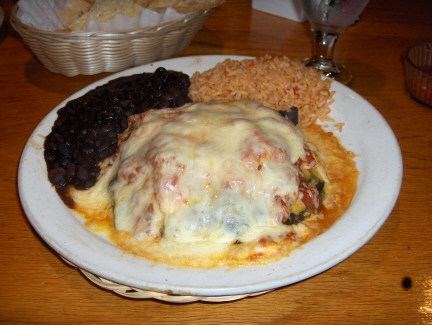 Blue corn enchiladas served stacked with red sauce instead of sour cream
Blue Corn Chicken Enchiladas were the item that I had high confidence would leave me disappointed. Surprisingly, though, this was not the case. I made a couple of substitutions from the normal order by asking for them stacked (New Mexico style) instead of rolled, and with red sauce instead of sour cream (the waitress suggested this when I asked what substitutions could be made). The red sauce was not spicy but it was quite flavorful, without the normal Tex-Mex additives of cumin and other spices that dull its natural flavor. The cheese was excellent (it was covered with white cheese), the chicken was excellent, and in fact everything was excellent. This dish came with blue corn tortillas (others are available with regular tortillas) that added a good flavor. I do not think they were trying to produce the same type of blue corn enchiladas that are popular in New Mexico, but rather a California style enchilada with a New Mexico style tortilla. I did not think these enchiladas matched the flavor and pure enjoyment I get from eating some of the better ones in Albuquerque and Santa Fe, but they were awfully close. Maybe if the sauce were hot enough to call it "red chile" instead of just "red sauce" they would be comparable to the ones in New Mexico.
Black Beans that came with the dish were excellent, and in fact I do not think I have had any in El Paso that were as good as the ones here.
The Rice was good by any standard.
The Chips were a little too thin and greasy for me, but were OK. The Salsa was spicier and better than I expected based on most of the ones served on the north side of the OKC metro. Normally I ask restaurants to serve me some of their "special" hot sauce that is spicier than the one placed on the table upon seating, but the one at Mamasita's was good enough that I was quite happy with the "default" salsa.
Except for the tortilla soup, I was quite happy with the food as well.
RESTAURANT DETAILS
RATING: 20
Cuisine: Mexican California
Cost: $$
Accessible: Handicapped space is available, but not properly marked
Smoking: No Smoking
Alcohol: Beer, Margaritas
| | |
| --- | --- |
| Chile Index: | |
Most Recent Visit
Oct. 6, 2008
Number of Visits: 1
Best Items
Enchiladas, Black Beans
Special Ratings
Blue Corn Enchilada:


Tortilla Soup:


Black Beans:


Rice:


Chips:


Salsa:

RELATED ARTICLES
Nov. 6, 2015 : Enchiladas Worth Seeking Out (Oklahoma City, OK)
MORE ABOUT THIS WEB SITE