okgourmet.com&nbsp &nbsp Home of Steve's Restaurant Reviews
Los Tres Compadres Mexican Restaurant (Closed)
450 E. Main St.
Yukon, OK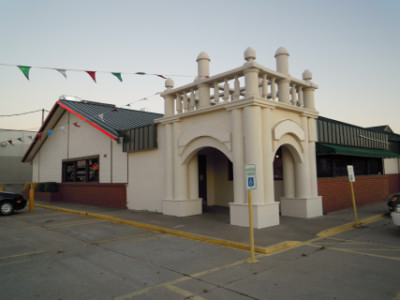 Through the years there have been several Mexican restaurants along east Main Street (Old U.S. 66) in Yukon. One of the current ones, Los Tres Compadres, has been in business for quite a while, so it looked like a good one to try. I think the reason for so many Mexican restaurants in Yukon is not only its popularity with the people, but also a fairly large Hispanic population in the town.
Even though Yukon is a suburb of Oklahoma City, the restaurants have always reminded me more of small town Oklahoma, with both the good and bad features this entails. In the case of Mexican food Yukon has been the same as other small towns in Oklahoma by serving Tex-Mex style food that is usually more bland than in Texas. Another Mexican restaurant in Yukon, Poquito de Mexico, broke the trend a little by serving real San Antonio style Tex-Mex food when it first opened (although I have not found the same food when I have gone recently), and it was one of my favorite restaurants for a number of years.
The trend in many Oklahoma City Mexican restaurants now is to serve Oklahoma style Tex-Mex food, but in addition to offer some more traditional dishes (either in a special menu section or a separate menu) that are prepared as they would be in Mexico. I was hoping that Los Tres Compadres would follow this trend, but I had only limited success in finding the traditional Mexican style food.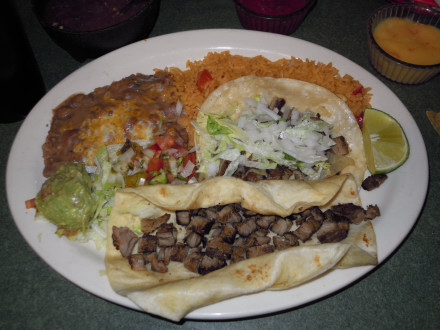 Taco al carbon (in front) and Mexican taco with beans, rice, and guacamole
Fortunately Los Tres Compadres has a fairly liberal policy about substitutions, so I was able to try two types of tacos on the same plate. On the recommendation of the waiter I tried a Mexican Taco that is supposed to be one of the more traditional Mexican dishes on the menu. They come with beef or pork, and the beef I ordered had a good flavor with marinated meat, good condiments, and came on a soft tortilla the way I expect authentic Mexican tacos to be. This taco was very good, and I did not have any complaints except that I would have wanted more variety of authentic tacos with different types of meat.
Also on the plate was a Taco al Carbon with beef fajita meat (they also come with chicken or pork). To me the fajita meat was a step down from the meat in the Mexican tacos, and the flour tortilla was several steps down from the corn one. I think the waiter was trying to discourage me from ordering this one knowing that I wanted authentic Mexican food, so I do not blame him or the restaurant for serving something that was disappointing. I will say, though, that both the fajita meat and flour tortillas have been better in other restaurants in the Oklahoma City area.
The beans and rice were both good, but I was probably more impressed with the rice, being moist and cooked the right amount.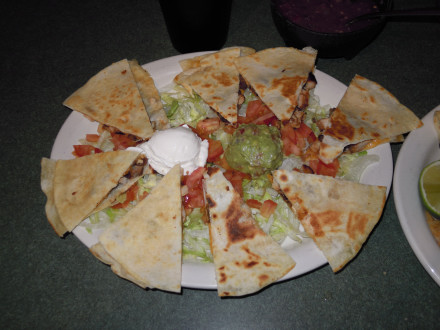 Quesadilla
The Quesadilla I sampled clearly seemed to be an American style dish from the regular menu, so I did not have high expectations. My assessment, though, was that it had very little meat, the yellow cheese was average, and the tortilla was average. I know there are other places in the Metro that serve better quesadillas because I have sampled them.
Los Tres Compadres serves the chips, queso, and sopapillas that I normally find in Tex-Mex restaurants (these also raise the price of the meals quite a bit). Out of these items the chips were very good and very fresh, and the sopapillas were also good (these were mini bite-sized pastries). The queso was below average, even for Oklahoma.
The Salsa was bland, but the special hot salsa was very good.
I tried to order a Mexican style fruit drink but they did not have any.
Overall my feeling was that the Mexican tacos were good, but other than this one choice there was not much available that was "real" Mexican (although the waiter did mention some other things, such as seafood and breakfast plates that I was not interested in at the time). The sopapillas and queso make the meal so expensive it is hard to go in there just to try other items. If some of these other items are as good as the tacos, though, they would be worthwhile if you are in the mood for them.
RESTAURANT DETAILS
RATING: 18
Cuisine: Mexican
Cost: $$
Hours: Open Daily
Accessible: Yes
Smoking: No Smoking
Alcohol: Beer
| | |
| --- | --- |
| Chile Index: | |
Most Recent Visit
Sep. 26, 2010
Number of Visits: 1
Best Item
Mexican Tacos
Special Ratings
Mexican Tacos:


Tacos al Carbon:


Quesadilla:


Beans:


Rice:


Salsa:

spicy
Queso:


Chips:


Sopapillas:

MORE ABOUT THIS WEB SITE