okgourmet.com&nbsp &nbsp Home of Steve's Restaurant Reviews
La Salsa Grille
2329 N. Meridian Ave.
Oklahoma City, OK
(405) 604-5419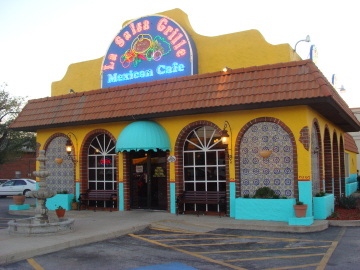 Probably one of the first things that comes to mind about La Salsa Grille is that it is in the same building that used to house Las Palomas, one of the city's oldest and most popular Mexican restaurants. However, the owners of La Salsa Grille say that they have no connection with Las Palomas, and merely took over the same building.
Some comparisons are obvious, though, including the fact that they both have provided the type of food that will bring in the crowds. La Salsa Grille is a rather small restaurant, but it was almost at the point of being completely full when I tried it the first time. To me larger Mexican restaurants are not necessarily an advantage, since they usually require more cooks to keep up with customer demand, and this sometimes creates inconsistency in the food that smaller restaurants are usually able to avoid. Another thing I liked about La Salsa Grille was the fact that the menu is rather small, allowing them (at least in theory) to serve what they do well. I think many larger restaurants fall flat when they try to prepare too many items (and sometimes they cannot all be as good or as fresh as I would like them to be).
La Salsa Grille has a Tex-Mex menu, something that is not necessarily a bad thing (it is only bad when the food does not taste good). La Salsa Grille is a restaurant that I consider as being one of the better ones serving this type of food, and in this regard is much like Las Palomas. Las Palomas was distinctive because it had a long time cook who prepared a number of special authentic items, and so far I have not seen this at La Salsa Grille. When I asked about authentic dishes at La Salsa Grille they only had a couple of suggestions (mainly tacos), but between the ones I was able to try and the overall flavor of the food, I think this is a good start.
Some of the art work I really liked at Las Palomas is gone, but otherwise the new restaurant has spruced up the building and brought the handicapped parking up to standards. There is definitely enough to like about La Salsa Grille to not dwell too much on memories of the old restaurant (one of the best changes that has been made at La Salsa Grille is charging prices that I think are more reasonable).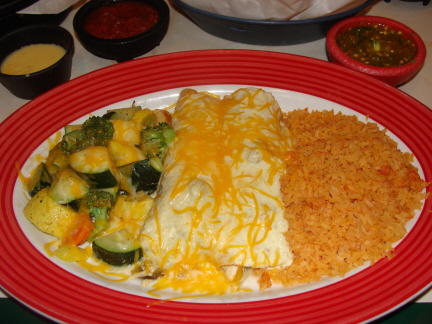 Chicken enchiladas with sour cream and green chile
The Chicken Enchiladas I ordered were a little different from the ones on the menu since I had asked if they could make enchiladas suizas with sour cream. I was really pretty impressed that they could make such a good version when it is not one of the regular menu items. The sauce was a mixture of sour cream and green chile. The chicken was the regular meat from the chicken enchilada on the menu, and it was covered with a sprinkling of cheese (I like to have just enough to give some flavor but not overwhelm it). I thought the green chile was a little mild for my taste, but I was not disappointed by its flavor. This was really a very delicious enchilada dinner. I would rate this dish as being very authentic, and surpassed in flavor only by the one at Mi Pueblo in Bethany.
The Mexican Vegatables that came on the side were a suggestion of the waitress, but I found them to be not very flavorful with too much cheese. I do not know if beans (the regular side dish for this plate) would have been any better. The vegetables tasted fresh, though, and were an improvement over the side dishes that are usually served in Tex-Mex restaurants.
The Rice was good, but probably not any better than at most other restaurants.
I sampled a Chile Relleno that was mild but had a good chile. I thought it had too much cheese, and this is the main reason I have a hard time finding a chile relleno in any Tex-Mex restaurant that I think is really enjoyable.
The Spicy Salsa that I requested was better than the regular salsa, but I did not think the flavor was exceptional.
La Salsa Grille serves Horchata to drink but I thought it was thin. Still, I was glad that they served it.
Even though the food at La Salsa Grille did not stand out to the point that I thought it was an exceptional restaurant, I was impressed with the overall quality including the side dishes. There were no weak links here, and I enjoyed everything rather than regarding much of it as "filler" as I do at some restaurants.
In addition to enjoying my meal, I thought the prices and service were factors that would make me want to go back.
RESTAURANT DETAILS
RATING: 20
Cuisine: Mexican Tex-Mex
Cost: $$
Hours: Open Daily
Accessible: Yes
Smoking: No Smoking
| | |
| --- | --- |
| Chile Index: | |
Most Recent Visit
Oct. 1, 2011
Number of Visits: 1
Best Items
Enchiladas, Rice, Spicy Salsa
Special Ratings
Chicken Enchiladas:


Mexican Vegetables:


Rice:


Chile Relleno:


Salsa:


Salsa:

spicy
Queso:


Horchata:

MORE ABOUT THIS WEB SITE