okgourmet.com&nbsp &nbsp Home of Steve's Restaurant Reviews
Lai Thai
7419 N.W. 23rd St.
Bethany, OK
(405) 495-4758
Lai Thai is a small neighborhood restaurant in the western suburbs of Oklahoma City that is set back in a strip shopping center so far off the street it may be hard to spot even if you are looking for it. I think it is worth the effort to find, though, as it seems to be committed to providing home style Thai food.
The standard dishes I order at most Thai restaurants seem to be prepared differently at Lai Thai, yet I do not think the food is Americanized or inauthentic, just made with different recipes. The restaurant advertises that it serves Chinese food in addition to Thai, and the Chinese food is what I would call "Americanized" (such as the Hawaiian chicken). The Thai food, though, is full of Thai ingredients, and has kept me coming back to try more dishes.
There is another Thai restaurant in Bethany that I like better for most things, but Lai Thai is so much more reasonable in price that I have to say it is probably as good a choice as the other restaurant. Lai Thai has fresh, good tasting food and quality meat, and I always have an enjoyable meal.
My main issue with Lai Thai is the sauce, which on most dishes is a curry. I just do not think it is usually as flavorful as at many other Thai restaurants. The meat and vegetables usually compensate for it, and provide a flavorful meal, but I think the sauce is the restaurant's main weak point.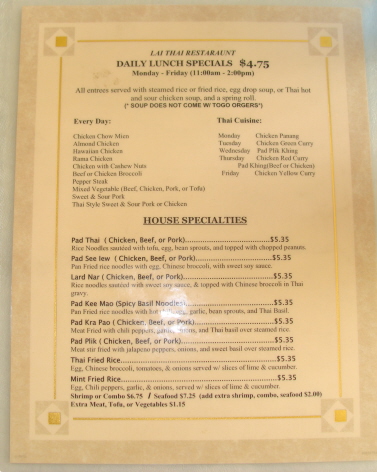 The lunch menu provides a particularly good deal
Also I have found inconsistencies in the spice level-- it seems that some of the meals have been so spicy they were hard to eat while others have barely had any heat at all on the spice level. This is an issue for me at many Thai restaurants, but I do not know why I have never seemed to have found the right spice level at Lai Thai that is appropriate for the food served. I like the food spicy but not extremely so, but for some reason it is harder to get it the way I want at Lai Thai than at most Thai restaurants (I usually find it best to order the default "mild" and add my own chiles).
Another inconsistency I have observed is that some of the dinner items seem to be better than the same dish served as a lunch special. This was particularly evident on the pad khing that was loaded with onions on the lunch special, but had a better balance of ingredients on the dinner plate. Dinners are not really much more expensive, and in some cases they seem to be better (but the only problem with ordering dinner is that it does not come with soup and a spring roll). Other items, though, such as the pad plik khing, are ones that I have found to be good on the lunch menu.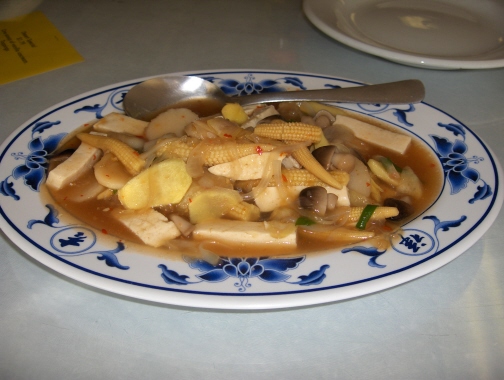 Dinner portion of pad khing with tofu
My evaluation of the Pad Khing (ginger tofu) depeneds on whether it comes from the lunch or dinner menu. The lunch special I ordered several years ago was loaded with onions (something that I can only eat in small quanties) and the "Thai flavor" did not seem to be there.
When I ordered this dish as a lunch special in Seattle it was usually loaded with the flavors of ginger and Thai spices, and did not usually come with a large quantity of food but had a side order of rice that filled me up. Thus the one at Lai Thai was disappointing compared to others I have had.
A recent version of pad king I ordered from the dinner menu, though, had a good flavor and good ingredients (see photo). Even though I think the difference has to do with ordering dinner versus lunch, there may be other factors such as different cooks or the food changing over time. The restaurant has had the same owner for over ten years, though, so I think what I experienced with the lunch and dinner plates is probably the norm.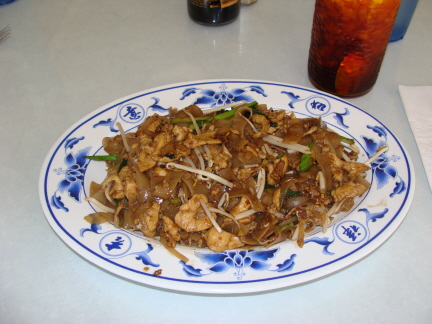 Pad kee mao (noodles with Thai basil)
The Pad Kee Mao, on the current lunch menu every weekday, was quite good and tasted about as authentic as I have had anywhere. Made with soft noodles, the customer gets a choice of meats. The tofu version I tried was more enjoyable than the tofu I get in many Thai restaurants. The sauce, mixed with chili peppers and Thai basil, provided sufficient stimulation to my taste buds to enjoy a noodle dish, something that could have turned out to be very bland. Eggs were cooked into the dish, and the fish sauce available for customers to pick up from the condiment bar enhanced the flavor. One of the best aspects of the plate was the low price. This is definitely the best lunch plate I have tried so far.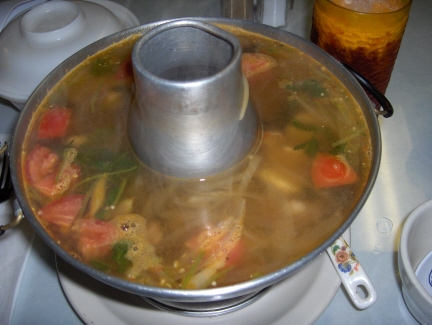 Tom yum with Thai tea
Tom Yum from the dinner menu comes in a hot pot with a choice of meats, and I thought was a good representation of this type of Thai soup. This may not be as filling as some of the noodle dishes, but it comes with a bowl of rice to provide more substance. This is one of the most flavorful dishes I have had at Lai Thai, and I think reinforces my belief that the best dishes here are the ones that do not involve a curry.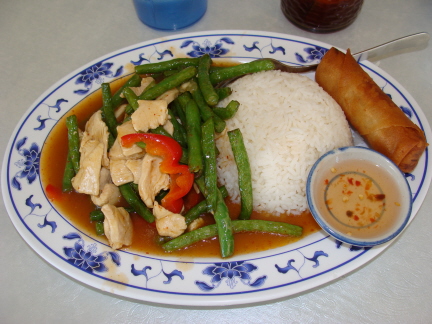 Pad plik khing served as a lunch special
Pad Plik Khing (green beans and red curry paste) is normally one of my favorite items at Thai restaurants, but was not so here. The curry is made without coconut milk, so it has a different flavor and texture than the normal red curry (most other restaurants call this dish pad prik khing). This curry, though, was very thin and I thought was too sweet for this type of dish. The green beans and chicken were top quality, and made the dish enjoyable, but it is too bad the sauce was not as flavorful as it could be.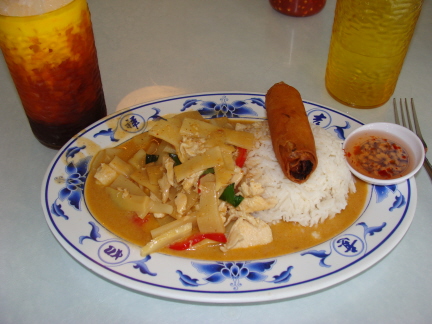 Panang chicken
Panang Chicken had red curry with coconut milk, and I thought had a better flavor than the curry that came with the pad plik khing. The vegetables were good, but to my taste were not quite as good as the green beans served withe the pad plik khing. Overall this was an enjoyable, very cheap lunch special.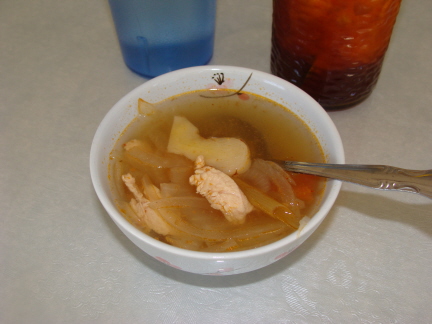 Thai hot and sour soup
One of the best items I have found was not a main dish, but the Thai Hot and Sour Soup served as an appetizer with the daily lunch specials. The soup was made with lemongrass, and had the flavors I expect to find in authentic Thai food. It is made with MSG, though, which makes it less desirable for me despite the very enjoyable flavor.
The Thai Tea was equally impressive, if not more so, than most that I have found in Thai restaurants. Cream was poured into the top of the glass, and stirring it with a straw spread it evenly throughout the drink. I know it is the "real thing" when it begins to separate if you leave it sitting for a while.
Thai restaurants seem to have such large and varied menus that it is hard to find out what they do best, and the best dishes are not the same at every restaurant. I do not know if I have discovered the best that Lai Thai has to offer, but the basil dishes seem to be a good start.
RESTAURANT DETAILS
RATING: 20
Cuisine: Thai
Cost: $
Hours: Closed Sun.
Accessible: Yes
Tea: Jasmine (bags)/ Thai tea
MSG: Yes
Smoking: No Smoking
Alcohol: Beer
Buffet: No
Most Recent Visit
Jul. 27, 2011
Number of Visits: 9
Best Items
Pad Kee Mao, Tom Yum, Thai Tea
Special Ratings
Pad Kee Mao:


Pad Khing:


Tom Yum:


Pad Plik Khing:


Panang Chicken:


Hawaiian Chicken:


Thai Hot and Sour Soup:


Thai Tea:

MORE ABOUT THIS WEB SITE