okgourmet.com&nbsp &nbsp Home of Steve's Restaurant Reviews
Mariscos La Costa
3113 S. Western Ave.
Oklahoma City, OK
(405) 616-9551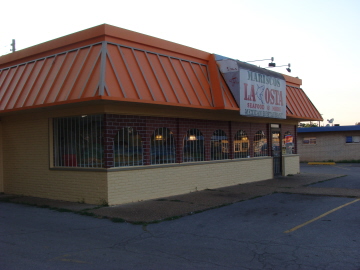 Southwest 29th and Western is the epicenter of authentic Mexican food in Oklahoma City, and located a block south of the intersection is Mariscos La Costa (listed as "La Costa" in the phone book). While most of the restaurants in this area appear to specialize in tacos, soups, and meats, La Costa was recommended to me as a good place to go for seafood. There are other Mexican seafood restaurants in OKC, but so far the number is fairly limited.
Mexican seafood restaurants rely on the type of fish that is the freshest and most readily available, and in the case of La Costa the menu does not specify the type of fish served (probably meaning that they may change it if they find something better). However, as is the case with most other restaurants of its type, La Costa also offers a variety of seafood. Shrimp, oysters, and octopus are listed on the menu, and the variety of ways they are prepared make the variety seem even greater.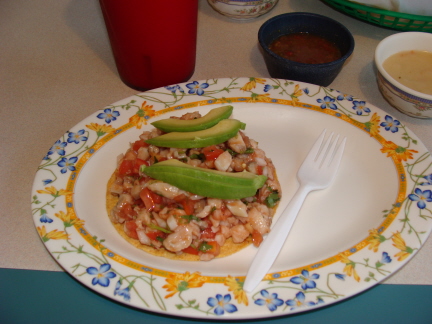 Tostada de ceviche
Ceviche is served on a tostada as an appetizer, so this seemed to be a good way to start out a meal. I thought the fish was fresh and the flavor of the ceviche was good, so although I have relatively few other restaurants to use as a comparison, this seemed well above average. I will not say this is the best in OKC, since I also liked the ceviche at Carnitas Michoacan in Edmond, but with both restaurants serving good versions this is an encouraging sign.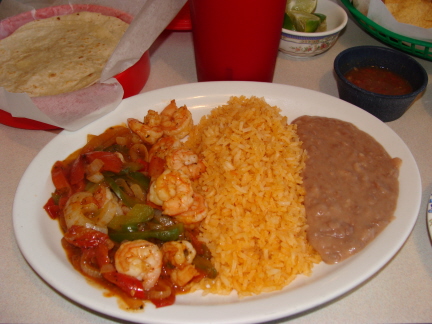 Half order of the shrimp dinner
A Shrimp Dinner was also quite good, although for the best shrimp I always think back to the almost literally "fresh off the boat" meals I have had on the Gulf Coast. Oklahoma City has come quite a long way in being able to serve fresh shrimp over the years, and I thought La Costa was a good example. Mine was ordered Ranchero style, on the waiter's recommendation, and I think being able to order seafood in the typical Mexican preparation is a good reason to get it here rather than from other types of restaurants (La Costa also offers diabla, Veracruzana, and other types of preparation of its seafood and fish).
The shrimp dinner pictured, though, was actually a half order, and I was very pleased that they were willing to serve a small order in order to help me be able to try an appetizer without spending a large sum of money (and the appetizer by itself was almost a meal). While I sometimes go to a restaurant for the first time and end up feeling that I did not end up with one of their best dishes or did not get a good deal, it was quite the opposite at La Costa. In fact, out of the dozens of Mexican restaurants in south Oklahoma City, I am sure La Costa is comparable to some of the best.
I am told that the siete mares seafood soup is one of the best items served, and is something I will keep in mind when I am able to return.
Mojarras (whole fish) is another item on the menu that looks interesting.
Non-seafood items of beef and chicken are also served, including fajitas.
The fresh tortillas, salsa, and horchata were part of the reason I thought I had an excellent meal, and part of the reason I enjoy the authentic style Mexican restaurants more than the Americanized or Tex-Mex versions. Probably the only negative factor in going to La Costa is something that is not the restaurant's fault: the fact that Oklahoma City is inland and does not have quite the same seafood that is found in Galveston or Corpus Christi. For inland seafood, though, I thought it was quite good.
RESTAURANT DETAILS
RATING: 21
Cuisine: Mexican Seafood
Cost: $$
Accessible: No
Smoking: No Smoking
| | |
| --- | --- |
| Chile Index: | |
Most Recent Visit
Jul. 6, 2009
Number of Visits: 1
Best Items
Ceviche, Shrimp
Special Ratings
Ceviche:


Shrimp:

MORE ABOUT THIS WEB SITE