okgourmet.com&nbsp &nbsp Home of Steve's Restaurant Reviews
Kolache Kitchen (Closed)
5587 Northwest Expressway
Oklahoma City, OK (Warr Acres)



There are a couple of towns around the Oklahoma City area that are known for their Czech heritage, but it seems extremely hard to find any type of Czech cuisine anywhere in the state. This is in contrast to Texas and Nebraska where I have been able to experience not only quite a few Czech food items, but full-fledged Czech restaurants.

One of the most popular Czech items is the kolache, a bakery item with semi-sweet dough and fruit filling on top. I understand Kolache Kitchen also serves breakfast and lunch with meat kolaches, and even sushi (which others describe as being very good). I would not describe this as being a traditional Czech restaurant, but it is a sit-down restaurant as well as serving take-out pastries. Kolache Kitchen goes a long way to fill the void in Oklahoma Czech food when one of the state's Czech festivals is not going on.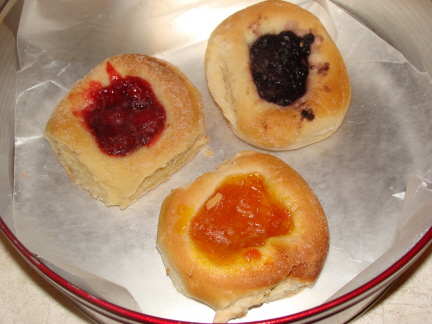 Cherry, apricot, and blueberry kolaches
So far I have sampled several of the restaurants Kolaches, with three shown in the photo. I would say my favorite was the apricot because this is usually one of my favorite flavors. All were probably equally good, though.
When I lived in Austin I would frequently pick up kolaches at small family run stands in some of the surrounding Texas towns such as Caldwell and La Grange. To me these were the ultimate examples of kolaches, and the ones at Kolache Kitchen in Oklahoma City (actually Warr Acres) seemed a little less flavorful, I think mainly because of the dough. A lot of things, though, could factor into the kolaches here not being exactly as I remember them being in Texas.
I tried a Cinnamon Roll from Kolache Kitchen and it had the same kind of dough-- it was good but this was not the most flavorful cinnamon roll I have tried.
Actually I have not physically been to Kolache Kitchen so I do not know what else is available, whether the kolaches are a bargain for the money paid compared to other pastries, or other information about the restaurant. I just wanted to get the information out that these items are available, and I think they are definitely worth trying.
RESTAURANT DETAILS
RATING: *
Cuisine: Kolaches
Cost: $
Hours: Closed Sun.
Most Recent Visit
N/A
Number of Visits: N/A
Best Item
Kolaches
Special Ratings
Kolaches:

MORE ABOUT THIS WEB SITE