okgourmet.com&nbsp &nbsp Home of Steve's Restaurant Reviews
Kim Son Chinese Restaurant
1103 S. Cornwell Dr.
Yukon, OK
(405) 354-6618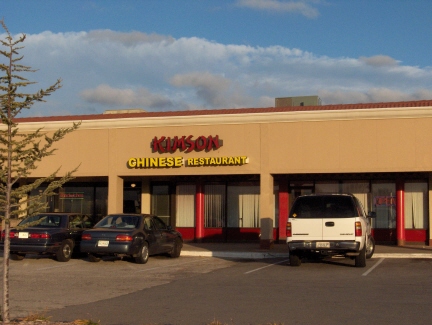 Kim Son Restaurant used to have a branch in Weatherford, but is now family owned and independent of any other restaurant. The concept of the original owner, which is still being followed, was to locate in a strip shopping center, provide a buffet, not spend too much money on furnishings, and be easy on the customers' budgets.
Several things have impressed me about Kim Son in Yukon. The food has no MSG (even in the buffet), the menu is fairly large, and the owners are quite friendly (although the owners of the former Weatherford restaurant, where I first tried Kim Son, were friendly as well). The hot brewed oolong tea is quite good. Food portions are generous and reasonably priced.
The Vegetable Tofu, known as "Family Style Tofu" or "Home Style Tofu" at most restaurants, has been a dish at Kim Son that I like fairly well. Kim Son's version contains large pieces of tofu stir-fried along with a good vegetable mixture, and a brown sauce. The outside of the tofu is usually golden brown and cooked just right. The dish contains a generous amount of broccoli, but lacks some of the variety of other vegetables I would like to have. The brown sauce has been flavorful but salty--probably not the best in the OKC area.
The Hunan Tofu was good, but did not taste quite right to me. It was very sweet--more similar to a lot of Szechuan sauces I have tried than the typical Hunan sauce.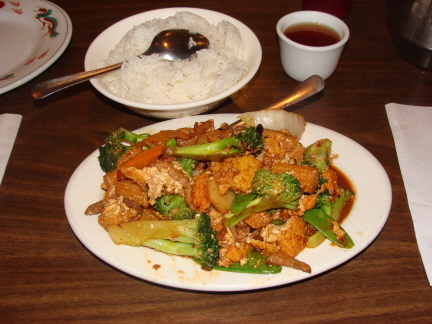 Tofu with broccoli and pork, served with black bean sauce
Asking the owners for more traditional, or less Americanized Chinese food, they suggested Tofu with Broccoli and Pork, served with black bean sauce. Tofu is frequently served with pork in traditional Chinese restaurants, so I would suggest ordering this way if it sounds like something that would be appetizing. The key to it, though, was the sauce. This had a much more authentic Chinese flavor than the brown sauce I tried earlier, and especially compared to the Hunan sauce. The only thing to warn against was that this dish was really heavy on the garlic--perhaps more than it needed to be (it was good, though).
The buffet seems like all other Chinese buffets, with various kinds of gloppy sweet and sour dishes and all kinds of fried meat. The main difference is that nothing is made with MSG. Some of the items I have tried from the buffet, such as Chicken on a Stick (teriyaki chicken) seemed Americanized to me. The item I can most recommend is the Egg Drop Soup (but this, or hot and sour soup, also comes with lunch plates).
Kim Son is family owned, and I have seen the family eat very authentic and traditional Chinese dishes (they have even offered me free samples!!). Items offered on the menu, though, are more a reflection of the general tastes found in rural and suburban Oklahoma, with dishes that are served at just about any Americanized Chinese restaurant in the country. While they can prepare more authentic Chinese dishes if you request it, they are limited by the ingredients that are available. Still, since so few other suburban Chinese restaurants are willing to offer traditional Chinese food, I take advantage of it every chance I get.
RESTAURANT DETAILS
RATING: 18
Cuisine: Chinese
Cost: $
Tea: Oolong (brewed)
MSG: No
Smoking: No Smoking
Buffet: Lunch & Dinner
Most Recent Visit
Sep. 8, 2009
Number of Visits: 8
Best Items
Tofu with Pork and Broccoli, Egg Drop Soup
Special Ratings
Tofu with Pork and Broccoli:


Vegetable Tofu:

Brown Sauce
Hunan Tofu:


Hot and Sour Soup:


Egg Drop Soup:

MORE ABOUT THIS WEB SITE