okgourmet.com&nbsp &nbsp Home of Steve's Restaurant Reviews
Kabob-n-Curry Restaurant
4104 N. Portland Ave.
Oklahoma City, OK
(405) 601-3454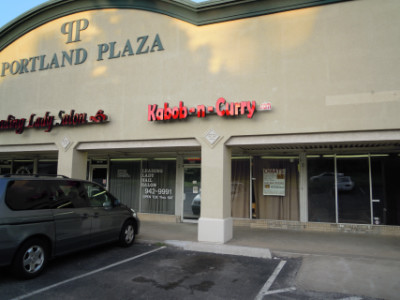 The name "Kabob-n-Curry" made me think that this would be a restaurant that combined Middle Eastern and Indian food, and this is true in a sense. What I discovered is that this is a Pakistani restaurant, and although much of the food in Pakistan is the same as the food served in India and the surrounding Middle Eastern countries, Kabob-n-Curry does not try to serve cuisine from a multitude of countries.
First I will say that I did not try the kabobs, so I am unable to give an assessment of at least half of the menu. The recently opened Sinbad on Northwest Expressway in Warr Acres and other restaurants around town offer kabobs, so I wanted to order some of the items at Kabob-n-Curry that are harder to find around Oklahoma City.
Orders are taken at the counter and even though tables are provided, customers do not have a "wait person" in the traditional sense. Prices are cheap for individual items, but the items are not combined on a plate so that if you want bread, rice, dessert, etc., all of these cost extra. The main dishes are within my "cheap" ($) cost category, but I do not think most people would order just a single item.
The meat served is halal, the Muslim equivalent of kosher food. I am an advocate of this type of meat, not only for its supposed health benefits, but also because I can taste the difference in the meat. There were some things about Kabob-n-Curry I did not like, but the quality of the meat served is probably the outstanding feature of the restaurant, and the main reason I would recommend it.
I had envisioned Pakistani food as being mild, as I have found in north Indian restaurants and Middle Eastern restaurants of surrounding countries (such as an Afghan restaurant I tried in Seattle). The food at Kabob-n-Curry, though, varied from spicy to super-spicy (not necessarily a bad thing, but just not what I expected). I do not know if this is really representative of Pakistani food.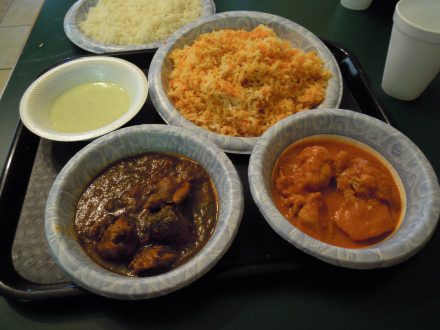 Chicken badaami and chicken harra masala
The Chicken Harra Masala is the dish I tried that was supposed to be mild (but turned out to be somewhat spicy). For me it was excellent, with the meat being some of the best I have tried in OKC. The person who ordered it, though, wanted a dish that was really mild (as you would get at any of the city's Indian restaurants if you order it "mild"), and it was not this way at Kabob-n-Curry. I thought it had about four stars on my ten-star Indian food spice scale, and I thought this was too much for the instructions given when it was ordered. Now that I have tasted it, though, I really think it is something I would like when I go back, since I like spicy food.
I ordered the Chicken Badaami because I was told this was one of the spicy dishes. It came out as probably a nine on a ten-point scale, and I was glad that I was able to find some authentic Indian food in Oklahoma City prepared the way people would eat it in India (and probably Pakistan as well). The mixture of ingredients in the curry, though, was so strong that I did not like it as well as the chicken harra masala. In the now closed Taj Indian restaurant I thought the owner prepared excellent tasting and well balanced curries, and I did not experience the same thing with this dish (although I did with the harra masala).
When we were asked if we wanted rice, I interpreted it as meaning that rice came with the meal, and we were being asked what kind we wanted (out of the two kinds, I thought the biryani rice was more flavorful but also spicy). It turned out to be more rice than I could eat, and we could have orderd bread for a much lower price (and it turned out that several types of bread are available, including naan, chapati, pratha, and poori). Based on my experience, I would say it is probably better to order the bread.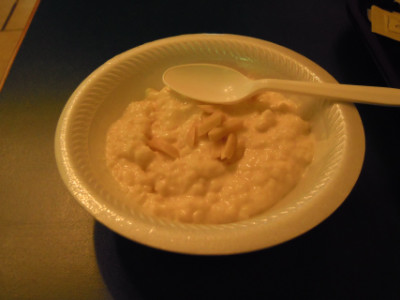 Rice pudding for dessert
Rice Pudding was excellent for dessert, and other types of desserts are also available. In fact, I thought this rice pudding was much better than a similar dessert served at most of the city's Indian buffets.
My negative feelings about the restaurant definitely have to do with the service. We were not told that the "mild" curry was not really mild, and I do not think the choices of bread or rice were adequately explained. In my experience, all of the city's Indian restaurants have done a better job of explaining the food, especially to first time visitors.
The food at Kabob-n-Curry, though, was very good, and very authentic by my measure of what I have found to be authentic Indian food (I am using the terms "Indian" and "Pakistani" somewhat interchangeably here). The kitchen is visible from the counter, and the way I saw the food being cooked made it look as if this was freshly cooked, home style food (and it turned out to be this way). There are really very few restaurants in Oklahoma City (or anywhere, for that matter), that still prepare food this way, so I think it is worth trying.
RESTAURANT DETAILS
RATING: 20
Cuisine: Pakistani & Indian
Cost: $$
Hours: Closed Sun.
Accessible: Yes
Tea: Chai
MSG: No
Smoking: No Smoking
Alcohol: No
Buffet: No
Most Recent Visit
Jul. 9, 2010
Number of Visits: 1
Best Items
Chicken Harra Masala, Biriyani Rice, Desserts
Special Ratings
Chicken Harra Masala:


Chicken Badaami:


Biyiyani Rice:


Rice Pudding:


Chai:

Restaurant Web Site
Kabob-n-Curry
MORE ABOUT THIS WEB SITE