okgourmet.com&nbsp &nbsp Home of Steve's Restaurant Reviews
Jo's Famous Pizza (Closed)
7011 W. Hefner Rd.
Oklahoma City, OK
(405) 470-8787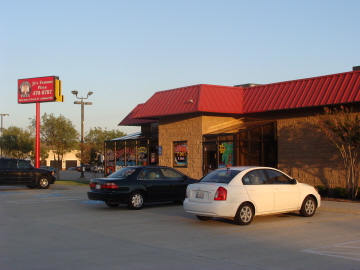 Note: This location of Jo's closed in September 2012, but locations are still open in Edmond and Purcell.
The most common comment I have seen about Jo's Famous Pizza is that people used to stop in Purcell to eat there, and now it is available in Oklahoma City (Jo's has also opened in Edmond). The closest comparison to Jo's I can make is Hideaway, another Oklahoma based pizza restaurant. Like Hideaway I think Jo's is good, but it does not seem to be authentic Italian style, Chicago style, or any other style that I know about. If you want good quality ingredients, though, that is probably enough to appreciate the pizza at Jo's.
Another comment I have seen about Jo's on the Internet is that customers can build their own pizza, and regular customers have their favorites. My opinion is that most of what is special about Jo's pizza is the toppings-- there is a great variety of them and they all seem to be good. You can get just about anything you want, and they will add more to the menu if there is enough demand for it.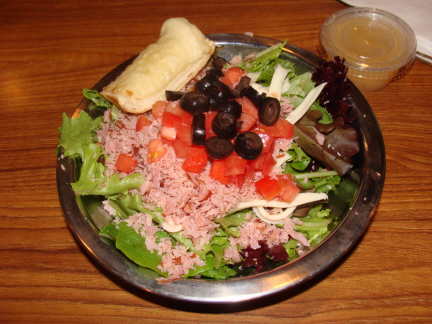 Small house salad
The House Salad was recommended by the waitress, and there is really very little else available as a compliment to the main course (I think they do have sandwiches and some other items if you do not want pizza). The salad was full of ingredients, and was a relatively good bargain (I got the small one for $2.95). I do not know why restaurants in Oklahoma think they have to add either meat or cheese to salads, but it does make them more substantial (this is probably not a good thing, though, when I am trying to save enough room for all or part of a very large pizza). I thought the weak point of the salad was the dressing, which added little to the flavor.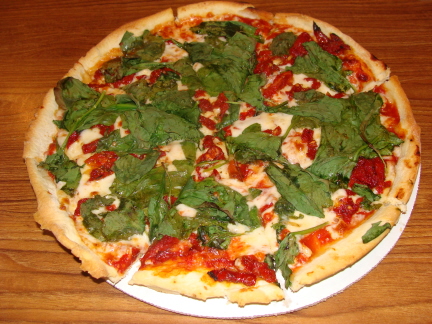 Sun dried tomato and spinach pizza
The Sun Dried Tomato and Spinach Pizza was one of Jo's specialty pizzas, this one originating in Detroit's Greek town (although I do not know the story behind it). It was not listed on the menu as a special pizza, but rather was a "build your own" pizza where customers can pick their own toppings. I have learned, though, that this is one of Jo's more popular choices. Both of the toppings were good, and there was a generous quantity of each one. The medium pizza shown in the photo was large enough for two people.
While Jo's was generous with the toppings, there was not much sauce compared to other restaurants (at Hideaway, for instance, I think they put more sauce on the pizzas). Overall I think I liked the pizza here better than at Hideaway, but it is logical that each pizza has its own strengths and weaknesses. At Jo's I did not think the crust was a weakness, but it was not particularly noteworthy either. Clearly the main attraction at Jo's is the toppings.
Other than trying to analyze the ingredients the main question with pizza is what you get for your money. Jo's was not expensive compared to other restaurants, but in my mind the best value for the money in this part of the city is Italia Express (located a mile north and a mile east from Jo's). One advantage Jo's has over Italia Express, though, is a larger and more comfortable dining room, and it is probably better able to accommodate families and large groups. Jo's, which took over the old Poblano Grill, seemed more like a restaurant than a pizza joint, and it is a place where you can enjoy a relaxing meal, get together with friends, and have some high quality pizza.
RESTAURANT DETAILS
RATING: 19
Cuisine: Pizza
Cost: $$
Hours: Open Daily
Accessible: Yes
Additional Locations: Purcell, Edmond
Smoking: No Smoking
Alcohol: No
Most Recent Visit
Aug. 13, 2011
Number of Visits: 1
Best Item
Pizza
Special Ratings
Greek Pizza:


House Salad:

Restaurant Web Site
Jo's Famous Pizza
MORE ABOUT THIS WEB SITE