okgourmet.com&nbsp &nbsp Home of Steve's Restaurant Reviews
Jim's Restaurant
7950 N.W. 39th Expressway
Bethany, OK
(405) 495-5105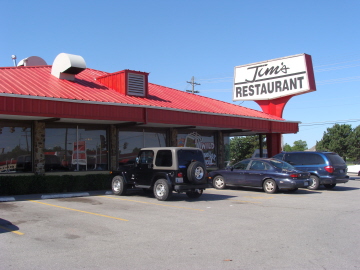 Jim's Restaurant can probably be considered an institution on the west side of Oklahoma City, as important historically as gastronomically. It has been at the intersection of N.W. 39th Expressway and Council Road as long as I can remember, and just about everyone I know eats there at least on occasion. Several of my visits were to meet friends, and although I do not remember all the details about the food, I do remember the experiences.
Probably Jim's biggest claim to fame is that it is almost always open. I was under the impression for a long time that it was open 24 hours a day. Recently I have seen signs in the window that it opens at 6 a.m. and stays in operation until 10:00 at night. In any case, there are probably as many people that go for the coffee as for a meal.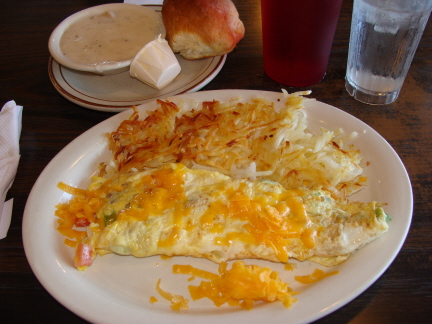 Veggie omelette
A large part of Jim's menu is devoted to breakfast items. I have not tried enough of them to say definitively what is best, but the Veggie Omelette was very good. I have had omelettes I liked better in other cities, but the one here was good enough, and was several steps up from some of the chain restaurants where a large number of people seem to go for breakfast. Several omelettes are available with meat, but I thought the vegetables were fresh and good tasting.
The Hash Browns were a definite enhancement, almost to the point that I liked them better than the eggs. They were not too greasy or overdone--not spectacular but better than most I have tried.
Biscuits and Gravy is one of the choices for a bread (toast is also available). I thought the gravy was a little too heavy for my taste, but it was very close to the way I anticpated it would be. The biscuit was very good.
Over the years I have had several lunch and dinner plates here, but none recently enough to comment about.
To me the food here strikes a good balance between the greasy (but good tasting) food popular in Oklahoma and the lighter and healthier food found at some places that may be less interesting in terms of flavor. I think the food here excites the taste buds, but will not make people feel as if they had to ingest excessive amounts of salt, fat, or calories to do so (this statement may not apply to the biscuits and gravy, however).
RESTAURANT DETAILS
RATING: 18
Cuisine: American
Cost: $
Hours: Open Daily
Accessible: Yes
Smoking: No Smoking
Most Recent Visit
May 21, 2010
Number of Visits: 5
Best Item
Omelette
Special Ratings
Omelette:


Biscuits & Gravy:


Hash Browns:

MORE ABOUT THIS WEB SITE