okgourmet.com&nbsp &nbsp Home of Steve's Restaurant Reviews
Jimmy's Egg
7128 W. Hefner Rd.
Oklahoma City, OK
(405) 728-3447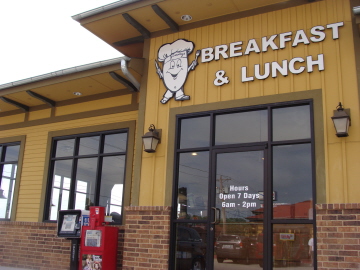 Jimmy's Egg is one of the most well known and popular breakfast spots in Oklahoma City, and it has been so successful it is now expanding to some of the surrounding states. Since I do not eat here regularly, it would be presumptuous of me to try to list the specialties or best dishes of the restaurant (other than the ones I have tried). I believe, though, that the restaurant's reputation is based mainly on fresh food, reasonable prices, waitresses who work at the same restaurant for years and know what the customers like before they order, and the feeling that customers are in familiar and inviting surroundings.
I have sampled lunch items in the past and enjoyed them, but I will limit this review to items I have tried recently. Both the breakfast and lunch menus include most of the items found at diners and American restaurants throughout the country, and the large number of choices seems to be another reason for the restaurant's popularity.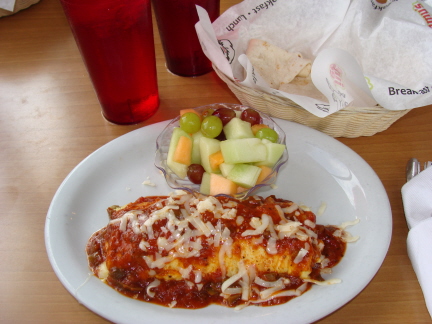 South of the border omelette
One reason for going to a restaurant is to order something I am not very capable of preparing at home, and one of these items is an omelette. Jimmy's has some breakfast choices that sound more interesting than ones available at the average restaurant, one of which is the South of the Border Omelette. This was an omelette with "fire roasted ranchero sauce" (but fortunately not one that set my mouth on fire). The plate comes with a choice of breads (I ordered a tortilla) and one side dish (mine was mixed fruit). It was a filling meal at a reasonable price.
The eggs were obviously very fresh, and this was definitely a good feature of Jimmy's Egg. However, the ranchero sauce did not taste at all Mexican to me, and was a letdown based on what I was expecting. It was really hard to evaluate the "South of the Border Omelette" because I think it would have been quite good if I had ordered a regular omelette without the ranchero sauce. Quite a few other varieties are available including a veggie omelette that sounded good.
Part of the problem at Jimmy's Egg was that the Mixed Fruit really did not add much to the meal, and I found much of the fruit to be rather unflavorful. I was glad that they had something healthy, but some of it did not seem ripe enough.
The tortilla was pretty average, although I was glad that they were able to provide this as the bread choice.
A much better choice, though, would have been the Homemade Raisin Bread that was very good, fresh, and flavorful (that I was able to sample). This made me think that Jimmy's Egg does have some very worthwhile items if you know what to order.
RESTAURANT DETAILS
RATING: 19
Cuisine: American
Cost: $$
Hours: Open Daily (breakfast & lunch)
Accessible: Yes
Additional Locations: 19 in Oklahoma; 8 in other states
Smoking: No Smoking
Special Features: Serves breakfast
Most Recent Visit
May 24, 2011
Number of Visits: 2
Best Item
Homemade Raisin Bread
Special Ratings
Homemade Raisin Bread:


South of the Border Omelette:


Fresh Fruit:

Restaurant Web Site
Jimmy's Egg
MORE ABOUT THIS WEB SITE