okgourmet.com&nbsp &nbsp Home of Steve's Restaurant Reviews
Italia Express
12203 Warwick Dr.
Oklahoma City, OK
(405) 728-7744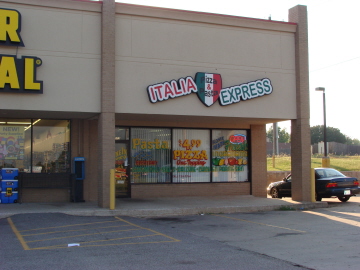 Italia Express has been a long time favorite at Penn Square Mall, but in 2008 a second location opened at N.W. 122nd Street west of MacArthur Boulevard on Warwick Drive. Since then a third location opened on May Avenue north of N.W. 39th where the original Zorba's was located. Italia Express is owned by two brothers who had a number of years' experience preparing pizza and other Italian food in the Dallas area. The individual locations seem to be family operations, and I think remaining small is one reason the food is so good.
I have found the pizza at Italia Express to be quite fresh and delicious. The kitchen is in full view of customers, and food is prepared when ordered. The cooking procedure does not look very different from most other restaurants, and does not follow any fancy procedure such as cooking in a wood fired oven. The pizzas, though, come out better here than just about anywhere else in OKC.
The restaurant is casual with about a dozen tables, and orders are taken at the counter or at the table if you are dining in. Pizzas are prepared in full view of customers, and they only take a few minutes to cook. I have always observed more take out orders than ones for people dining in the restaurant. I do like dining in, though, because with pizza this good I want to eat it when it is fresh out of the oven.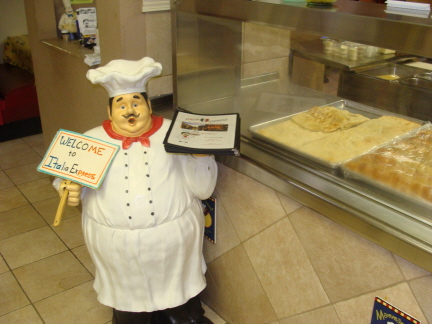 Cheese bread and garlic bread in the counter
There is an extensive menu besides the pizza, and these dinners come with free Cheese Bread or Garlic Bread (the bread is also available in to-go orders).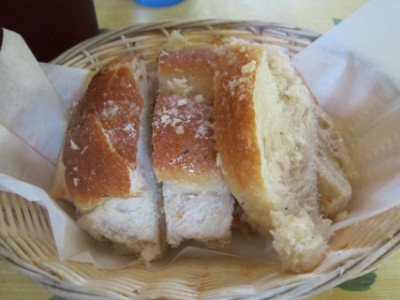 Garlic bread served with meals
I found the Garlic Bread to be quite fresh with a good flavor. Like everything here, it seemed to be made in house.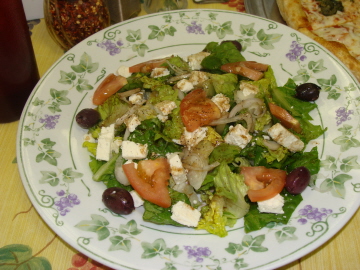 Greek salad
I thought the Greek Salad had good greens and feta cheese, and I particularly liked the olives. The dressing was a little bland, though.
The House Salad, though, was smaller and mainly relied on the cheese sprinkled over the top for flavor (but the vinaigrette dressing was pretty good).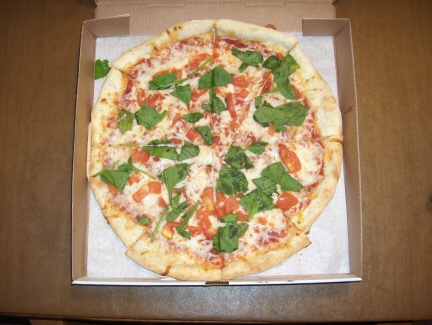 Spinach pizza
A Spinach Pizza was a build-your-own ingredient pizza that I tried on my first visit, and it was enough to make me a huge fan of the food here. The crust was thin, crispy, and fresh. The sauce was excellent, and the tomatoes and spinach added on top were garden fresh. It was a pretty standard pizza done to near perfection. I don't know their secret, but whatever it is does not make this a more expesive pizza than is served other places, and in fact it is quite reasonably priced.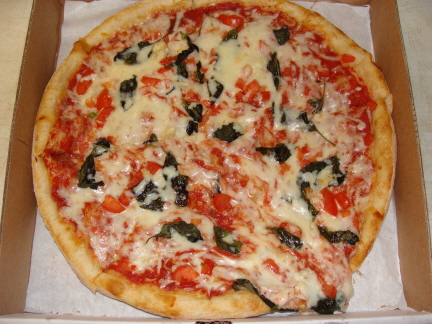 Margharita pizza
Margharita Pizza was not on the menu, but I found that when I requested it they were happy to prepare it. Like the spinach pizza, I found this to be and example of the true reason to come to Italia Express, and it was one of the best pizzas I have had in a long time. Just as the spinach was a notable feature of the first pizza I tried, the fresh tomatoes on this one were outstanding.
A large variety of pizzas are available, and I think one thing that makes them so popular is that you can get just about any toppings you want. One thing I have found, though, is that the quality of the basic ingredients (crust, sauce, cheese, and toppings) will always be good when you come here.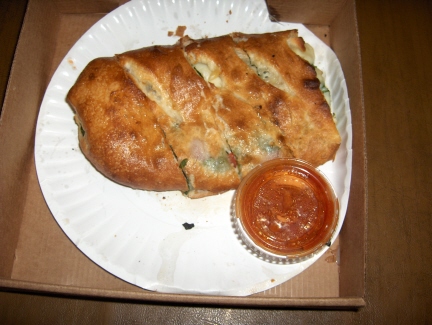 Spinach and tomato calzone
I tried a Calzone to sample some of the other food available, but it was not only less satisfying than the pizza as a meal, I also did not think it matched it in flavor. The calzone can be heated in a short period of time, though, and is really ideal for a quick meal. Both a vegetarian and meat version (with pepperoni & sausage) are available. I have not yet tried the meat version, so my asessment of it may be different than the one I tried with spinach, tomato, and ricotta cheese.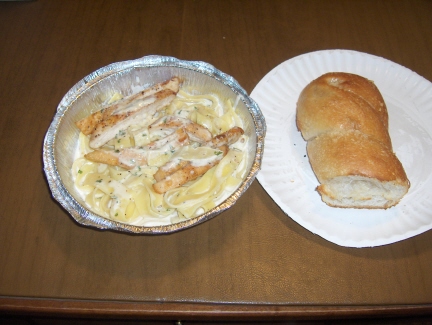 Chicken fettuccini alfredo
Chicken Fettuccini Alfredo is one of the more substantial dinners available (or you can get it without chicken), and in fact is one of several typical Italian dishes served. I thought the dish was heavy on the sauce, and was not a very complex or well flavored meal. The individual ingredients were good quality, though.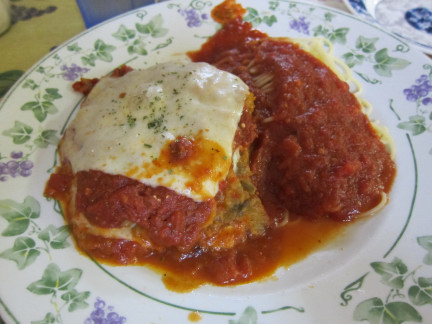 Eggplant parmesan
Eggplant Parmesan was one of the better dinners I have had, but I prefer the cooking style used at Papa Dio's and some other restaurants. For the money, though, the one at Italia Express is hard to beat, and it would have been very good if it had not tasted so much like eggplant (one of my least favorite vegetables).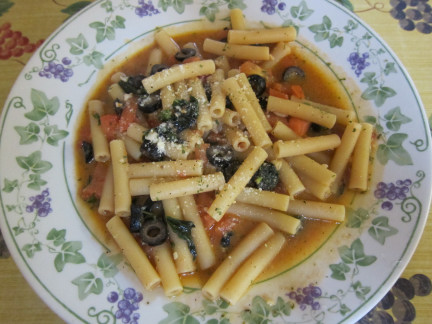 Ziti basilic
Ziti Basilic was one of the "Light and Healthy" items from a special menu (ziti with marinara sauce is available on the regular menu). At first this was my favorite dinner item from the restaurant until later when I had an apparent MSG reaction, so this is no longer something that I order. It did have an excellent flavor, though, and reminded me of the pasta dishes I used to get at Souper Salad (which also gave me MSG reactions). I have not had the same reaction from the marinara sauce, so possibly this style of ziti would be better.
Italia Express is not a fancy Italian restaurant, but mainly a pizza place (most people order take-out). If you can do without the ambiance of an upscale restaurant, though, the pizza here is quite good (and those to whom I have recommended the restaurant have agreed). I am glad they have been expanding the menu beyond the pizza because this allows more people to get what they want. The interior has been improved since I first started going, and all the time I am seeing more reasons to want to go back to Italia Express.
RESTAURANT DETAILS
RATING: 22
Cuisine: Pizza & Italian
Cost: $$
Hours: Open Daily
Accessible: Yes
Additional Locations: 4621 N. May, 1901 Northwest Expressway
Smoking: No Smoking
Most Recent Visit
Aug. 23, 2012
Number of Visits: 8
Best Item
Pizza
Special Ratings
Margharita Pizza:


Spinach Pizza:


Calzone:


Eggplant Parmesan:


Chicken Fettuccini:


Ziti Basilic:


Greek Salad:


House Salad:

Restaurant Web Site
Italia Express
RELATED ARTICLES
Oct. 16, 2012 : Italia Express "Build your own pizza"
MORE ABOUT THIS WEB SITE